Kristen Barnes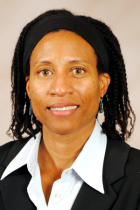 ---
Biography
Kristen Barnes is a Professor of Law. Professor Barnes teaches Property, Real Estate Finance, Real Estate Development Law, Land Use Planning, International Human Rights, and Public International Law.
She earned her B.A. in Political Science from Vassar College, J.D. from Harvard Law School, and Ph.D. in Literature from Duke University. Dr. Barnes has published articles in top law review journals including Duke Journal of Constitutional Law and Public Policy, Harvard Journal of Racial and Ethnic Justice, and Chicago-Kent Law Review. Her scholarship focuses on antidiscrimination law, comparative and international equality law, and constitutional law issues, real estate finance, pensions, and property theory.
The American Bar Foundation awarded Dr. Barnes a residency as a visiting scholar in 2018. She has presented at numerous prestigious conferences such as the American Society of International Law's Midyear Meeting, Harvard Law School's Institute of Global Law and Policy Conference, Fordham Law School's International and Comparative Urban Law Conference, and Arizona State University's Sustainability Conference.
Professor Barnes has served in two AALS leadership roles, including Chair of the Section on Property Law and Chair of the Real Estate Transactions Section. She is a member of the University of California - Berkeley's comparative Law Equality Working Group and a Constitutional Law Faculty Fellow at Akron's Constitutional Law Center.
Before entering academia, Professor Barnes practiced commercial real estate law in Chicago and clerked for a federal district court judge in the Northern District of Illinois.
---
Publications
This Article examines issues of inequality in education, minority representation, and access to the political process. The Article considers constitutional protections and other legal mechanisms available to racial minorities to nullify or circumnavigate majoritarian voter initiatives that seek to override federal constitutional guarantees and United States Supreme Court...

Read more »

This article examines the state of antidiscrimination education jurisprudence in Europe by analyzing several prominent cases brought before the European Court of Human Rights. In those cases, the applicants alleged that they were discriminated against in the exercise of their right to education based upon their ethnicity in violation of the European Convention on Human...

Read more »

Many cities and states are attempting to address their budgetary challenges by adopting legal measures that erode public pension benefits. State and local governments have taken the position that, for the good of the people, the pensions of public employees must be substantially revised. Public pensioners have drawn...

Read more »

This Article examines the theories of Peter M. Gerhart, as expounded in his book, Property Law and Social Morality. The critique emphasizes the necessity of incorporating the origins of property systems within any socially responsible theory of property and of accounting for the critical voices within systems that may raise important ethical objections to the allocation of resources.

Read more »

Many homeowners are unaware that they face the prospect of crushing personal financial liability if they default on their mortgage loans. While owners may appreciate that they can lose their homes to the lender if they fail to make payments in accordance with their loan terms, many do not fully comprehend that the exposure they have under such circumstances does not end with relinquishing the financed... Read more »

The purpose of this paper is to evaluate and compare two strategies designed to promote ethno-racial inclusion that were initiated in France and the United States in the context of higher education. In particular, I examine the Priority Education Agreements Program or CEP, an innovative affirmative action program which was implemented in 2001 by the Sciences Po, one of France's elite universities... Read more »
---