Carmen V. Roberto ('73)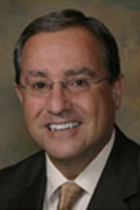 Title: Attorney, Bernlohr, Niekamp & Weisensell, LLP
Phone: 330.434.1000
Email: cvr@b-wlaw.com

---
Biography
Carmen V. Roberto is an Attorney licensed to practice in Ohio, Connecticut, the United States District Court for the Northern District of Ohio, the United States Sixth Circuit Court of Appeals, and the United States Supreme Court.

Mr. Roberto graduated from the University of Connecticut in 1970 and was a member of the University's debate team and the oratorical team. He then went on to the University of Akron School of Law where he graduated in 1973 and then entered the U.S. Army serving as a reserve Finance Officer during the Vietnam War. Mr. Roberto was discharged early when the war ended during his time in service.

Mr. Roberto returned to Ohio to work as an Assistant Prosecutor for the City of Cuyahoga Falls and then served as Assistant Law Director for the city's civil division. Carmen then served as the city's Law Director which included responsibility for all prosecution in the communities served by the Cuyahoga Falls Municipal Court. As City Law Director, Mr. Roberto advised the Ohio State Patrol, the Summit County Sheriff's Office and various local police departments.
In 1982, Mr. Roberto joined the firm which eventually became Vasko, Roberto and Evans. George Vasko, former general counsel for the United Rubber Workers enjoyed an international legal reputation. Bill Evans is one of the country's premier polygraph experts. Upon Mr. Vasko's retirement, Mr. Roberto joined the office of Bernlohr, Niekamp & Weisensell. He has been primarily engaged in courtroom hearings and trials and various civil and criminal litigation, much of which has been referred to him by other law firms due to the complexity of the matters referred. He has experience handling zoning and administrative cases before federal, state and local agencies, such as the Ohio EPA, the Ohio Engineer's Board, the Atomic Energy Commission, the Federal Energy Regulatory Commission, and various Zoning Boards and Planning Commissions, as well as other agencies within Ohio and the Federal Government. Notably, Mr. Roberto has also written, A Trial Handbook for Municipal Prosecutors and a chapter in the book, Trial Briefs.
Mr. Roberto is the Immediate Past President of the Ohio State Bar Association, a Past President of the Ohio Metropolitan Bar Consortium, and a Past President of the Akron Bar Association. He has sat on several statewide Task Forces and organization Boards and currently sits on the Boards of the Ohio State Bar Association, the Ohio Public Defender's Commission, the Ohio Legal Assistance Foundation, the Ohio Lawyers Assistance Program, and the Ohio Bar Liability Insurance Company.
---