Sarah M.R. Cravens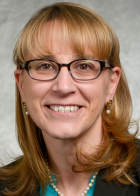 ---
Biography
Formerly, the Vice Provost for Strategic Initiatives and Interim Dean of the Williams Honors College, Professor Sarah M.R. Cravens has been with The University of Akron since 2005.
At the School of Law, Professor Cravens teaches Torts, Professional Responsibility, Remedies, and Judicial Ethics, as well as study-abroad courses in Japan and South Korea on Global Issues in Tort Law & Cross-Border Practice.
Previously, she served as served as interim co-dean in 2016-17, as well as director of faculty research & development and assistant dean for global engagement.
Her areas of scholarly interest include the judicial role, legal ethics, and theology & law. Her recent publications address a wide range of aspects of the judicial role, including issues related to impartiality, conscience, wisdom and international and comparative approaches to regulation of the judiciary in the pursuit of public confidence.
Academic and professional background
She earned her A.B., magna cum laude, from Princeton University, her M. Phil from Cambridge University, and her J.D., magna cum laude, from Washington & Lee University, where she was Senior Articles Editor of the Washington & Lee Law Review.
Prior to joining The University of Akron School of Law, Cravens was a law clerk on the U.S. Court of Appeals for the Tenth Circuit and an associate at Arnold & Porter LLP in Washington, D.C., where she specialized in products liability litigation. She has been admitted to the bar in both Oklahoma and the District of Columbia.
---
Publications
---
Education
J.D., Washington and Lee University School of Law, Lexington, Va.
M.Phil., Classics, Cambridge University (Pembroke College), Cambridge, U.K.
A.B., Classics, Princeton University, Princeton, N.J.
---