Elizabeth A. Reilly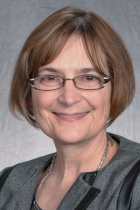 ---
Biography
Elizabeth A. Reilly, currently an Adjunct Professor, is a former Interim Dean and a C. Blake McDowell, Jr. Professor at The University of Akron School of Law. Prior to serving as Interim Dean, she served as Vice Provost for Academic Planning at the University of Akron.
During her tenure, Dean Reilly has played an active role at The University of Akron. She was chair of the President's Commission on Equity, and served on numerous task forces for the President and Provost, including the Diversity Committee, the RTP Task Force, the Academic Salary Affairs Task Force, the Program Review Task Force, and the Institute for Teaching and Learning Advisory Committee.
She began her academic career in 1980 as an Adjunct Professor at the School of Law and joined the faculty full time in 1984. From 1995 - 2009, Dean Reilly served as Associate Dean. She taught torts, lawyers as leaders and sexual orientation and the law, as well as feminist and race theory, constitutional law, criminal law, federal courts and pretrial advocacy. Her research focuses on the intersections between individual and collective interests in areas such as reproductive choice, gender identity, juvenile justice, tort duties and damages, and the religion clauses. She is the author of numerous articles, including "Radical Tweak - Relocating the Power to Assign Sex," 12 Cardozo J. L. & Gender 297 (2005) and "The 'Jurisprudence of Doubt': How the Premises of the Supreme Court's Abortion Jurisprudence Undermine Procreative Liberty," 14 Journal of Law and Politics 757 (1998). She is the editor of and a contributor to Infinite Hope and Finite Disappointment: The Story of the First Interpreters of the 14th Amendment, published by the University of Akron Press in 2011.
Dean Reilly received one of two Outstanding Teacher Scholar Awards from the University in 2004. She has presented regularly at academic and professional conferences and groups. Prior to joining the University, Dean Reilly was an attorney and counselor of law for Whitaker & Reilly, where her emphasis was on criminal and personal injury litigation, both trial and appellate. She has been a member of the Akron Bar Association's Board of Trustees and the Ohio Supreme Court's Rules Advisory Committee, as well as former chair of the Juvenile Rules Subcommittee. Professor Reilly has served on the Ohio State Bar Association Council of Delegates, Juvenile Justice Committee, and Section on Women in the Profession Board of Governors. She has been a member of the Association of American Law Schools executive committees of the Section on Legal History and Section on Education Law.
A member of the first class of women to attend Princeton University, she majored in English Language and Literature, and was graduated cum laude and Phi Beta Kappa. Professor Reilly received her J.D. at The University of Akron School of Law, where she was first in the class.
---
Publications
---