Joseph M. Gingo ('71)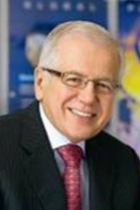 ---
Biography
Joseph M. Gingo received Juris Doctorate from The University of Akron School of Law in 1971, bachelor's degree in chemical engineering from Case Institute of Technology (now Case Western Reserve University), and MBA from Massachusetts Institute of Technology where he was a Sloan Fellow.
Mr. Gingo has been Chief Executive Officer and President of A. Schulman since January 1, 2008 and named Chairman of the Board of Directors on February 26, 2008. Previously, Mr. Gingo was employed at the Goodyear Tire & Rubber Company for more than 40 years. From June 2003 through December 2007, he was Executive Vice President, Quality Systems and Chief Technical Officer at Goodyear. In this role he was responsible for Goodyear's Research, Tire Technology, Engineering and Quality organizations as well as global Joint Ventures activities. Prior to that, he held numerous domestic and international leadership positions in the company's technical organization and business units including Asia, Aviation Products, Off-The-Road Tires, Engineered Products and Racing.
Mr. Gingo serves on The University of Akron Foundation Board of Directors and former chair of the University's College of Business Administration Institute for Global Business Advisory Board and member of the College of Business Administration's Advancement Council. He served as a speaker for the School of Law's 2001 Intellectual Property Symposium, and was a member of the College of Engineering Advisory Council.
---