THE UNIVERSITY OF AKRON SCHOOL OF LAW
24th Annual Symposium on Intellectual Property Law and Policy
Monday, March 28, 2022
This in-person event and CLE will be held from 8 a.m. to 5:45 p.m.
Lunch & Keynote:
The Role of IP in Biopharma Innovation: Insights from the Covid-19 Pandemic
Matthew Pugmire | Assistant General Counsel | Pfizer, Inc.
Topics will include:
ADR in Intellectual Property Cases
Post Grant Review at the PTAB
International Trade Commission IP Practice
The Trademark Modernization Act
Effective Communications Between Inside and Outside Counsel
The Ethics and Practice of Effective Cybersecurity for Law Firms
Cooperating with Inventors: Best Practices
---
Thank you to our sponsors
Platinum
Silver
Bronze
Tarolli, Sundheim, Covell & Tummino LLP
Contact us to learn more about sponsorship opportunities
Registration and fees
Advance Registration: $450
Government employees and faculty rate: $250
Student rate: $25
An additional $30 will be charged to walk-in registrants.
The registration fee covers: The symposium sessions and CLE materials, hot breakfast, seated lunch with keynote and full-day CLE panels.
We have applied for 7.75 hours of Ohio CLE, including 2.5 hours of professional conduct credit covering Ethics, Professionalism, Substance Abuse, Access to Justice.
---
CLE credit
CLE accreditation approved for the following states:
OH – 7.75 (including 2.5 ethics hours)
IL – 7.75 hours (including 2.5 ethics hours)
PA – 7.75 hours (including 2.5 ethics hours)
Reciprocity States
FL – 7.75 hours (including 2.5 ethics hours)
NJ – 7.75 hours (including 2.5 ethics hours)
CA – 7.75 hours (including 2.5 ethics hours)
---
Symposium location
University of Akron Taber Student Union, 303 Carroll St., Akron, OH 44325 | Directions
Parking will be provided, along with opportunities for discounted room rates at local hotels. Register today to receive email updates.
---
Questions
For questions or information about sponsorship opportunities, please contact Professor Mark Schultz, director of the Center for Intellectual Property Law and Technology at The University of Akron.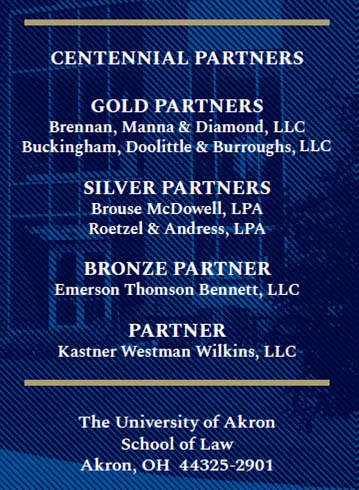 IP LAW AT AKRON
The University of Akron School of Law has long been recognized as one of the leading IP law programs in the country. We offer more than 30 courses in the field and five degrees: an LL.M. (Master of Laws); a joint J.D./LL.M.; a joint J.D./MBA; and certificates for J.D. students and non- J.D. students.
With over 20% of the student body patent bar qualified and 40% of students involved in the IP program, Akron is one of the most IP-intensive schools in the nation.
See details on media coverage discussing the IP Center, and pictures of our many past events.