INTELLECTUAL PROPERTY LAW
AN ESTABLISHED LEADER
The University of Akron Law IP program was just awarded another top grade in The National Jurist's preLaw magazine Spring 2018 issue. This is the latest top rating and accolade the IP program and Center for Intellectual Property Law & Technology has received. For full details on media coverage discussing the IP Center, and pictures of our many past events, please see the links below.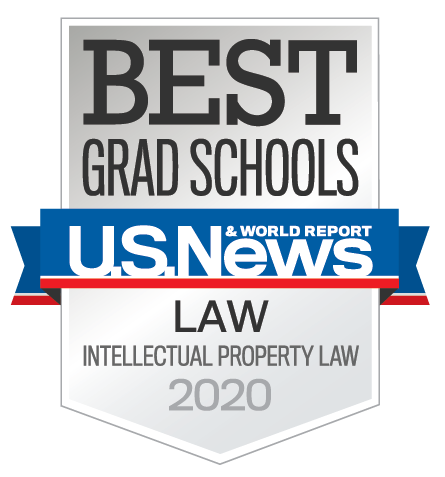 LEARN ABOUT IP AT AKRON LAW
Hear from current students, faculty and recent alumni about their experiences, as well as learn about the benefits and opportunities available within the IP program at The University of Akron School of Law
Director of U.S. Patent Office has positive words for Akron Law and 'patent eligibility' reform at IP Symposium
"You have one of the top IP programs in the nation, with half-a-dozen full-time IP professors and a dozen, nearly two dozen IP courses," said the Hon. Andrei Iancu (above, center), director of the U.S. Patent and Trademark Office, during a recent IP symposium here. "The program you have here is amazing." Story and photos.
EVENTS
END OF YEAR SOCIAL
May 10, 2019 | 6 p.m.
The Mustard Seed Market & Cafe
867 W. Market St., Akron
Join us to celebrate the end of finals! Food will be provided and there will be a cash bar.
---
PAST IP EVENTS & PHOTOS
ABOUT THE PROGRAM
As part of our leading intellectual property program, Akron Law has an innovative Center for Intellectual Property Law & Technology. The Center facilitates the study and advancement of IP law, strives to attract and educate current and future leaders, and works to design and implement a well-balanced ecosystem of law and technology.
Nationally respected and renowned for:
Providing one of the most comprehensive IP programs in the country – over 20 courses in the field
Administering an LL.M. (Master of Laws) in Intellectual Property – complete in two semesters
Administering a joint J.D./LL.M. in Intellectual Property – complete in three years of full-time study
Offering a Certificate in Intellectual Property – signifying completion of focused IP studies
Offering a Non-JD Certificate in Intellectual Property – for those not seeking a JD degree, but want to learn IP
Hosting distinguished speakers, including a highly successful annual symposium

The IP Scholars Forum
The Oldham Lecture Series on cutting-edge IP issues
FACULTY AND LEADERSHIP
Daniel H. Brean, Assistant Professor of Law | Bio
Patrick H. Gaughan, Associate Professor and Executive Director, Innovation Practice Center | Bio
Ryan T. Holte, Professor of Law and Director, Center for Intellectual Property Law and Technology | Bio
Camilla Hrdy, Assistant Professor of Law | Bio
Jack P. Sahl, Professor of Law and Director of The Center for Professional Responsibility | Bio
Matthew J. Wilson, Professor of Law, The University of Akron | Bio
---
About one dozen adjunct professors teach specialized courses such as international patent law, patent prosecution, claim construction, complex IP litigation, and other cutting-edge courses.
The Council is comprised of about three dozen IP professionals and experts seeking to advance our IP curriculum, foster relationships with businesses and law firms, and assist Akron Law IP students with their careers.
---