Akron Law students help make new NEOMED medtech competition a success
10/11/2021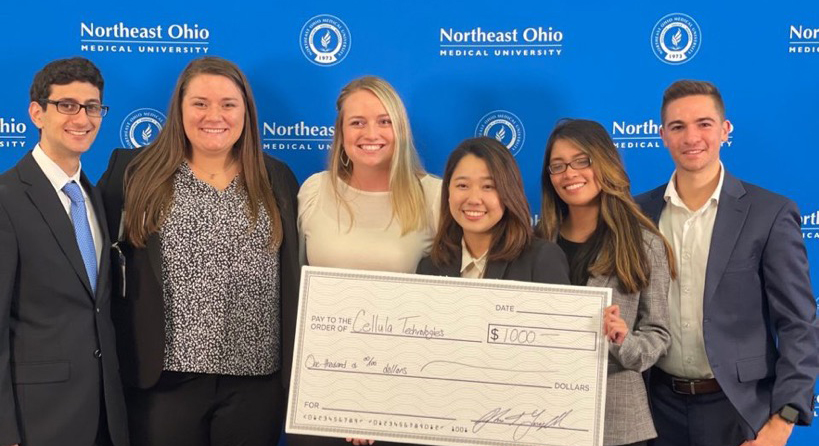 Akron Law student Olivia Mullen (third from the left) and her team show off the $1,000 People's Choice prize they won in the 2020-21 NEOvations Bench-to-Bedside competition.
You can think of Northeast Ohio Medical University (NEOMED)'s new NEOvations Bench-to-Bedside program as the region's grad student Shark Tank for medical innovation – without the bite.
Modeled after a world-renowned program at the University of Utah, NEOvations B2B brings medicine and pharmacy students from NEOMED together with law, engineering, and business students from area universities. The University of Akron School of Law is one of NEOMED's primary partners in the program, along with Kent State University's College of Business Administration and the College of Engineering at Cleveland State University. However, the program is open to students from any university in the region.
During the fall, the students meet with physicians and other health professionals from NEOMED and area hospitals to identify unmet clinical needs. The students then form multidisciplinary teams, with each one working toward a prototype design to address their specific need.
The inaugural 2020-21 program culminated in an August 12 gala, with tabletop presentations and judging, as the seven finalist teams competed for the $10,000 first prize, $3,000 second prize, $2,000 third prize, and $1,000 People's Choice prize. The money will be used to support further development of each of the projects.
In addition to working on their solutions, the participants also attend workshops and seminars aimed at teaching vital entrepreneurial and business skills associated with aspects of product development, device FDA regulation, intellectual property law, and marketing.
"Most of the teams formed around the medical students and the specialties they wanted to be in, like orthopaedics," explained Akron Law student Olivia Mullen. "I didn't have a preference of what I worked on as long as I found it interesting. My focus is more on the business side of early-stage companies as opposed to medical technology, although I did major in biology."
Mullen's team of four medical students, one engineering student and herself identified an unmet need they learned about at Akron Children's Hospital. The team is moving forward and establishing an LLC with the help of the SEED Clinic at Akron Law. They will own the business and the intellectual property.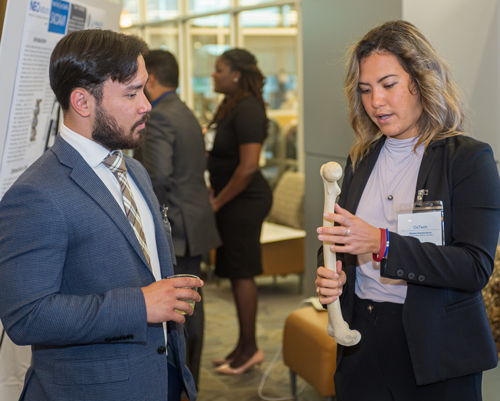 Akron Law's Doson Nguyen listens to one of the participants explain her team's invention at the NEOvations gala.
"We're still in the first stages of our prototyping," she said. "The next steps will be testing our product in the casting labs and actually applying it to real human patients instead of it just being this arbitrary idea in our brains."
Fellow Akron Law student Doson Nguyen was not on one of the teams but rather served on the 2020-21 student executive leadership team for the program.
"I got involved because it would enable me to marry my passions for medicine, intellectual property law, and entrepreneurship," he said. "There is so much opportunity for law students here in being able to invent a new product and get experience at what it's like to start a real company."
NEOvations B2B program director Fayez Safadi, Ph.D., professor of anatomy and neurobiology at the College of Medicine, and director of the Musculoskeletal Research Group at NEOMED, said he hopes to double the number of teams and student participants for the 2021-22 cohort. He also anticipates that four or five of the teams that intend to carry on with their projects will return for a new "legacy" level competition.
These projects aren't just for practice, reiterates NEOMED President John Langell, M.D., Ph.D., M.PH., M.B.A. It's Dr. Langell who created the Utah Bench-to-Bedside program 10 years ago when he was vice dean of the School of Medicine at University of Utah Health.
"The Utah program has now engaged over 1,000 students into 238 interdisciplinary teams," he said. "More than 65 of the teams have commercialized their creations and several have obtained regulatory clearance and introduced their products to market. I expect the same thing will happen here."
For more information about NEOvations B2B, click here, or email NEOvationsB2B@neomed.edu.
Share