Akron Law student wins online mock trial national championship
04/20/2020

The University of Akron School of Law's Imokhai Okolo is a mock trial national champion. The graduating third-year (3L) student finished No. 1 in the country out of a field of 170 competitors from 67 law schools in the first-ever National Online Trial Advocacy Competition.

The online competition was organized by UCLA School of Law and Fordham University School of Law to help fill the void left by the cancellation of the spring 2020 national trial competitions due to the COVID-19 pandemic.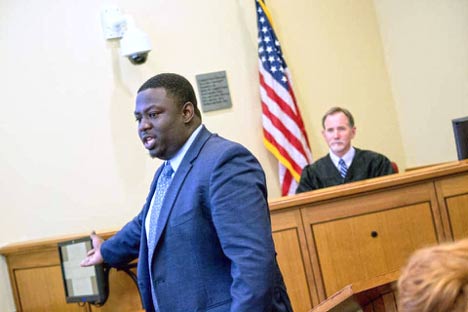 Akron Law student Imokhai Okolo is seen here during the 2019 Top Gun National Mock Trial Competition.
Students were given a case file loosely based on the ongoing college admissions scandal, and were asked to write, perform and record an eight-minute opening statement on behalf of either the U.S. Department of Justice or the defendant, who was accused of hiring a third party to cheat her daughter into admission at prestigious universities. Students were permitted to consult with their coaches; but to ensure a level playing field, they were prohibited from using any exhibits or visual aids.
The video submissions were sent for review and scoring to more than 400 judges — including practicing trial attorneys, law school professors and even sitting trial court judges — who are alumni from more than 100 different law schools.
Following an initial round of scoring, the group of 170 was cut down to 30 whose videos were submitted to an entirely new group of judges for review — including the directors of many of the top trial advocacy programs in the nation. This group of semifinalists was then narrowed down to the top 10 student advocates, and their videos were pitted head-to-head in tournament-style rounds until Okolo emerged as the winner.
This honor follows a 2L year in which Okolo and his teammates finished as national runners-up in both the fall 2018 National Board of Trial Advocacy Tournament of Champions (TOC) and the spring 2019 American Association of Justice Student Trial Advocacy Competition (STAC), and then as national semifinalists in Baylor University Law School's 2019 Top Gun National Mock Trial Competition.
These overall results earned Akron Law the No. 5 national rank in Fordham Law's Trial Competition Performance Rankings for the 2018–19 academic year.
"Imokhai entered his 3L year set on getting over the hump and bringing a mock trial national title back to Akron," said Kevin Kita '11, Akron Law trial team competition director and a shareholder at the law firm Sutter O'Connell.
"After another strong showing at the TOC in the fall, he and his teammates prepped all semester for another run at the STAC, only to see it cancelled due to the coronavirus. So when UCLA and Fordham got together to create this novel online alternative competition, he jumped at the opportunity to go for a national title. In addition to being a personal accomplishment, this honor extends the Akron Law Trial Program's string of regional and national success in recent years. We're all very proud."
Okolo has also been selected to compete again this year at Baylor Law's Top Gun tournament, which will take place May 29–31 as the first-ever fully synchronous, online, live, remote, one-on-one mock trial competition.
After that, Okolo will take his Akron Law diploma and his trial advocacy skills to the Cleveland office of Jones Day — the fifth-largest law firm in the U.S. as of 2018 — which extended an offer to him last fall.