Trial Team finishes second in the nation for third straight semester
04/26/2019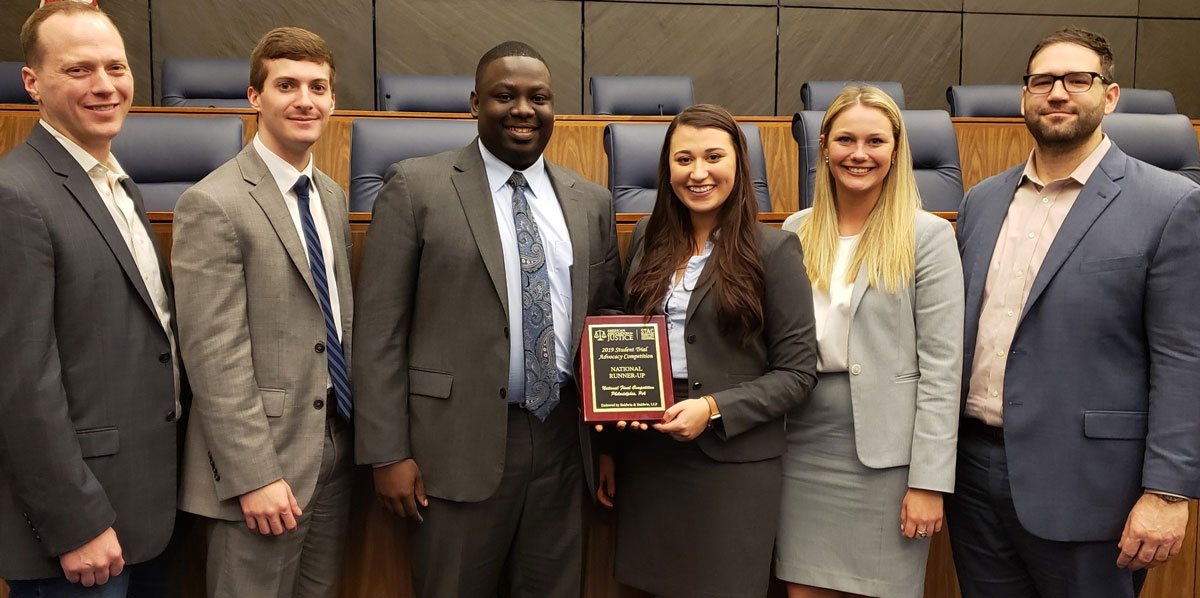 The University of Akron School of Law's Trial Team continues to solidify its place as one of the best in the country.  This time the team consisting of Cassandra Rosa (3L), Imokhai Okolo (2L), Sarah Blank (3L), and Justin Morgan (3L) advanced through what began as a field of 226 trial teams from across the country and took second place in the nation at the American Association for Justice's Student Trial Advocacy Competition (STAC), hosted in Philadelphia.
STAC is one of the largest and most prestigious national mock trial competitions in the country and includes teams from every major law school. Akron had two teams entered in the regional portion of the competition in March, both of which swept through preliminary and semifinal rounds with perfect records. The result forced an Akron vs. Akron final for the sixth time since 2008, and ultimately earning the trip to the national championships along with 13 other regional champions from across the nation.
The team members kept the momentum going in Philadelphia by sweeping opening rounds against Alabama and Fordham, 3-0, before splitting a round with UCLA and punching their ticket to the quarterfinals—the single-elimination portion of the tournament. 
Close finish
Impressive wins against top advocates from Belmont and Loyola Chicago earned them a spot in the national championship against the tournament's top seed, Campbell University School of Law. Ultimately, a panel of three judges ruled against Akron 2-1 with the deciding ballot going in favor of their opponent by just 2 points.
Akron's second-place finish marks the third straight semester the team has advanced to the national finals in a major national mock trial competition. The streak began last year when the team advanced to the AAJ STAC National Finals against the University of California Hastings and continued this past fall with a finals appearance against Wake Forest at the National Board of Trial Advocacy (NBTA) Tournament of Champions – an invitational competition open only to the top 16 performing trial teams in the country.
Akron is the only law school to make repeat appearances in these national finals during this span, and the string of success is one of the best in the program's history!
Akron's AAJ teams were coached by alums Tony Wise ('13), Greg Thompson ('12), and Kevin Kita ('11).
More