Prelaw PLUS immersion program earns rave reviews
10/14/2018

The University of Akron School of Law hosted a prelaw immersion program in summer 2018 for 20 prospective law school applicants from underrepresented backgrounds. The full-scholarship program is funded in part by a three-year, $300,000 grant from the Law School Admission Council (LSAC) Discover Law.org PreLaw Undergraduate Scholars (PLUS) program, which is focused on increasing diversity in the legal profession.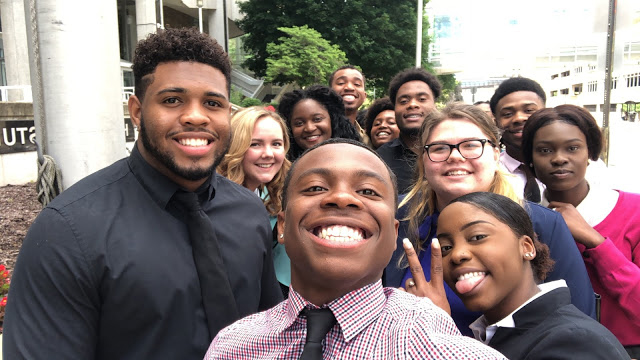 Through the four-week Akron PLUS program, students experienced the law school classroom, visited two law firms, two courthouses, and another law school, explored various career paths in the law, and learned valuable information about the law school application process and the legal profession.
Over the course of the program the students interacted with some 50 legal professionals, either as speakers or at the sites they visited. They also enjoyed a canoeing trip and a day at Cedar Point, among other social activities.
"We were honored to be one of only a handful of law schools in the country to receive this grant, and the only one in Ohio," said Christopher (C.J.) Peters, dean of the School of Law. "Our profession is not as diverse as it should be, and law schools need to play an active role in addressing that."
"We want to engage prospective law students while they are still early in their college careers —especially minority students and others from less privileged backgrounds who often come late to the law school application process," said program director Brant Lee, professor of law and director of diversity and social justice initiatives. "We were looking for students we thought could really benefit."
A Diverse Group
The 20 Akron PLUS Scholars were chosen from 86 applicants. They hailed from 16 different colleges and 10 different home states, including Oklahoma, Montana and South Carolina. They were diverse in race and ethnicity and also in terms of national origin, class, urban/rural background, and sexual orientation.
"Everybody there was really bright and happy to be there. We were always helping each other out," said Saivi'on Lee, a business and law major at Walsh University in Canton, Ohio, who comes from Sterling Heights, Mich. "That is probably one of my top achievements, that I went to that program."
Peneal Tiruneh, a social work major at North Central University in Minneapolis who lives in nearby St. Paul, recalled, "The whole time I was hearing a lot of comments like 'I can't believe that not only are we doing this to further our career, but we are also being paid for it, and the housing is covered.' It was like very…whoa!"
Four University of Akron undergraduates were among the select group: Alexa Pack, Kathleene Humphries, Karris McCollum and Chelsea Rivera.
"I applied for the program because it said prelaw, but I didn't really know what it was," said McCollum, a junior economics major. "It exceeded all of my expectations. It was much more helpful than I thought it would be, as far as exploring different areas of law. There's a lot of information about law careers and about the LSAT and applications to law schools that I would have had no other outlet for."
Chelsea Rivera is a sophomore political science major who had been planning to apply to the law school's 3+3 program, which allows qualified students to earn their bachelor's and law degree in six years.
"I'm so glad I took the initiative to apply [to the PLUS program]," she said. "Now I know for sure that's what I want to do. It was the best experience, and so much fun meeting the people from out of state and other colleges and showing them around Akron."
Both Lee and Peters were very pleased with how the inaugural program went.
"We wanted the students to come out with the motivation, tools and confidence they need to successfully apply to and be admitted into law school, and I believe we succeeded," said Lee. "And next year will be even better!"
Application information for the summer 2019 Akron PLUS program will be posted on the program website in January 2019.
---
Media contact: Lisa Craig, 330-972-7429 or lmc91@uakron.edu.