CBS News story on case won by Akron law grads wins Emmy
09/25/2020

Five alumni from The University of Akron School of Law, working as trial attorneys for two area law firms, helped a small business win a high-profile, multimillion-dollar defamation lawsuit against Oberlin College in June 2019.

The case — in which the jury found that the college supported libelous accusations of racism against owners of Gibson's Bakery, a 134-year-old family business in downtown Oberlin — was featured last November on "CBS Sunday Morning. "The segment, titled "What Price" and featuring famed newscaster Ted Koppel, won an Emmy Award in the Outstanding Feature Story in a Newscast category in the 41st Annual News & Documentary Emmy Awards on Sept. 21.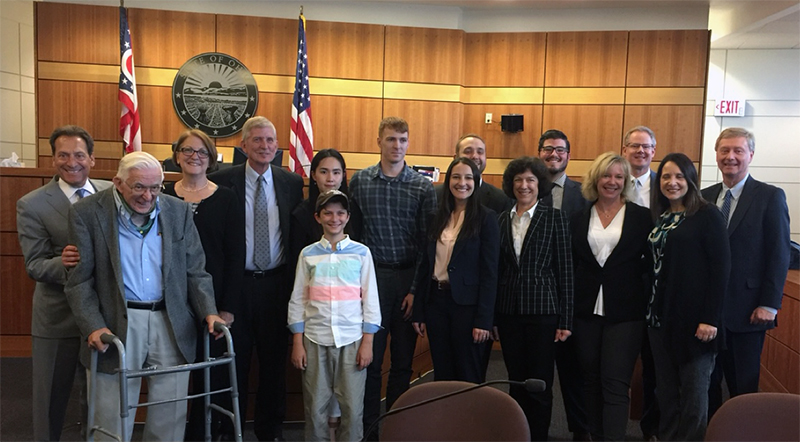 The trial team posing with the Gibson family after the compensatory verdict was read. Included are UA School of Law alumni Lee Plakas (far left), Jeananne Wickham (eighth from left), Matthew Onest (ninth from left), Brandon McHugh (11th from left) and Owen Rarric (13th from left).
Of the eight lawyers representing the Gibson family, five were trial attorneys who graduated from UA's School of Law: lead counsel Lee Plakas '76, Brandon McHugh '16 and Jeananne Wickham '18 of Tzangas Plakas Mannos Ltd.; and Owen Rarric '02 and Matthew Onest '11 from Krugliak, Wilkins, Griffiths & Dougherty Co. L.P.A. (KWGD).
"Akron Law is well known for its Trial Advocacy program and our long record of national and regional trial competition awards," Akron Law dean Christopher J. (C.J.) Peters said. "We're proud that firms like Tzangas Plakas, KWGD and others recognize the quality of our instruction and training and consistently recruit our students."
A total of $44 million in compensatory and punitive damages was awarded to Gibson's Bakery after the jury found that college administrators actively supported boycotts and protests against the business following the arrests of three students involved in a shoplifting incident. Damages later were reduced to $25 million based on a state cap. A judge also added $6.5 million in attorney fees and other legal expenses to the plaintiffs' award. The college has appealed the verdict.
"The Emmy Award was a fitting tribute to David Gibson, who fought tirelessly to protect his family's reputation against false allegations of racism," Plakas said. "We congratulate CBS for winning the News Emmy award and thank them for the moving and well-reported story."
---
Media contact: Lisa Craig, 330-972-7429 or lmc91@uakron.edu.