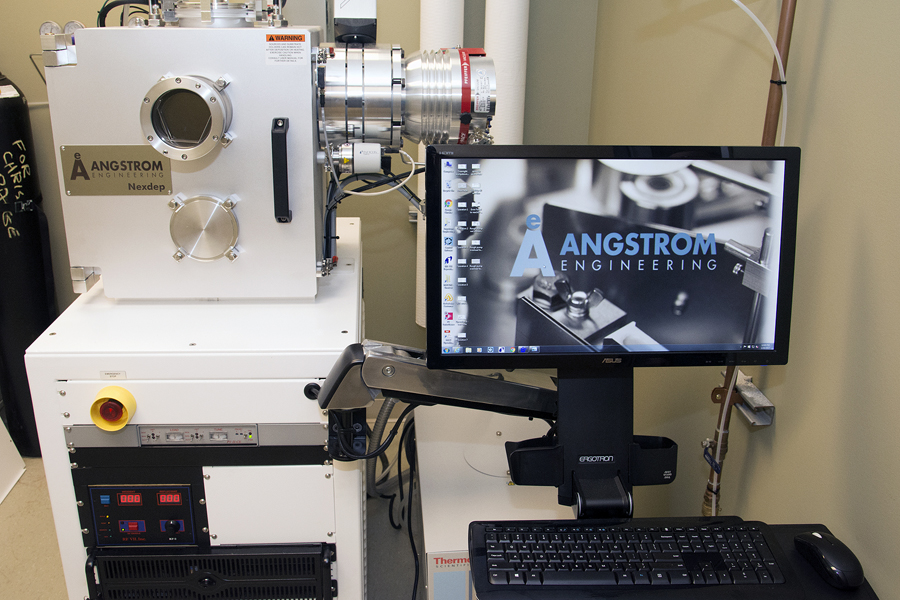 Thin Film Physical Vapor Deposition (PVD) System
Room 210a NPIC
Angstrom Engineering Nexdep Thin Film Deposition (PVD) System
Background
Physical vapor deposition (PVD) is a thin film deposition process in which atoms or molecules of a material are vaporized from a solid source in high vacuum and condense on a substrate. The PVD processes can be used to deposit films of metals, alloys, metal oxides, and some composite materials on a variety of substrates. PVD is used to deposit films ranging from of a few angstroms to thousands of angstroms in thickness. Typical PVD deposition rates vary from 1-100 A/s. PVD processes have the advantage that almost any inorganic material can be deposited using pollution-free deposition processes. The films can be of single materials, layers with graded composition, multilayer coatings.
The most common PVD processes are:
Thermal evaporation - material from a heated vaporization source reaches the substrate and condenses on it
Sputter deposition - source of vaporized material is a target being subjected to bombardment with Ar ions
Thin films of compound materials are deposited by vaporizing the compound material directly, or by having the depositing material react with an ambient gaseous environment, such as oxygen or nitrogen, or a co-deposited species, such as silicon. Films of the compound materials such as titanium nitride, zirconium nitride, silicon dioxide, tungsten silicide, etc can be successfully deposited.
PVD has important advantages compared to other thin film deposition techniques: PVD coatings exhibit superior hardness, durability and resistance to wear and are more corrosion resistant. Most PVD coatings have high temperature and good impact strength; they have excellent abrasion resistance. The ability to utilize virtually any type of inorganic material on a diverse group of substrates and surfaces makes PVD a very popular choice for fabricating thin films. Last but not least PVD coatings can be applied with no toxic residues or by-products and are safe for the environment
Applications
Thin film coatings for photovoltaics, semiconductor devices, vision devices, medical research and devices, corrosion research; anti-reflection coatings; studies of interfacial interactions; high performance aerospace and automotive applications; film deposition on various types of substrates, including polymers; metal coatings in sample preparation for surface analysis; preparation of silver and gold substrates for surface enhanced Raman scattering (SERS)
Specifications
General
Resistive thermal evaporation for deposition of high melting point, low vapor pressure materials
RF sputtering deposition for deposition of difficult to evaporate metals
Precision control of film thickness with quartz crystal sensors
Recipe based advanced multilayer deposition control
Sequential or co‐deposition for creation of well‐defined layers and alloys
High vacuum chamber for film purity
Shutters and liners ensure cleanliness
Vacuum Chamber
16in W × 16in D × 20in H aluminum high vacuum box chamber
One set removable stainless steel debris shields
Hinged chamber front door for easy internal access
Base pressure of <5×10-7 Torr in a clean system
Large viewport offset to reduce material deposition
Masking Capable Substrate Stage Assembly
Precision dowel pins for substrate/mask alignment
100 mm diameter generic tapped substrate holder
Can hold a sample of sizes 100 mm dia. or 75 mm dia. or several samples of size 10 mm x 40 mm
Source to substrate distance varies with configuration
0-50 RPM continuous rotation capability
Source Shutter
Automatic process controlled pneumatic shutter
Uses a high quality magnetic fluid rotary feedthrough substrate shutter
ThermoChill 1 Recirculating Chiller System
700 W cooling, 1.4 GPM flow rate
Used to stabilize crystal sensor
Used for sputter source cooling
Pfeiffer Vacuum 685 l/s Turbo Pumping Package
Integrated hi‐pace 700 turbomolecular pump
Minimum footprint and maximum reliability
High gas throughput and high pumping speed
Inficon MPG 400 vacuum pressure measurement package
Agilent 9cfm TriScroll Dry Pump
2500 VA transformer
Scalable output voltage up to 10 V provides a wide voltage range without the need to change high current cables at the transformer
PC Based Deposition Rate and Film Thickness Control
PC Windows based software for deposition control
Allows easy recipe creation, storage and editing
Film setup parameters and deposition data are saved to computer hard disk
Allows sequential and co‐deposition films to be deposited with fully automated recipe control
Nexdep Advanced Downstream Gas Pressure Control
Recipe based software controlled pressure stabilization
2 MKS M100B 20sccm mass flow controllers provide precise gas mixing
Inficon SKY capacitance diaphragm process gauge (1‐100 mTorr)
QCM Deposition Rate Sensor
Sensor is mounted to a rigid bracket to prevent loss of calibration if accidently moved
Sensor is water cooled to improve reading accuracy
System Control
PC control station with Windows 7 Professional
Windows Based SCADA - PLC control interface software
Auto-sequence and manual mode system control
System operation safety interlock status & alerts
Various user account program security authorizations