Master's in Marriage and Family Therapy
Program Overview
The Master's Program in Marriage and Family Therapy is the only COAMFTE accredited program in Ohio!
Marriage and Family Therapist
Marriage and Family Therapists diagnose and treat mental and emotional disorders within individuals, couples, families, and groups from a relational/systemic perspective. They encourage and assist clients in developing and using skills and strategies for confronting problems constructively.
Mission Statement
The mission of the COAMFTE accredited MFT Master's Program is to train multiculturally-informed, clinically competent practitioners, who operate from a relation/systemic perspective. Our students will be critical consumers of research and value the importance of providing service to the community within the context of interprofessional collaboration.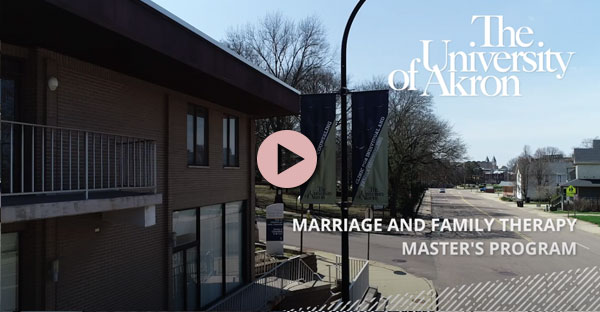 Program Format
The MFT Master's Program is offered in a hybrid format and is comprised of 16 didactic (lecture) courses totaling 47 credits and 5 clinical courses totaling 13 credits for a total of 60 credits in the program.
For the didactic portion of the program, there are three fully online classes. The remaining didactic classes are offered as hybrid, with the courses ranging from 30-70% in person and the remaining online content offered through The University of Akron learning management system, Brightspace. The online content is delivered as narrated lectures, pptx, readings, supplementary materials, and activities, such as discussion boards, quizzes, and reflection papers. The decision to offer courses either online, hybrid, or in person was based on the specific content of the courses and the best teaching practices associated with that content.
The clinical requirement for the program is 300 direct client contact hours and 200 alternative hours, for a total of 500 hours.

The clinical experience is completed at the School of Counseling's on-site, state of the art, Clinic for Individual and Family Counseling.

And at agencies in Ohio. Our program also has strong long-standing relationships with multiple community agencies throughout the Akron (and beyond) area that offer outstanding internship opportunities for our students, with the majority of our students being offered job opportunities post-graduation at their internship site.
Market Demand of Program Graduates
MFTs are recognized as one of the top five mental health professions recognized by The National Alliance on Mental Illness (NAMI).1
According to the US News and World Report, MFTs are ranked the #2 in Best Social Service Jobs.2
According to the Occupational Outlook Handbook from Bureau of Labor Statistics identifies that MFTs have a 16% projected growth by 2030 (much faster than the average for all occupations)3
O*Net OnLine identifies MFTs as having a "Bright Outlook", meaning that MFTs are "expected to grow rapidly in the next several years, will have large numbers of job openings, or are new and emerging occupations"4
Within Ohio alone, by 2028, employment is expected to grow by 9.4%.5
In 2012, The VA announced a movement toward hiring Marriage and Family Therapists as part of an expansion of its' mental health services.6
According to the U.S Bureau of Labor Statistics (2018) the professional average for marriage and family therapists (fully licensed) is $51,340.7
Licensure & Accreditation Information
The MFT Master's Program at The University of Akron is a Commission On Accreditation Of Marriage And Family Therapy Education accredited program (V.12). This accreditation allows graduates from MFT Master's Program at The University of Akron to be eligible for the entry level MFT license in the state of Ohio after completion of all required curriculum, including supervised clinical experiences, and successful passage of the MFT National Examination (www.amftrb.org). For information regarding the educational, clinical, and supervisory requirements for licensure within the state of Ohio, please see https://codes.ohio.gov/ohio-administrative-code/rule-4757-25-01.
Click For Student / Graduate Achievement Information
Click For Student, Core Faculty, Non-Clinical Faculty, & Supervisor Diversity Information