Janice E. Steinmetz, MSW, LISW-S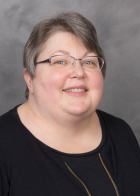 ---
Biography
RECENT PRESENTATIONS
Steinmetz, J. (2017, August). Mastering Supervisory Competence in Clinical Social Work. Louis Stokes VA Medical Center, Cleveland, Ohio.
Steinmetz, J. (2017, June). Supervision of Students in Field: a Best Practice Model for Social Work Field Instructors. Adelphi University, Garden City, New York.
Steinmetz, J. (2016, October). Supervision of Social Work Students in Field. The University of Akron, Akron, Ohio.
Steinmetz, J. (2015, September). Job Satisfaction When Working in a Challenging Environment. MetroHealth Medical Center, Cleveland OH.
---
Education
M.S.W. Cleveland State University
B.A. College of Wooster
---
Courses
7750:401 Social Work Practice I
7750:404 Social Work Practice IV
7750:405 Social Work Practice I Skills Lab
7750:425 Social Work Ethics
7750:427 Human Behavior and Social Environment I
7750:480 Motivational Interviewing
Social Work and Interprofessional Health Care
7750:493 Field Experience Social Agency I
7750:494 Field Experience Social Agency II
7750:631 HBSE I
7750:632 HBSE II
---