Sophia Kraus, M.A.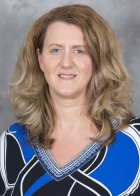 ---
Biography
Professor Sophia Kraus has over 25 years of experience primarily in the areas of child/family development and early childhood education. She currently teaches interdisciplinary coursework for the Resilient Child Certificate involving the study of trauma informed care, play-based intervention techniques, and play theory and assessment..
As the former administrator and Interim Center Director for The University of Akron Center for Child Development (2007-2017), professor Kraus brings additional experience in clinical supervision of student field experience, NAEYC accreditation, and coordination of community intervention programming for children and families.
PROFESSIONAL INTERESTS
Childhood resiliency
Emotional intelligence
Trauma-informed care
Attachment & play theory
Psychosocial issues of learning disabilities
---
Publications
Witt, S & Brdarski, S. (2003). The merry-go-round effect: Examining the developmental perspective and social context of self-esteem in adolescents with learning disabilities. Education and Society, 21, 75-86.
---
Education
M. A. in Family and Child Development. The University of Akron
B. A. in Family Development. The University of Akron
---
Courses
7750:632 Human Behavior & Social Environment: Large Systems
7750:631 Human Behavior & Social Environment: Small Systems
7750:430 Human Behavior & Social Systems II
---