Akron's Stevi Large wins national championship in hammer throw
06/12/2009
University of Akron senior Stevi Large shattered her own school and Mid-American Conference record twice in the hammer throw June 12 to win the 2009 NCAA Outdoor Track & Field Championship held at the University of Arkansas.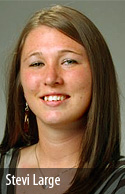 Large posted a personal-record throw of 221-10 (67.62) on her first throw in the final, which would have been good enough to win. After a two-hour weather delay, Southern Cal's Eva Orban, who was the nation's leader coming into these championships, and Arizona State's Sarah Stevens began getting closer to Large's standard. With Orban only trailing by seven inches in the final round of throws, Large stepped up and delivered the clinching throw of 223-4 (68.08).
"First I would like to thank my parents, family and friends, (throws coach) Brian Forrester and (head coach) Dennis Mitchell for their support and direction over my career," Large said. "Also I would like to thank all my teammates, especially Mike (McCall), Danny (Daniel Kinsey), Carrie (Kayes) and Val (Valerie Wert) for helping me today.
"The competition was tough and there were some nerves when Eva and Sarah began creeping up on my mark. Even tough I had already won prior to my last throw, there was just a tremendous sigh of relief, knowing I was national champion and ending with such a huge mark. It does not get much better than having two personal records and a national title on the same day.
"Coach Forrester and Southern Illinois coach John Smith were great during the two-hour rain. The waiting, not knowing when we would return and the overall anticipation was toughest part of today. I will not say the delay was a benefit, since my first throw would have held up for the win, but it was not bad either.
"It really has not sunk in yet. After the disappointment from indoors (leading and finishing runner-up on the last throw of the competition), this is really exciting. But, really, my season is not over. I still have the USA national championships and hopefully the world championships after that."
Four-time All-American

Additional information:
See also:
UA junior Carrie Kayes tied the school and Mid-American Conference all-time records with a pole vault of 14-1.25 (4.30), placing sixth and earning All-American honors at the 2009 NCAA Outdoor Track & Field Championships. Full story.
Large, who earned her fourth career All-American honor, was the top performer during the preliminary round on Wednesday with a throw of 215-9. This season, Large competed in and won the hammer all eight times, including her fourth career MAC title and second career NCAA Mideast Regional title. Also, during the indoor season, she competed in the weight throw seven times, winning six with her third career MAC title. Her only non-win of 2009 was a runner-up finish in the weight throw at the NCAA Indoor championships. Along the way this outdoor season, Large set six records in her eight wins, including the UA and MAC all-time records, the MAC Championship meet record, the NCAA Mideast Regional Championship record, the LSU relays record and the University of Louisville track record.
"It really was amazing," Mitchell said. "She handled the competition and the ordeal of the long day so well. She fought hard and earned this title. The way the competition was, her being the leader after premlims, she saw what Sarah and Eva did and stepped in right after them and out-competed them. We have had some great athletes since Christi won the heptathlon in 2000, so his shows just how special it is to win a national championship. I can not express how proud I am of Stevi."
Large, who was national runner-up at the NCAA Indoor Championships this past March in the weight throw, becomes the second Zip to win a national title this season and the third in school's history. Also this past March, UA freshman Jenna Compton was the NCAA Individual Air Rifle Champion. In 2000, four-time All-American Christi Smith won the heptathlon at the NCAA Outdoor Championships.
---
Source: UA Athletics at www.gozips.com