UA's anglers drop a close one to Kent in first 'Battle of the Paddle'
09/25/2012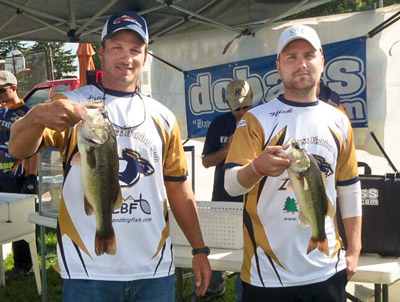 Austin Levering and Nick Pribanich, members of the UA Fishing Club.
---
UA and Kent State, spirited adversaries on the football field and basketball court, extended their rivalry last weekend to shores of Springfield Lake, where the two faced off in the first "Battle of the Paddle" bass fishing tournament.
Ultimately, Kent won by the width of a fishing line, 15.43 to 14.17 pounds, but Akron's Austin Levering and Nick Pribanich caught the biggest bass, weighing 3.16 pounds.
The duel will be the focus of a story by D'Arcy Egan in the Cleveland Outdoors section of the Cleveland Plain Dealer on Sept. 29.
---
Media contact: Laura M. Massie, 330-972-6476 or massie1@uakron.edu.