Bachelor of Science in Respiratory Therapy
Contact Person: Stacia Biddle
Phone: (330) 972-7906
E-mail: stacia@uakron.edu

---
Program Overview
Curriculum Guide (Degree Requirements)
Respiratory therapy is...
a health care profession that works with patients who have heart or lung disease;
a baccalaureate degree program;
a great career with outstanding job prospects; and
a licensed profession in the State of Ohio.
The University of Akron's Respiratory Care Program...
has been an accredited program for more than 30 years. It is currently accredited by the Commission on Accreditation of Respiratory Care;
has greater than 95% job placement every year since it has been in existence; and
has pass rates on certification and registry exams which exceed national averages.
What do respiratory therapists do?
The primary job of the respiratory therapist is to help assess, diagnose and treat the patient with lung or heart disease.
The physician orders the therapy, and we carry it out.
We spend a lot of time evaluating the therapy to assure that it is working, and is appropriate for the patient.
We help the physician provide the correct therapy.
Types of settings
Respiratory therapists work in hospitals, nursing homes, offices, sales, sleep labs, and even in the patients' own homes.
We care for the very young (newborn) to the very old (geriatrics).
Our equipment may be quite simple (oxygen cannula) to very complex (mechanical ventilators that breathe for the patient).
How the clinical training works
Students learn the skills they need on campus in lecture classes.
They practice the skills in labs on campus.
They later practice the skills on real patients in hospitals, under supervision of a clinical instructor.
Hospital affiliations
Students receive more than 1,100 hours of clinical time in hospitals.
An excellent working relationship exists between the hospitals and the University of Akron.
Working in respiratory therapy
Ohio has a licensure law. To be eligible for the license, you must graduate from an approved program, and pass the licensure exam.
Students are eligible to work in a hospital while in the program, after completing a clinical course.
The state licensure law is designed to protect the public. If you have a criminal background, you many not be able to get a license. Contact the licensure board for specifics.
Career and salary outlook
It's a great time to choose respiratory therapy as a career.
According to the U.S. Bureau of Labor Statistics, respiratory therapists can expect much faster than average job growth over the coming decade. Median pay is about $60,000 a year.
Other considerations:
The performance of UA graduates on the national

Therapist Multiple-Choice or TMC

exam consistently exceeds the national average.
The baccalaureate program offers additional prestige over associate degree programs from other institutions.
2018 National Exam Pass Rate Results
| | | |
| --- | --- | --- |
| EXAM | UA | NATIONAL |
| TMC Exam | 95% | 86% |
Apply for the Respiratory Therapy program
Application to the program is a two-part process.
Apply to the University of Akron and get accepted.
Apply to the Respiratory Therapy program itself.
Nov. 30 annually is the deadline to apply.
Acceptance is based on a combination of grade point average, and science/math course grades.
Clinical space is limited. Not everyone who applies may be accepted.
---
How do I prepare to study respiratory therapy?
If you are a high school or college student, what can you do to prepare for the program?
Take classes which emphasize science (Biology, Chemistry, Physics, Anatomy) and math (Algebra), since that is the background needed for Respiratory Therapy
Get the highest grade point average you possibly can
Visit a Respiratory Care department and talk with a Respiratory Therapist to make certain you know what you are getting into
Entering the program
What are my chances of getting into the Respiratory Therapy program?
Interest in the profession is very high and growing.
Admission to the program is limited to 20 students as full admits who start in spring semester of their sophomore years.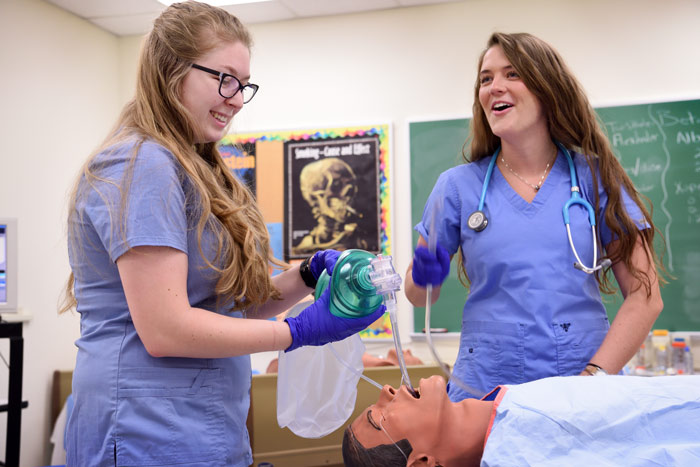 The University of Akron's Bachelor of Science in Respiratory Therapy program is accredited by the Commission on Accreditation of Respiratory Care. Visit its website to obtain more information about the accrediting agency and its policies and standards. Find CoARC program outcomes here. CoARC can be contacted at:
CoARC
777 Cannon Drive
P. O, Box 54876
Hurst, TX 76054-4876
---
Our mission
The mission of the Respiratory Therapy program is to prepare leaders for the field of respiratory care by including curricular content that includes objectives related to acquisition of skills in one or more of the following: management, education, research, advanced clinical practice.
Our Goals: To prepare graduates with demonstrated competence in the cognitive (knowledge), psychomotor (skills), and affective (behavior) learning domains of respiratory care practice as performed by registered respiratory therapists (RRTs). To prepare leaders for the field of respiratory care by including curricular content that includes objectives related to acquisition of skills in one or more of the following: management, education, research, AND/OR advanced clinical practice (which may include an area of clinical specialization).
After successfully completing all of the requirements for this program, and after being recommended by faculty of the College of Health Professions, a student will be awarded a bachelor's of science (BS) degree in Respiratory Therapy.
---
Advisory committee
Our advisory committee is comprised of healthcare professionals and students in our program. They advise us on trends in the workplace, and we use those insights to inform our curriculum. We are grateful for their service to our program!

Respiratory Therapy Advisory Committee