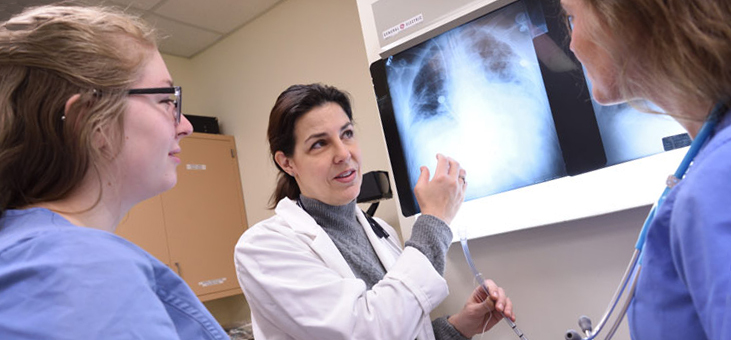 Bachelor of Science in Respiratory Therapy
Respiratory Therapy is a great career choice, USNews recently ranked it #16 in overall best jobs and #6 in Best Health Care jobs. Read more
---
Program Overview
We also offer an AAS-RRT to BSRT bridge program.
What is a Respiratory Therapist?
A Respiratory Therapist is a healthcare professional who assesses, diagnoses, and treats patients with heart and lung diseases. Caring for all age groups, Respiratory Therapists work in hospitals, nursing homes, offices, sleep labs, and even patient's own homes. To assist in patients breathing, Respiratory Therapy equipment may be as simple as oxygen nasal cannulas to advanced life support equipment such as mechanical ventilators.
Program Accreditation
The University of Akron's Bachelor of Science in Respiratory Therapy program is accredited by the Commission on Accreditation for Respiratory Care (CoARC). Visit the CoARC website to obtain more information about Respiratory Therapy, the accrediting agency, its policies, standards, and program outcomes.
COMMISSION ON ACCREDITATION FOR RESPIRATORY CARE
Website: www.coarc.com
Phone: 817-283-2835
CoARC accredits respiratory therapy education programs in the United States. To achieve this end, it utilizes an 'outcomes based' process. Programmatic outcomes are performance indicators that reflect the extent to which the educational goals of the program are achieved and by which program effectiveness is documented.
Program #200233
View the most recent outcomes summary.
Graduate's Board Certification
After successfully completing the UA Respiratory Therapy program, graduates will be eligible to take the National Board for Respiratory Care (NBRC) credentialing examination. Passing this examination is required to obtain a Respiratory Care Professional (RCP) license to practice in the State of Ohio. State licensure is awarded by the State Medical Board of Ohio.
STATE MEDICAL BOARD OF OHIO
30 East Broad Street, 3rd Floor
Columbus, OH 43215
Website: www.med.ohio.gov
Phone: 614-466-3934
Fax: 614-728-5946