The eight courses you meet in heaven
03/15/2013

The glitter of chandeliers and the sparkling tears — such as angels weep — of ice sculptures, the cascade of wine and choir of clinking glasses, the savory sweep of scent and spice from swinging kitchen doors — and then, "bon appetit," dinner is served: hors d'oeuvres, appetizers, soup, seafood, sorbet, poultry, meat, salad and dessert grace the table in grand succession.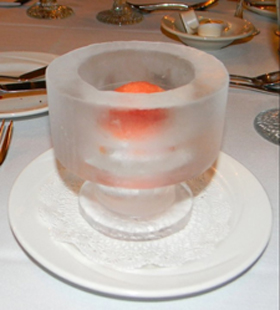 This year's plum, lemongrass and ginger sorbet by Anthony Scolaro will be served in an ice goblet provided by Elegant Ice Creations, as shown here from last year's Graduate Chef Dinner.
---
This is not paradise — although the "paradise soup" may convince you otherwise. This is The University of Akron's spring 2013 Graduate Chef Dinner.
Graduate chefs from UA's hospitality management program will serve an eight-course, gourmet dinner in the Crystal Room Bistro at Gallucci Hall on April 6 at 6 p.m.
The room will be adorned with ice and vegetable carvings by the Garde Manger Club and chef Richard Alford, associate professor emeritus and the club's coach.
Special guest chef Andy Mikuszewski and chef Joe Schmeltzer will serve their hors d'oeuvres — including Schmeltzer's stuffed redskin potatoes — at 5:30 p.m., and the dinner will begin at 6 p.m. with the featured appetizer: cerveza-braised carnitas — shredded pork served on a fried tortilla shell topped with pico de gallo, guacamole and sour cream — by chef Brad Smith.
The dinner continues with chef John Bush's paradise soup (bread and cheese balls in a hearty broth); chef Aaron Hervey's potato-flake-crusted, pan-seared walleye, served over roasted artichoke couscous, with lobster and sweet corn broth with bacon lardons; and chef Anthony Scolaro's plum, lemongrass and ginger sorbet, served in an ice goblet provided by Elegant Ice Creations.
The heartier dishes include Scolaro's airline chicken breast, marinated in red wine and raisin gastrique, faro sauté and confit carrots; and chef Kenneth Diederich's roasted beef tenderloin with potato wafer, sweet and sour salad crostini, onion marmalade and three-way intensifier. These are followed by the lighter fare of Dan Remark's duck-confit-and-goat-cheese salad, with arugula greens that settle like petals in the belly.
The meal concludes with mini banana cream pies by chef Susan Geul and chocolates by Mikuszewski.
Each course will include a wine pairing provided by The Winery at Wolf Creek, and the breads will be provided by Betsy Geul, pastry chef for Caterology in Willoughby.
Tickets cost $50, and reservations can be made by calling 330-972-6615.
All proceeds support the Garde Manger Club to fund fruit, vegetable and ice carving opportunities for the students.
The graduate chefs represent several local businesses and universities. Mikuszewski and Smith are professors of hospitality management at UA; Geul is the executive pastry chef at Kent State University; Schmeltzer is a senior hospitality management instructor at Copley High School; Bush is the executive chef/director of Regina Health Center; Hervey is the co-owner and executive chef at Crave; Scolaro is the sous-chef at Westfield Center; Diederich is the regional executive chef for Xanterra Parks & Resorts, as well as the executive director of the National Ice Carving Association; and Remark is a culinary arts instructor at the Maplewood Career Center.

Story by Nicholas Nussen
---
Media contact: Denise Henry, 330-972-6477 or henryd@uakron.edu.