Buchtel College of Arts and Sciences
Graduates from The College of Arts & Sciences.
Research Spotlight: Biology
Researchers Explain Spider Web Stickiness
Todd Blackledge, Department of Biology (far left in photo), and a team of UA researchers have recently unraveled the mysteries behind the glue spiders use to spin their webs.
This path breaking illustration of knowledge production will have a powerful impact on the development of future bio-adhesives, result in multiple commercial applications, and marks another achievement in a field where UA is taking a leadership role in collaboration with regional partners and the medical community.
The research, "Viscoelastic Solids Explain Spider Web Stickiness," will appear in Nature Communications (May, 2010). Learn More
---
Student Spotlight
Summer study abroad trip to Japan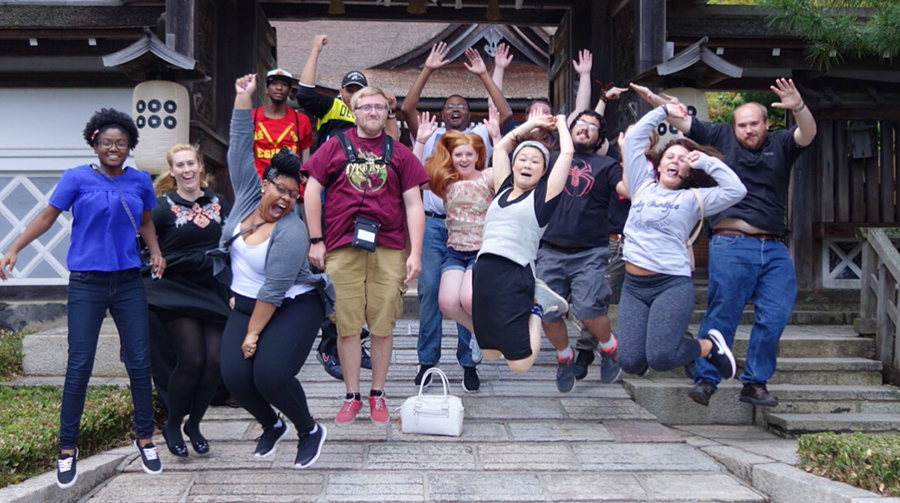 Students from UA's Modern Language Department, lead by senior lecturer Yuki Fujiwara Sigler, are participating in the department's first study abroad trip to Japan.
The 14-day trip, kicked off May 23, offered the 14 students an opportunity to experience and immerse themselves in Japanese culture by solving real world tasks along with historical place visitation and cultural experience. Places visited include Kyoto, Hiroshima, Osaka, Tokyo, and many more.
---
News archive