Three of UA's own honored for strides in STEM fields
02/25/2019

The innovative contributions of three professors here at UA are being recognized in the just-released issue of "Notable Women in STEM 2019" by Crain's Cleveland Business. They are pictured here in a congratulatory ad from the University that appears in the issue.

Among the 29 honorees chosen by Crain's are Dr. Hazel Barton, biology professor and director of the Integrated Bioscience Program; Dr. Chelsea Monty-Bromer, associate professor of chemical and biomolecular engineering; and Karen Plaster, associate professor of practice and co-director of our just-announced Urban STEM Center in the LeBron James Family Foundation College of Education.

In making its selections, Crain's noted that through the "leadership, mentoring and example" of the honorees, "young women throughout Northeast Ohio and beyond can envision and secure a future for themselves in STEM."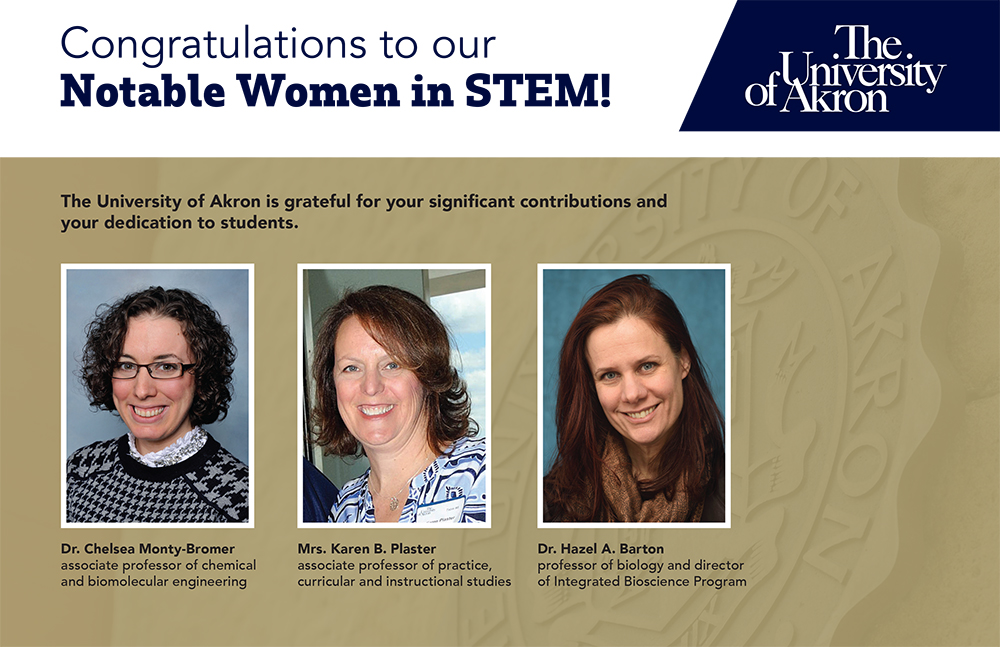 Barton's research efforts have led her to explore glacier ice caves, underwater caves and earth caves in wide-ranging locations across the world. As director of integrated bioscience, Barton has increased the number of applicants, graduation rates and funding for the program. She also mentors both UA students and high school students in her research lab.
Monty-Bromer's research includes developing portable micro-scale sensors to detect toxic compounds for environmental, medical, pharmaceutical and military applications. She co-founded RooSense LLC, a startup that develops a wearable fabric sensor that monitors hydration and lactate levels in real time.
Plaster, an "industrial engineer-turned-educator," designed and developed a course for teachers to incorporate engineering into traditional science and math programs. She promotes STEM through presentations about robotics, makerspaces and interactive math activities, and programs that guide teacher candidates and current teachers on creating lessons that motivate their students.
Again, congratulations to all!