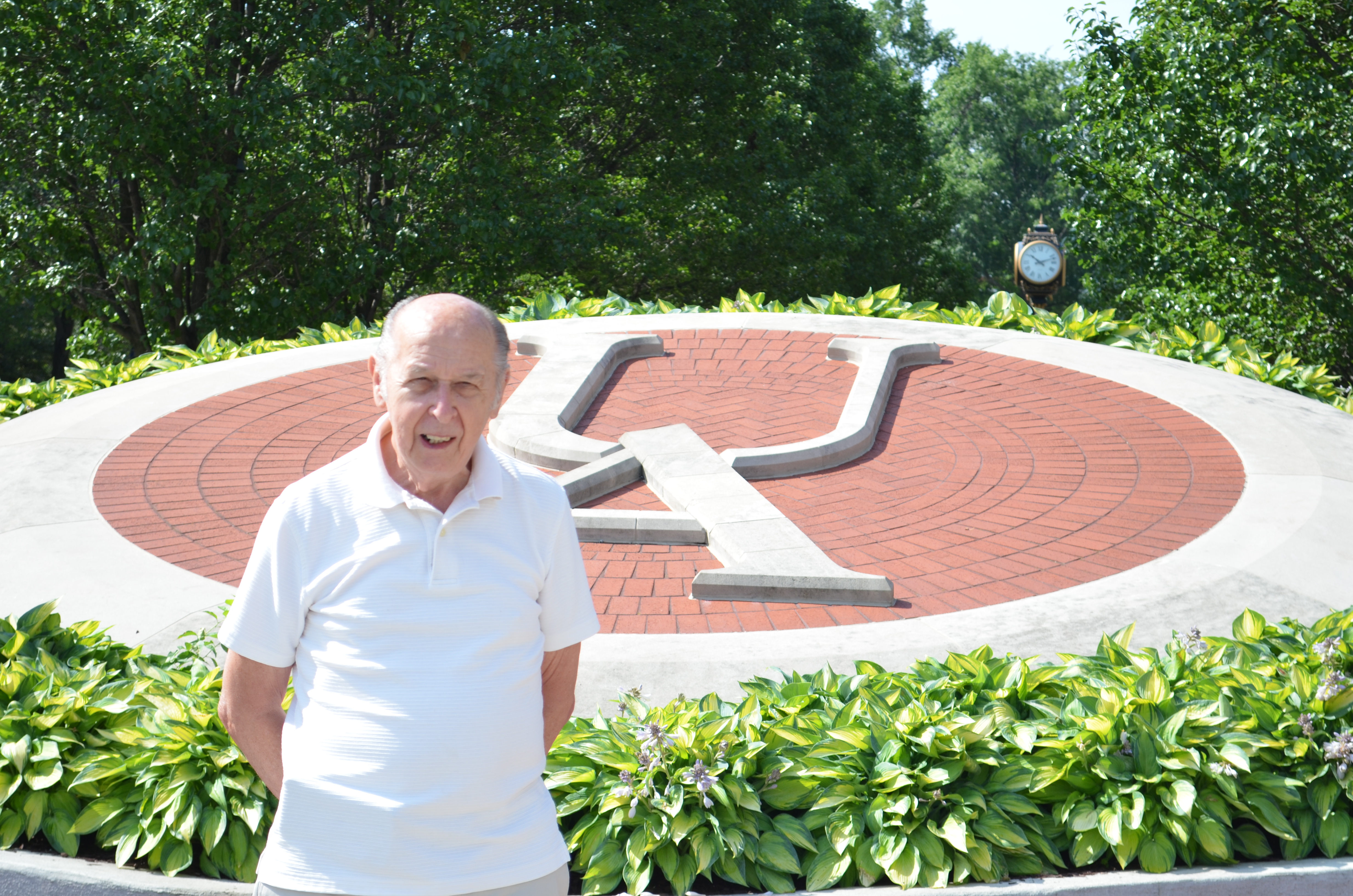 Dr. Thompson, visiting the University of Akron in 2015
The Biology Department would like to express it's appreciation for Dr. Thompson's generous and continuing support for undergraduate research !
Scholarship Information for Students
Looking for scholarships should start before you even start your academic program. However, once you have chosen biology as your academic field there are specific scholarships that then become available to you. Be as proactive and persistent as possible in your search for opportunities. Begin your search by talking with our financial aid experts. Links to general resources for all students, college resources and specific resources in biology are found below.
For Current or Future Undergraduate Students:
You can start this process of becoming independent by visiting the UA Financial Aid Office.
For Current or Future Graduate Students:
You can start this process of becoming independent by visiting the UA Graduate School.
Department of Biology Scholarships
The Department of Biology has numerous scholarships available for undergraduate and graduate students. Most of these have deadlines in the early spring. Please watch for flyers around the department announcing these scholarships and providing details about qualifications and means of applying for them. Almost all of these scholarships have application deadlines in early spring and require an application letter and letters of references.

Dr. Paul Acquarone Award in Plant Sciences
This award was established in 1982 on an endowed basis by family and friends in memory of Paul Acquarone, PhD, Professor Emeritus of Botany and Geology who retired in 1965. Endowment income is made available to students specializing in the plant sciences for the purchase of books, materials, travel and tuition. ~$450.00

Burgner Memorial Medical Scholarship
An endowed fund established in memory of the late Dr. Earl W. Burgner by his wife, Lois, class of 1922, and friends for the purpose of financial assistance to a premedical student, selected on the basis of academic achievement. This award is for UA students entering their 3rd or 4th year in the Fall of 2003. ~$1,750.00
Mary E. Leyden Green Scholarship
The recipient of The Mary E. Leyden Green Memorial Endowed Scholarship will be a full- or part-time junior or senior in the Buchtel College of Arts and Sciences majoring in biology or a related medical field. The scholar must have a minimum 3.0 GPA and be an "active or inactive" member of Alpha Gamma Delta Sorority. Preference will be given to a student demonstrating financial need. ~$1,000.00
Dr. Kevin E. Kelleher Memorial Fund
An endowed fund established by the immediate family of the late Dr. Kevin E. Kelleher, former Assistant Professor of Biology. The fund will provide scholarship assistance to worthy students specializing in ecology. ~$950.00

Dr. Roger F. Keller, Jr., Award
This endowed award was established in 1983 by colleagues, family and friends in honor of Dr. Roger F. Keller, Jr., Professor Emeritus in the Community and Technical College, who retired in December 1982. Endowment income is made available to students majoring in biology, with preference to those specializing in genetics or biotechnology, for the purchase of books, materials, travel and tuition. ~$900.00

Alice and Walter Macior Award in Plant Sciences
The Alice and Walter Macior Award in Plant Sciences was established in 1994 in honor and loving memory of the parents of Dr. Lazarus Walter Macior, Distinguished Professor Emeritus of Biology. Awards are made to students accepted in a graduate program specializing in botany or plant sciences. ~$650.00

Dr. Charles Alexander McClelland Endowed Scholarship
The endowment fund was established by Donald W. McClelland and his wife, Jane Heacock McClelland, and brother, George B. McClelland, a 1933 pre-medical graduate of The University of Akron. The fund was established to provide scholarships to pre-medical students in their junior or senior year at UA. The scholarship is awarded on the basis of outstanding academic achievement and need. ~$5,000.00

Christian Stinner Memorial Award
The award will go to a deserving student who is conducting research at the Dr. Paul E. Martin Center for Field Studies and Environmental Education. ~$500.00

George E. Wilkinson Scholarship
Established in 1985 by John E. Wilkinson of Akron, a loyal friend of the University, this endowed fund honors his father, George E. Wilkinson, for whom he holds the utmost love and respect. The fund provides tuition assistance for deserving pre-med students, with preference for students preparing for careers in service to the aging. Preference is given to children of employees of The Goodyear Tire and Rubber Company. Students must be entering their 2nd, 3rd, or 4th year of a 4 year degree program. ~$950.00
Scholarships for BCAS Students
If you are interested in Applied Politics or conflict management, Sociology or Anthropology, Chemistry, Philosophy, Mathematics...or any of a number of other specific fields of study only possible in a College of Arts & Sciences... then your individual academic interest intersects with scholarship opportunities.
Click here for an extensive listing of scholarships created exclusively for students studying in the Buchtel College of Arts & Sciences.
Or learn more about specific scholarship opportunities:
Ask an adviser about how to proactively pursue scholarship opportunities.