Scholarships for Biology Students
Looking for scholarships should start before you even start your academic program. However, once you have chosen biology as your academic field, there are specific scholarships that then become available to you. Be as proactive and persistent as possible in your search for opportunities. Begin your search by talking with our financial aid experts. Links to general resources for all students, college resources and specific resources in biology are found below.
For current or future undergraduate students: See the scholarships page on our Financial Aid site.
For current or future graduate students: Consult with the UA Graduate School.
Thank you!
The Biology Department expresses its appreciation for Norbert Tamasovich's generous and continuing support for undergraduate research!
Pictured is Mr. Tamasovich visiting the University of Akron in 2015.
Department of Biology Scholarships
The Department of Biology has numerous scholarships available for undergraduate and graduate students. These have deadlines in the late spring. Please watch for flyers around the department and an email sent to all Biology students announcing these scholarships and providing details about qualifications and means of applying for them. The email will include an electronic copy of the application or you can come to the Biology office (ASEC D401) to get a paper copy of the application. Applications are due in late spring and require 2 letters of references.
Scholarships available for 2023 have been awarded to the following students: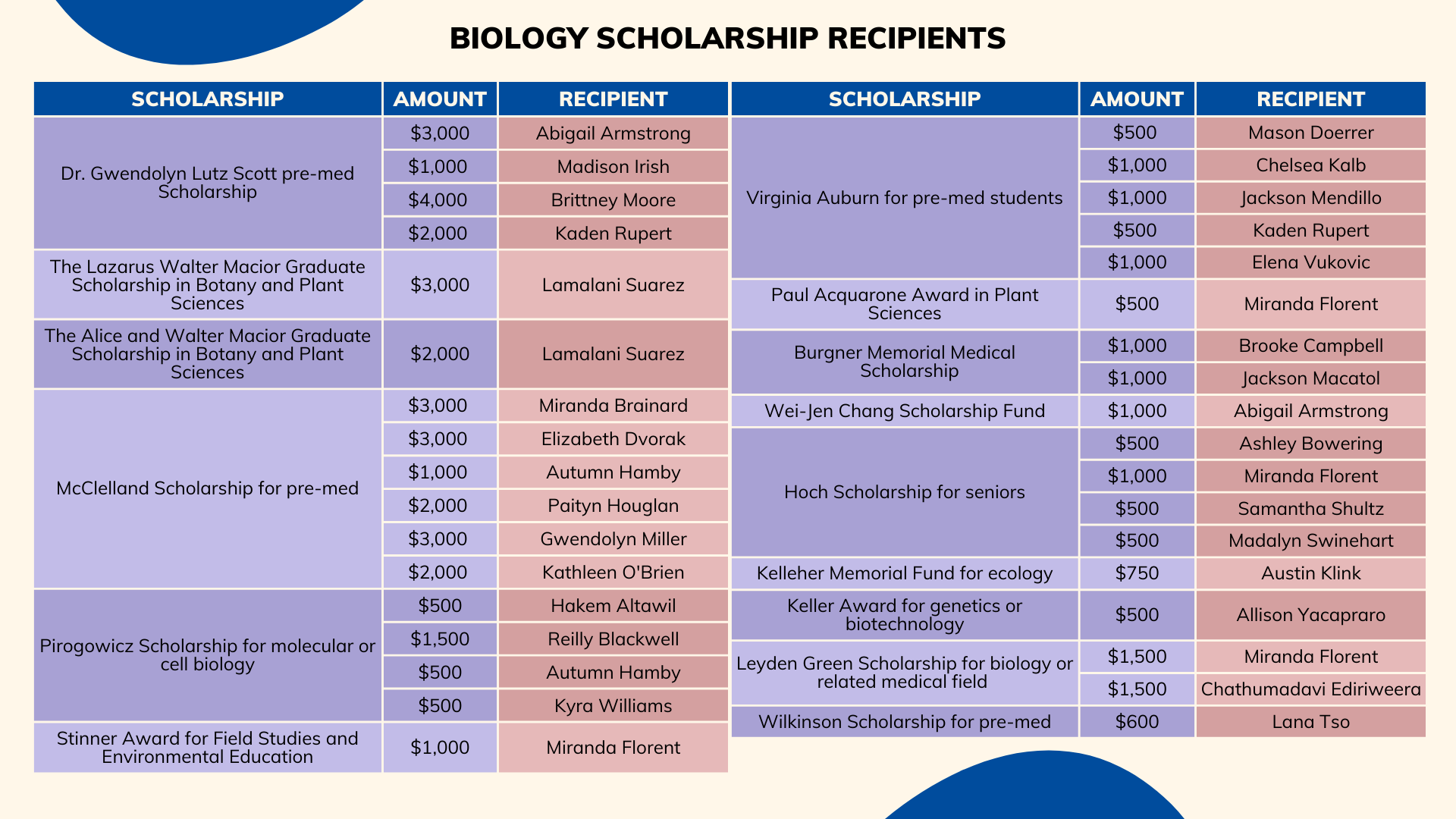 Highlighted below is another scholarship opportunity for Summer 2023 open to graduate students and junior academics:
The Laura Bassi Scholarship was established by Editing Press in 2018 with the aim of providing editorial assistance to postgraduates and junior academics whose research focuses on neglected topics of study, broadly construed. The scholarships are open to every discipline and the next round of funding will be awarded in Summer 2023.
All currently enrolled master's and doctoral candidates are eligible to apply, as are academics in the first five years of full-time employment. Applicants are required to submit a completed application form along with their CV through the application portal by the relevant deadline. Further details, including previous winners, and the application portal can be found at: https://editing.press/bassi
Deadline for application is July 25, 2023. Results will be shared on August 10, 2023.
MCAT Scholarship for Underserved Students
Northeast Ohio Area Health Education Center Program along with Student National Medical Association, are working to provide opportunities for underserved students to receive a scholarship for MCAT prep through the Princeton Review. See their flyer.
We recommend the live online option as opposed to the self-paced option.
Criteria for receiving the scholarship is that the applicant:
Attends a college/university (junior, seniors, or Post Bacc) and resides in the following 19 Counties: Ashland, Ashtabula, Carroll, Columbiana, Crawford, Cuyahoga, Geauga, Holmes, Lake, Lorain, Mahoning, Medina, Portage, Richland, Stark, Summit, Trumbull, Tuscarawas, or Wayne.

Is considered:

Disadvantaged:




You are (or will be) the first generation in your family to attend college.

You are a 21st Century Scholar or currently receive Scholarship or Loan for Disadvantaged Students.

While growing up, you or your family ever used federal or state assistance programs (i.e., free or reduced breakfast/lunch,

WIC, subsidized housing, food stamps, Medicaid, etc.)

While growing up, you lived where there were few medical providers at a convenient distance.

an underrepresented minority

a rural student

urban student
Please visit https://www.neomed.edu/mcat-test-prep/ to apply.
Scholarships for Buchtel College of Arts & Sciences students
If you are interested in Applied Politics or conflict management, Sociology or Anthropology, Chemistry, Philosophy, Mathematics...or any of a number of other specific fields of study only possible in a College of Arts & Sciences? Then your individual academic interest intersects with scholarship opportunities.
See an extensive list of scholarships created exclusively for students studying in the Buchtel College of Arts & Sciences.
Or learn more about specific scholarship opportunities:
Next step: Ask an adviser about how to pursue scholarship opportunities.