DEPARTMENT OF BIOLOGY
Academics
---
BIOLOGY WORK OPPORTUNITIES
BIOLOGY PHOTO GALLERY
Student's voice: Why Akron for biology?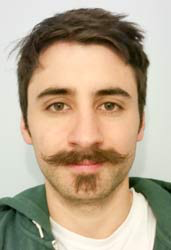 "What I value about the UA bio department is the exemplary facilitation of student engagement. Through the internally-funded tiered mentoring program, I was able to join a lab and conduct an independent research project. Without getting into the nitty-gritty, the ability to join that research group and be treated as a peer was the single most influential factor on my development as a scientist. Whether via such programs or direct faculty engagement, the values of the bio department at UA facilitated student success and scientific development."
-- Bryan Brown, former biology undergraduate currently enrolled in a Ph.D. program at Duke University
---
UNDERGRADUATE RESEARCH IN FACULTY LABS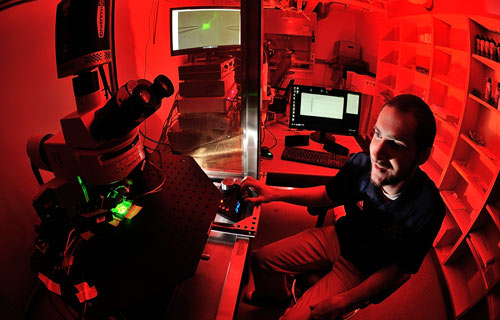 In the Renna Lab, undergraduate students like Dan Vicarel record signals from living neurons and investigate the effects of light on the formation of functional connections between the retina and various visuals centers of the brain. We target specific populations of neurons and characterize their maturation using cutting edge genetic, molecular, and electrophysiological techniques.
Biology: Great careers start here!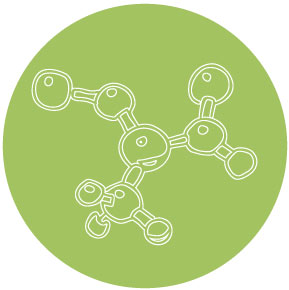 UA's Biology Department is diverse and vibrant. We have an array of biology courses that serve students seeking to go on to pre-professional schools (medicine, veterinary, dental and pharmacy), students interested in Zoology, Microbiology or Botany, students pursuing a master's in biology or going on to graduate schools, and current graduate students (Master's and PhD). We have 16 tenure-track faculty, with interests ranging from neurobiology to pregnancy to plant/animal interactions. We serve ~500 undergraduate and ~75 graduate students.
The Biology Department offers engaging biology majors with over 75 undergraduate classes encompassing medicine, microbiology, physiology, botany, zoology and ecology. Biology is a hands-on discipline, and our courses are reflective of our commitment to field and laboratory experiences. Many of our classes have laboratory components, including many field courses. Additionally, we offer summer biology courses to the Bahamas, Virginia Beach, and Maine for marine biology classes.
Our upper-division courses average ~15 students, allowing unfettered access to our faculty. Additionally, our vibrant graduate program allows research opportunities for our students, who can apply up to 6 independent research credits towards their B.S. degrees. Such opportunities propel our students on to success: in 2015, 77% of our graduates were placed in professional or graduate programs while an additional 16% got a job in their field within 6 months of graduation.
We hope you will join us in our continuing exploration of the science of Biology!
---
Faculty Research Spotlight
What can we learn by studying how snakes move?
Dr. Henry Astley, assistant professor of biology, describes how his research on how snakes move could help save lives after an earthquake and help with exploration of other planets.
Dr. Anne Wiley: Three questions about your research
Describe your research.
You are what you eat. In the case of animals, the stable isotopes present in their food and water are transferred to their own tissues in a predictable manner, providing a biochemical indicator of their diet and foraging locations. My research uses the ratio of stable isotopes in animal tissues and companion methods to understand the ecology of modern and ancient vertebrate populations and the impacts of humans on animal diet. Much of my research is focused on seabirds and detailing the lives these animals lead at sea, when they are foraging across vast ocean basins and largely inaccessible to scientists. Specifically, my lab group studies the role that seabirds play in their food webs, how those food webs are shifting through time, and how seabirds deal with the challenges of competition and reproduction in ever-changing environments.
GRADUATE STUDENT RESEARCH SPOTLIGHT: Alysha Cypher
My interest in science started in conservation biology and marine biology. During my undergraduate years, I worked on amphibian conservation, fish toxicology, and microbiology. I chose the Integrated Bioscience Program at Akron because it appealed to my broad interests and pushed me to be a better communicator in areas outside of biology.
For my doctoral work, I was interested in how pollutants affected cardiovascular function in fish when co-exposed to low-oxygen concentration, a common problem in aquatic ecosystems. I focused on the endocrine disruptor and plasticizer, bisphenol A, and the oil spill pollutants, polycyclic aromatic hydrocarbons (PAH).