DEPARTMENT OF BIOLOGY
Biology degrees at Akron
BIOLOGY WORK OPPORTUNITIES
Visit us!
Dispatch from Tahiti
UA students researched geckos and fish in Tahiti as part of a 2019 vertebrate zoology course.
Student's voice: Why Akron for biology?
Logan Usher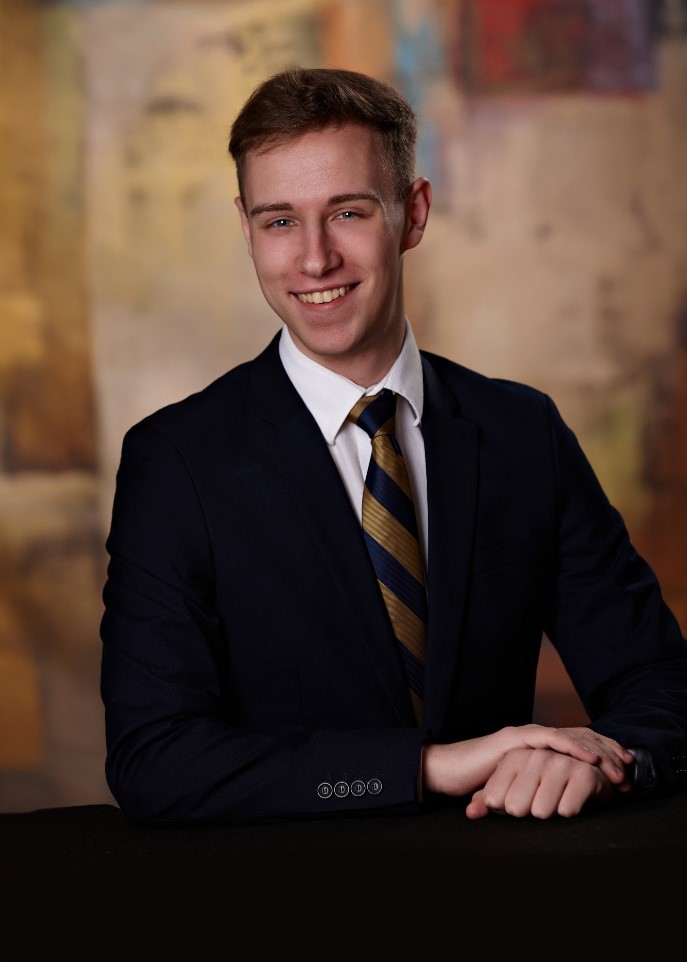 "The Department of Biology at Akron is absolutely fantastic and is so more than just classes. The opportunity to work with professors on research has completely defined my undergraduate career. One thing that really helps the process of getting involved with research is the Tiered Mentoring program. I got involved in the summer between my sophomore and junior years, and I have stuck with the lab since. Tiered mentoring pairs an undergraduate student with a graduate student of a lab and allows them to work on research, then help the next group of undergraduates learn as well. I'm currently working with Dr. Astley on snake locomotion and biomechanics and it has taught me so much about the research process, technology and how to work with animals. Plus, the Tiered mentoring program has options for anyone in biology, from working with bones and cadavers, to zebrafish or bacteria! I couldn't recommend a program more for how much it has helped me develop professionally and how much fun it has been!"
UNDERGRADUATE BIOLOGY RESEARCH IN FACULTY LABS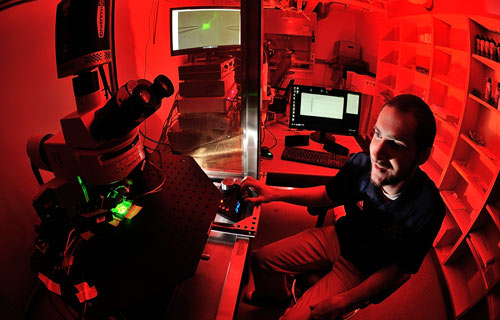 In the Renna Lab, undergraduate students like Dan Vicarel record signals from living neurons and investigate the effects of light on the formation of functional connections between the retina and various visuals centers of the brain. We target specific populations of neurons and characterize their maturation using cutting edge genetic, molecular, and electrophysiological techniques.
GRADUATE STUDENT RESEARCH SPOTLIGHT:

HAN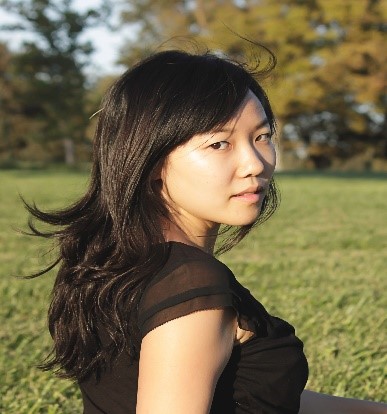 My love of science is tied closely to my love of reading. I always enjoyed the more personal, almost loving observations of the natural world, as told by naturalists such as Jean-Henri Fabre and Gerald Durrell. The scenes they described, rich in both scientific observations and a clear love of their subjects, made me want to learn more about nature, to see all the fascinating and adorable wonders for myself. I studied entomology as an undergrad, which I loved. Currently I focus on arthropod biomechanics and spider-web-prey interactions for my doctoral studies.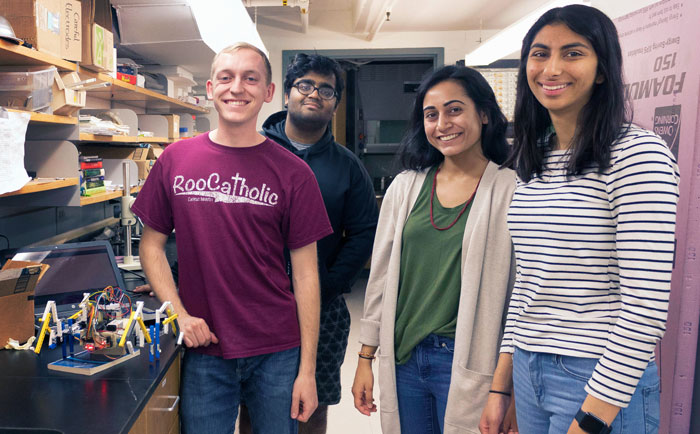 Biology offers many career paths
UA's Biology Department is diverse and vibrant. We have an array of biology courses that serve students seeking to go on to pre-professional schools (medicine, veterinary, dental and pharmacy), students interested in Zoology, Microbiology or Botany, students pursuing a master's in biology or going on to graduate schools, and current graduate students (Master's and PhD). We have 16 tenure-track faculty, with interests ranging from neurobiology to pregnancy to plant/animal interactions. We serve ~500 undergraduate and ~75 graduate students.
The Biology Department offers engaging biology majors with over 75 undergraduate classes encompassing medicine, microbiology, physiology, zoology and ecology. Biology is a hands-on discipline, and our courses are reflective of our commitment to field and laboratory experiences. Many of our classes have laboratory components, including many field courses. Additionally, we offer summer biology courses to the Bahamas, Virginia Beach, and Maine for marine biology classes.
Our upper-division courses average ~15 students, allowing unfettered access to our faculty. Additionally, our vibrant graduate program allows research opportunities for our students, who can apply up to 6 independent research credits towards their B.S. degrees. Such opportunities propel our students on to success: in 2015, 77% of our graduates were placed in professional or graduate programs while an additional 16% got a job in their field within 6 months of graduation.
We hope you will join us in our continuing exploration of the science of Biology!
---
What recent undergraduate students are doing
---
Faculty Research Spotlight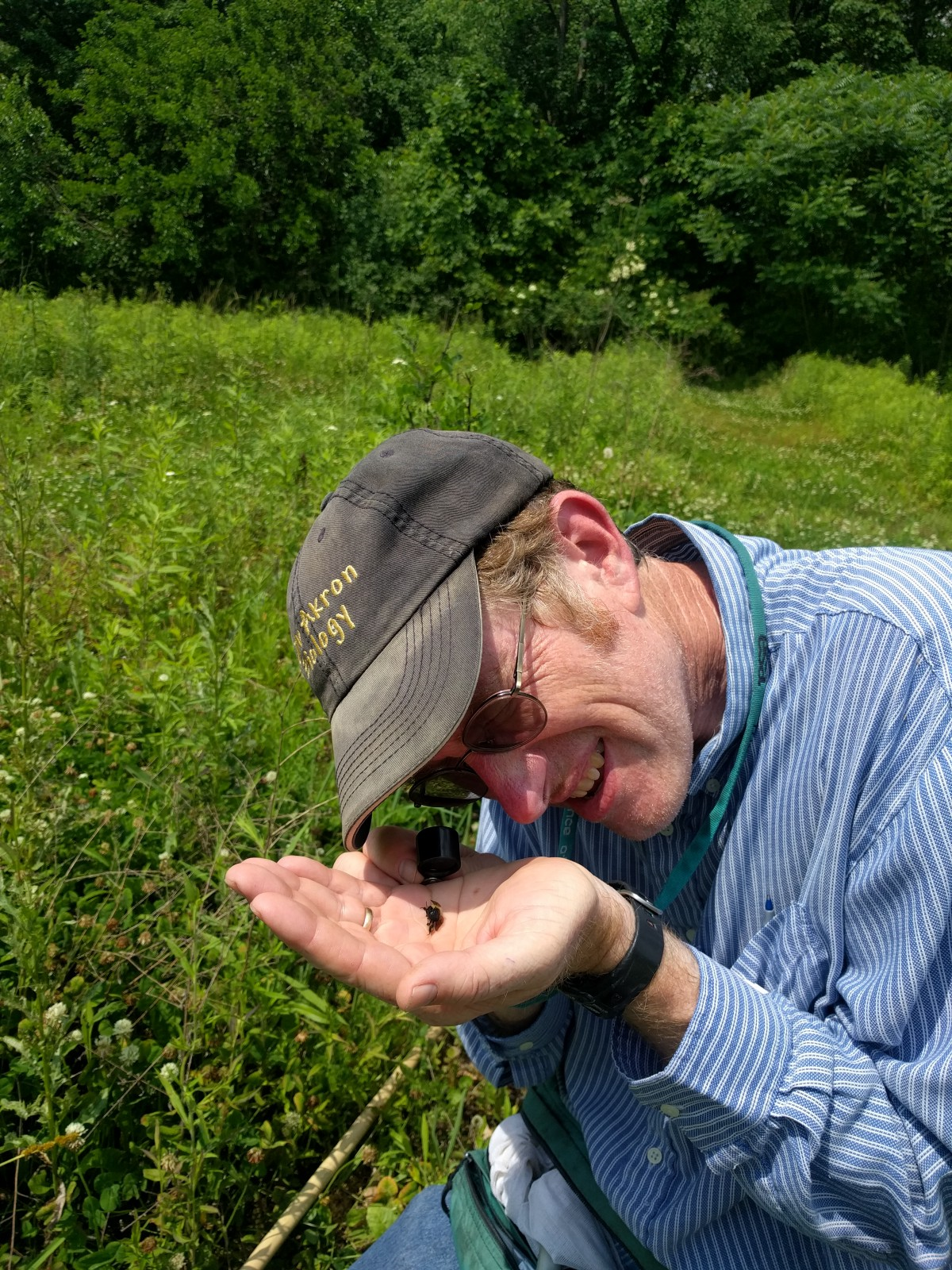 Dr. Mitchell's Research

Dr. Mitchell's Research Research in the Mitchell lab falls into two main themes - pollination, and wetlands. First, Dr. Mitchell's main research interest is in the evolutionary ecology of plant pollinator interactions, focusing on how plant mating patterns and success are affected by pollinator behavior and abundance. Students participate in this research through extensive field work (recording pollinator behavior, measuring flowers, evaluating seed production, etc.). Much of this work focuses on mating patterns in square-stem monkeyflower (Mimulus ringens) in wetlands of the American Midwest.
---
What can we learn by studying how snakes move?
Dr. Henry Astley, assistant professor of biology, describes how his research on how snakes move could help save lives after an earthquake and help with exploration of other planets.