Thirty-five current UA faculty members named among world's top 2% of scientists
Based on recent study published by Stanford University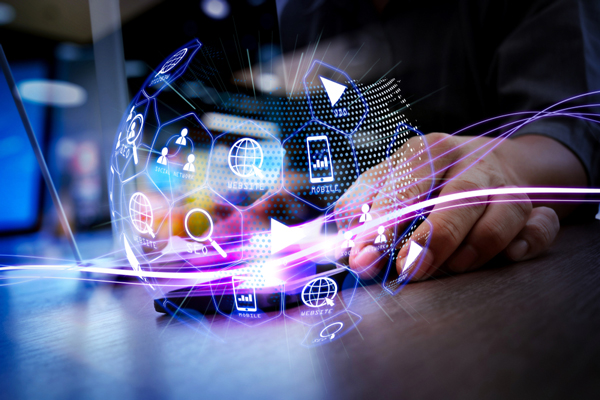 A recently published list of the world's top scientists has reinforced The University of Akron's reputation as a leading national research university. Fifty current and former UA researchers were included in the career ranking (Table 1) of the world's most cited researchers and those who are among the top 2% of more than six million scientists worldwide within their specialty areas throughout their careers. Twenty-four of these researchers remain active at the University. Additionally, 38 (21 still active) researchers were among the top 2% for a single year 2019 (Table 2) and 36 researchers (22 still active) were among the top 2% for a single year 2020 (Table 3).
The impact of scientific research is often measured by citations—how many times a researchers' work is cited by another scientific paper, which are essentially the retweets of the scientific community. To set up a gold standard of using citation metrics, a group of researchers at Stanford University recently conducted a worldwide ranking of scientists in different fields. This study resulted in the creation of the ranking by analyzing data collected from 1996 to 2020, covering more than six million scientists in 22 major fields and 176 subfields.
John P.A. Ioannidis, Ph.D., and his colleagues created a comprehensive database of more than 100,000 of the most-cited scientists across all scientific fields, the top researchers who have authored at least five scientific papers. This top 2% were assigned a composite citation score or "c-score" based on standardized citation indicators, which include numbers of citations, a commonly used metric known as "h-index" which reflects an individual's research output, co-authorship and a composite indicator for career-long impact.
The study was published in the Public Library of Science Biology journal: "Updated science-wide author databases of standardized citation indicators."
"UA has a very productive group of scholars over the past 25 years as well as more recently in the past two years—Stanford's new report confirms that," said Dr. Phil Allen, acting vice president research and business engagement.
Commenting on these notable achievements, UA President Gary L. Miller said, "It's an honor to have 35 faculty members on the Stanford Top Two Percent list. This is an aspect of the Akron academic experience that's important for our students to understand. They are learning, working, and often co-authoring, with some of the very best researchers in the world whose work is being cited by many other scholars in the field."
"This is an aspect of the Akron academic experience that's important for our students to understand. They are learning, working, and often co-authoring, with some of the very best researchers in the world whose work is being cited by many other scholars in the field."
— Gary L. Miller, UA President
Congratulations
Congratulations to the following researchers who are included in the ranking of the world's top contributors to their fields of science:
Table 1

Career Achievement List (1996-2020) alphabetical:

David M. Bastidas, Ph.D.
College of Engineering & Polymer Science
Todd A. Blackledge, Ph.D.
Buchtel College of Arts & Sciences
Steven S.C. Chuang, Ph.D.
College of Engineering & Polymer Science
James M. Diefendorff, Ph.D.
Buchtel College of Arts & Sciences
Malik E. Elbuluk, Ph.D.
College of Engineering & Polymer Science
Mark D. Foster, Ph.D.
College of Engineering & Polymer Science
Xiaosheng Gao, Ph.D.
College of Engineering & Polymer Science
Xiong Gong, Ph.D.
College of Engineering & Polymer Science
Avraam I. Isayev, Ph.D.
College of Engineering & Polymer Science
Sadhan C. Jana, Ph.D.
College of Engineering & Polymer Science
Joseph P. Kennedy, Ph.D.
College of Engineering & Polymer Science
Thein Kyu, Ph.D.
College of Engineering & Polymer Science
Ronald F. Levant, Ph.D.
Buchtel College of Arts & Sciences
Robert S. Lillard, Ph.D.
College of Engineering & Polymer Science
Tianbo Liu, Ph.D.
College of Engineering & Polymer Science
Randall Mitchell, Ph.D.
Buchtel College of Arts & Sciences
Gregory N. Morscher, Ph.D.
College of Engineering & Polymer Science
Zhenmeng Peng, Ph.D.
Buchtel College of Arts & Sciences
Donald Dane Quinn, Ph.D.
College of Engineering & Polymer Science
Yilmaz Sozer, Ph.D.
College of Engineering & Polymer Science
Tirumalai S. Srivatsan, Ph.D.
College of Engineering & Polymer Science
Robert Veillette, Ph.D.
College of Engineering & Polymer Science
Shi Qing Wang, Ph.D.
College of Engineering & Polymer Science
Chrys Wesdemiotis, Ph.D.
Buchtel College of Arts & Sciences
Additional University of Akron Faculty
Table 2

In addition, there were additional active faculty whose single-year productivity put them in the top 2% of researchers for 2019:

Todd A. Blackledge, Ph.D.
Buchtel College of Arts & Sciences
James M. Diefendorff, Ph.D.
Buchtel College of Arts & Sciences
Andrey V.Dobrynin, Ph.D. *
College of Engineering & Polymer Science
Yalin Dong, Ph.D. *
College of Engineering & Polymer Science
Malik E. Elbuluk, Ph.D.
College of Engineering & Polymer Science
Xiong Gong, Ph.D.
College of Engineering & Polymer Science
Avraam I. Isayev, Ph.D.
College of Engineering & Polymer Science
Joseph P. Kennedy, Ph.D.
College of Engineering & Polymer Science
Ronald F. Levant, Ph.D.
Buchtel College of Arts & Sciences
Tianbo Liu, Ph.D.
College of Engineering & Polymer Science
Randall Mitchell, Ph.D.
Buchtel College of Arts & Sciences
Gregory N. Morscher, Ph.D.
College of Engineering & Polymer Science
Zhenmeng Peng, Ph.D.
Buchtel College of Arts & Sciences
Donald Dane Quinn, Ph.D.
College of Engineering & Polymer Science
Yilmaz Sozer, Ph.D.
College of Engineering & Polymer Science
Tirumalai S. Srivatsan, Ph.D.
College of Engineering & Polymer Science
Shi Qing Wang, Ph.D.
College of Engineering & Polymer Science
Chrys Wesdemiotis, Ph.D.
Buchtel College of Arts & Sciences
Chang Ye, Ph.D. *
College of Engineering & Polymer Science
Jie Zheng, Ph.D. *
College of Engineering & Polymer Science
Jiahua Zhu, Ph.D. *
College of Engineering & Polymer Science
(*active for single year but not career)
Table 3

In addition, there were additional active faculty whose single-year productivity put them in the top 2% of researchers for 2020:

Hazel A. Barton, Ph.D. *
Buchtel College of Arts & Sciences
David M. Bastidas, Ph.D.
College of Engineering & Polymer Science
Todd A. Blackledge, Ph.D.
Buchtel College of Arts & Sciences
James M. Diefendorff, Ph.D.
Buchtel College of Arts & Sciences
Yalin Dong, Ph.D. *
College of Engineering & Polymer Science
Xiong Gong, Ph.D.
College of Engineering & Polymer Science
John W. Goodell, Ph.D. *
College of Business
Avraam I. Isayev, Ph.D.
College of Engineering & Polymer Science
Sadhan C. Jana, Ph.D.
College of Engineering & Polymer Science
Ronald F. Levant, Ph.D.
Buchtel College of Arts & Sciences
Tianbo Liu, Ph.D.
College of Engineering & Polymer Science
Randall Mitchell, Ph.D.
Buchtel College of Arts & Sciences
Gregory N. Morscher, Ph.D.
College of Engineering & Polymer Science
Zhenmeng Peng, Ph.D.
Buchtel College of Arts & Sciences
Donald Dane Quinn, Ph.D.
College of Engineering & Polymer Science
Nita Sahai, Ph.D. *
College of Engineering & Polymer Science
Yilmaz Sozer, Ph.D.
College of Engineering & Polymer Science
Tirumalai S. Srivatsan, Ph.D.
College of Engineering & Polymer Science
Kwek Tze Tan, Ph.D. *
College of Engineering & Polymer Science
Shi Qing Wang, Ph.D.
College of Engineering & Polymer Science
Chrys Wesdemiotis, Ph.D.
Buchtel College of Arts & Sciences
Jie Zheng, Ph.D.
College of Engineering & Polymer Science
(*active for single year but not career)