Undergraduate Internship Program
---
Funded Opportunities
---
Summit Metro Parks - Seasonal Apiarist
TITLE: Seasonal Apiarist
STATUS OF EMPLOYMENT: Seasonal – Up to 6 months
SALARY CLASSIFICATION: Hourly – Grade C $12.00 - $15.00
BENEFITS: Public Employment Retirement System (PERS)
PROFILE: Assigned to the Conservation Department
We are looking to hire a skilled beekeeper to raise and care for our honeybee colonies. As a beekeeper, you will be responsible for growing and maintaining beehives, inducting wild swarms, collecting and processing honey. removing hive parasites and maintaining the health of the hive.
To ensure success as a beekeeper, you should have a passion for beekeeping, the ability to stay calm under pressure, enjoy working independently, and a desire to work outdoors. Ultimately, a top-class beekeeper maintains healthy hives and produces high-quality honeybee products.
Duties include:
Performing routine hive checks to maintain growing colonies.
Collecting and processing honey.
Performing mite checks and treatments in a timely manner.
Splitting colonies to produce more hives for the parks using the OTS method.
Transporting small colonies of live bees to other metro parks.
QUALIFICATIONS:
· High school diploma or GED.
· Degree in zoology or animal science preferred.
· Proven work experience as a beekeeper.
· Ability to remain calm in stressful situations.
· Ability to lift heavy objects.
· Ability to work flexible hours.
· Ability to work unsupervised.
· Ability to work outdoors in all weather conditions.
· Not allergic to honeybee stings.
To apply - Send completed application to employment@summitmetroparks.org. Phone calls will not be accepted.
---
Summit Metro Parks - Seasonal Park Biologist
TITLE: Seasonal Park Biologist
STATUS OF EMPLOYMENT: Seasonal
CLASSIFICATION: Grade C, Hourly, Starting $12.00 - $15.00
BENEFITS: Public Employment Retirement System (PERS)
PROFILE: Assigned to Conservation Department
Duties Include:
1. Assist with or perform wildlife studies, such as fish, turtle, bat, snake and other similar surveys;
2. Assist with or perform forestry surveys, wetlands and stream delineations and assessments and other botanical studies;
3. Collect and prepare specimens and voucher labels;
4. Participate in Citizen Science Programs (requires the ability to supervise volunteers);
5. Assist with or perform data collection and mapping using GPS, GIS and drone technology;
6. Assist with or perform data entry and the preparation of documents as needed to illustrate geographically referenced data (sample stations, rare species, wildlife, etc.);
7. Assist in the implementation of natural resource management projects, including plant propagation, nursery maintenance, invasive species control, rare fish maintenance, bee hive maintenance and species monitoring.
QUALIFICATIONS: Demonstrated understanding of biology (with emphasis in botany, wildlife, or ecology. Bachelor's degree with professional experience preferred but students with relevant skills or experience are also encouraged to apply.
To apply - Send completed application to employment@summitmetroparks.org. Phone calls will not be accepted.
---
USDA-Agricultural Research Service-Horticultural Insects Research Lab
The USDA-Agricultural Research Service-Horticultural Insects Research Lab is inviting undergraduate students to apply for a paid internship for spring-summer 2023. The position will be based at the Ohio Agricultural Research and Development Center in Wooster, Ohio and located in the new Wooster Science Building. The student will assist with field and laboratory experiments supporting a $7.5 million grant studying wood-boring ambrosia beetles that infest horticultural trees.
The Horticultural Insects Research Lab currently consists of two research entomologists, two postdoctoral researchers, and two technicians. The successful applicant will learn the basics of designing and conducting experiments, including experimental design, data collection, and data analysis.
Prior experience is not required, but U.S. citizenship, a driver's license, and transportation to campus are required.
Interested students please contact as soon as possible via email: christopher.ranger@usda.gov
---
Ohio State University, College of Food, Agricultural, and Environmental Sciences (CFAES)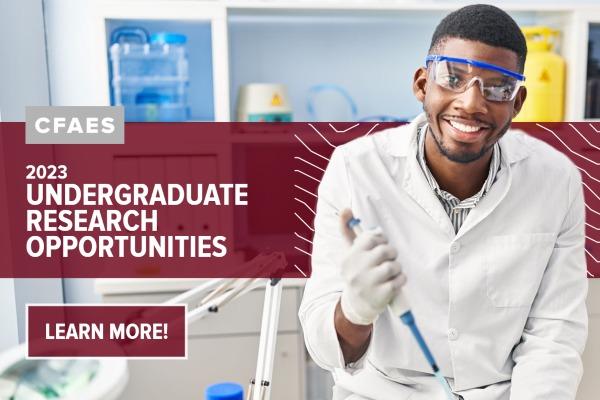 Join Us for Summer 2023
The Ohio State University, College of Food, Agricultural, and Environmental Sciences (CFAES) is soliciting student applications for our summer undergraduate research programs for summer 2023. As a land-grant institution, we are devoted to accessible education and helping those in our communities through research translation and outreach. Our college participates in two primary summer undergraduate research experience (REU) programs – the OSU Research Internship Program (ORIP) and the Summer Research Opportunities Program (SROP).
Both programs provide full-time, paid, summer internship opportunities to budding researchers. Participants will be matched with a faculty mentor to pursue cutting edge research at one of the top institutions in the nation. From understanding best practices for growing food, pest management, animal reproduction and nutrition, environmental quality, zoonotic diseases... the research at our college touches every aspect of life.
The OSU Research Internship Program (ORIP) is an annual summer research internship opportunity for motivated graduating high school seniors and current underclassmen at college or university over the age of 18. ORIP is tailored specifically to enhance student interest in science, technology, engineering and mathematics (STEM) disciplines. Through laboratory and field research, interns receive a hands-on experience in data collection and analysis, project design, and scientific communication of results. The coming program will run from May 15 to July 28, 2023. ORIP takes place on the CFAES Wooster Campus.
Click here to check out more information
---
CLEVELAND METROPARKS
https://www.clevelandmetroparks.com/about/employment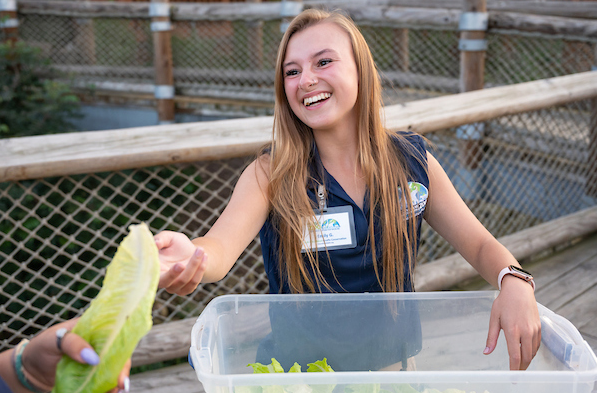 ---
National Aviary Internships
https://www.aviary.org/about-us/jobs/internships/
The National Aviary will be accepting applications for 2023 internships during the following periods:
Spring: October 7 through November 7, 2022
Summer: February 7 through March 7, 2023
Fall: June 7 through July 7, 2023
---
Ohio Department of Natural Resources (ODNR)
Students can go to www.careers.ohio.gov and keyword search "ODNR" to see current positions available now.
---
Summit County Jobs
https://jobs.summitoh.net/postings/search
Try searching here under "Temporary" positions for Internship opportunities.
---
The Davey Tree Expert Company
Davey Tree internships and seasonal positions introduce career orientated students to exceptional opportunities in the industry. Davey has a national reputation for stewardship and excellence in the green industry and our programs provide students and entry level candidates with the fundamentals they will need to grow their careers.
https://jobs.davey.com/go/Internships-and-Seasonal/8806300/
---
ORISE - Oak Ridge Institute for Science and Education - U.S. Department of Defense

All ORISE opportunities provide a competitive stipend.
Check out https://www.zintellect.com/catalog and adjust to your education level to search for opportunities.
https://orise.orau.gov/dodprograms/current-research-opportunities.html
---
Ohio Environmental Protection Agency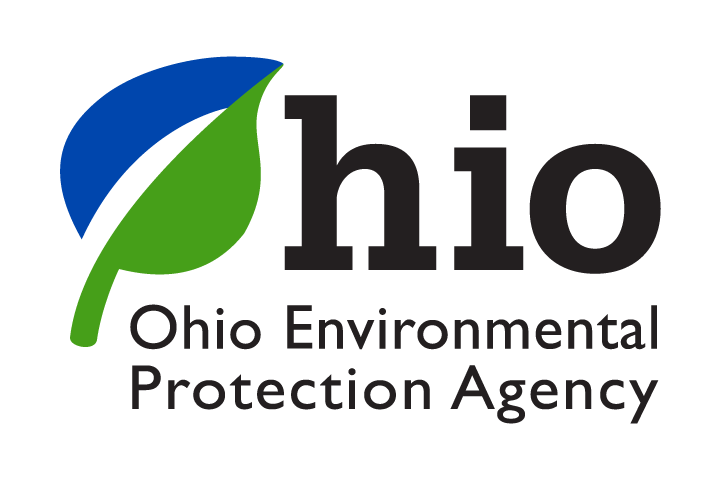 About Us:
The Ohio Environmental Protection Agency is a trusted leader and environmental steward using innovation, quality service and public involvement to ensure a safe and healthy environment for all Ohioans.
Ohio EPA's goal is to protect the environment and public health by ensuring compliance with environmental laws and demonstrating leadership in environmental stewardship.
What You'll Do:
Assist the supervising environmental engineer by collecting and summarizing all available data pertinent to the review of permit to install applications, general or facility plans, detail engineering plans, sludge management plans, infiltration-inflow analysis, SSES analysis for municipal, industrial, and semi-public wastewater treatment facilities and residential wastewater systems in special sanitary districts.
Prepare reports and correspond with the engineer preparing the plans to obtain additional information.
Review plans for conformance with Agency design guidelines.
Assist the environmental engineer in the collection and tabulation of data required to draft discharge permits, findings and orders, enforcement referrals and complaints for municipal, industrial, and semi-public wastewater sources.
Participate in training in all aspects of office and field work activities involved in the wastewater pollution section and receive orientation to all other sections.
Assist with the updating of files, tabulating information needed for monthly or annual administrative reports or surveys requested by Central Office, outside agencies, or citizens.
What's In It For You:
At the State of Ohio, we take care of the team that cares for Ohioans. We provide a variety of quality, competitive benefits to eligible full-time and part-time employees. For a list of all the State of Ohio Benefits, visit our Total Rewards website! Our benefits package includes:
Medical Coverage

Quality, affordable, and competitive medical benefits are offered through the available Ohio Med plans.

Dental, Vision and Basic Life Insurance


Dental, vision, and basic life insurance premiums are free after completed eligibility period. Length of eligibility period is dependent on union representation.

Time Away From Work and Work/Life Balance


Paid time off, including vacation, personal, and sick leave
11 paid holidays per year
Childbirth/Adoption leave

Employee Development Funds


The State of Ohio offers a variety of educational and professional development funding that varies based on whether you are a union-exempt employee or a union-represented employee.

Ohio Public Employees Retirement System


OPERS is the retirement system for State of Ohio employees. The employee contributes 10% of their salary towards their retirement. The employer contributes an amount equal to 14% of the employee's salary. Visit the OPERS website for more information.

Deferred Compensation


The Ohio Deferred Compensation program is a 457(b) voluntary retirement savings plan. Visit the Ohio Deferred Compensation website for more information.
Ohio is a Disability Inclusion State and strives to be a Model Employer of Individuals with disabilities. The State of Ohio is committed to providing access and inclusion and reasonable accommodation in its services, activities, programs and employment opportunities in accordance with the Americans with Disabilities Act (ADA) and other applicable laws.

Qualifications

MUST BE CURRENTLY ENROLLED IN COLLEGE DEGREE PROGRAM DIRECTLY RELATED TO THE POSITION OR HAVE RECENTLY GRADUATED WITHIN THE QUARTER/SEMESTER IMMEDIATELY PRECEDING THE START DATE.
Major area of study: Environmental Science, Water Resources, Chemistry or Engineering (Environmental, Civil, Chemical).
Knowledge of safety practices, public relations, Agency policies and procedures and permits as applicable.
Ability to swim and lift 50 pounds.
Skills in computers (word processing and database work).
SELECTED CANDIDATE MUST POSSESS A VALID DRIVER'S LICENSE.


DIVISION: Surface Water
LOCATION: 2110 East Aurora Road, Twinsburg, Ohio 44087
EEO Statement
The Ohio Environmental Protections Agency is an Equal Employment Opportunity (EEO) employer and does not discriminate on the basis of race, color, religion, gender/sex, gender identity or expression, national origin (ancestry), military status, disability, age (40 years of age or older), genetic information, sexual orientation, status as a parent during pregnancy and immediately after the birth of a child, status as a parent of a young child, or status as a foster parent as those are defined in applicable Ohio law, federal law, and any Executive Order, in admission or access to the operation of its programs, services, activities or its own employment practices. Employment practices are any employment related decisions including, but not limited to hiring, layoff, transfer, termination, promotion, demotion, discipline, rate of compensation, eligibility for in-service training programs, or terms and conditions of employment.
The Ohio Environmental Protection Agency is committed to providing access, equal employment opportunity and reasonable accommodation for individuals with disabilities. To request a reasonable accommodation, contact the Office of Employee Services at 614-644-2100 prior to testing or interviewing.
Follow us on LinkedIn: linkedin.com/company/ohio-epa
---
Unfunded Opportunities
---
Summa Health
Research Interns and Students
Summa Health accepts students or individuals interested in an unpaid internship to address an educational goal. Research interns at Summa will work under the supervision of a Research Mentor on a project. Example activities interns may participate in include literature reviews, data abstraction, translational research and more.
Student Eligibility Information:
To be considered for an unpaid research internship at Summa, you are expected to meet the following criteria:
18 years or older
Enrolled in an accredited academic program or have educational goals that can be addressed with an internship
U.S. citizen
Pass a background check
Willingness to obtain mandatory vaccinations and/or demonstrate proof of vaccination
Willingness to complete all training as required by Summa Health
Willingness to obtain personal liability insurance as applicable
Student Inquiry Information:
If you are interested in learning more regarding potential research opportunities at Summa Health, email research@summahealth.org the following information:
Name:
Contact Information:
Program:
University/College:
If Internship is to Fulfill a Course Requirement:
Desired Start/ End Date:
Availability and Hours/Week:
Desired Department(s):
Desired Type of Research Activity:
A research staff member will review your information and reach out if there are potential opportunities. Availability of internships within departments and types of opportunities will vary throughout the year.
General Requirements:
Students successfully placed with a research or scholarly activity project at Summa Health will be required to obtain clearance before starting their assignment. Students are expected to complete mandatory orientation and training and will be asked to provide a background check and immunization history.
To apply, check out the Summa Health website
---
Stark County Park District
Currently seeking a Wildlife Rehabilitation intern to further their education and experience at the Wildlife Conservation Center. "If you're passionate about wildlife and wish to gain some hands-on experience in animal care, we're the place for you!"
Students Can Expect To:
Gain supervised knowledge of Ohio's native wildlife, human/wildlife conflicts, non-lethal solutions, and state and federal regulations governing wildlife rehabilitation.
Students will be working closely with staff and volunteers as well as gaining experience in educating the public on wildlife.
Learn species specific diets, basic animal husbandly, caging criteria, handling techniques, animal enrichment, release criteria, and other skills relating to wildlife rehabilitation.
Students will also be responsible for completing a project, Featured Case feature the life of a native wild animal from the time it has come into the center to the time it is released. This feature will be displayed on our website and/or Facebook for public viewing.
Gain valuable customer service, communication, and listening skills.
Encounter moderate to frequent exposure to insects, poisonous vegetation, zoonotic diseases and moderate exposure to outside weather conditions throughout the year.
Requirements:
Freshman or sophomore level college students in field of biology, pre-vet, zoology, conservation, or equivalent field(s)
Effective interpersonal skills
GPA of 3.00 or higher preferred
Hours: 24 hours a week. Ability to work a pre-determined hours and days of the week and a varied schedule including weekends is required. Typical scheduled shifts are 8:00a.m. 2:00p.m. and 2:00p.m. 8:00p.m. but may vary with advance notice.
https://starkparks.applicantpro.com/jobs/
---
Colobus Conservation in Kenya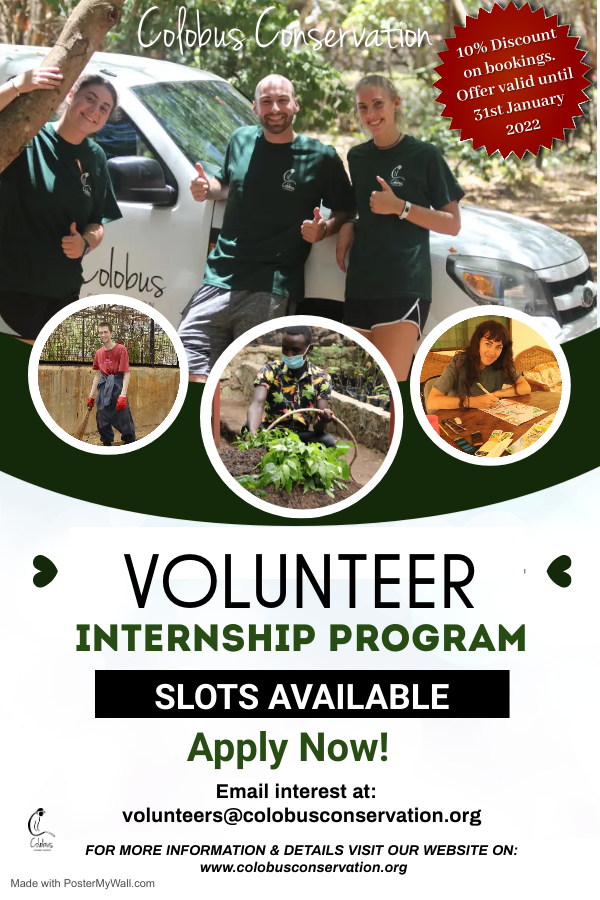 Students, as volunteers, can gain valuable hands-on practical primate rescue and rehabilitation experience at our center, where we operate an on-site veterinary clinic and have a 24/7 emergency response team. There are opportunities to learn conservation outreach skills by assisting with our community work to reduce the human-primate conflicts of the area and gain habitat management skills by working on our forest restoration projects.
As a scientific organization, we are interested in developing collaborative internship opportunities with universities. We can host group field trips that are tailored to specific module learning outcomes incorporating captive and wild primate management. Previous students have gained a range of interesting conservation jobs after volunteering with us. Here at Colobus Conservation, we provide a safe and secure environment to students, which is easily accessible by air from Nairobi and by road from Mombasa. Diani has excellent nearby amenities, including shops, banks, hospitals, and restaurants. We are located within easy reach of a range of National Parks, marine conservation initiatives, and community development projects.
If you require any further information, please don't hesitate to contact me.
Sincerely,
Mwarabu S. Mwakutunza
Volunteer Coordinator
Colobus Conservation
P.O. Box 5380 Diani
80401 Kenya
Mobile: +254 724 227 224
Website: www.colobusconservation.org
Follow us on Social Media: @colobusconservation
---
Columbus Zoo and Associated Parks
View current opportunities here: https://careers3-columbuszoo.icims.com/jobs/intro
Specifically, check out the Ecology Apprenticeship options.
---