Dr. Hazel Barton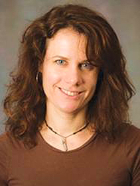 Title: Professor/Director Integrated Bioscience Program
Dept/Program: Biology
Office: ASEC West Tower 178
Phone: 330-972-2518
Fax: 330-972-6077
Email: bartonh@uakron.edu

---
Biography
Dr. Barton's research is geared toward understanding microbial interactions and adaptations to nutrient-limitation, as experienced by ecosystems in deep subsurface cave environments (see Dr. Barton's cave science site). This work has has been funded by the US National Science Foundation (NSF) and US National Park Service.
The other research in the lab aims to understand the ecology and evolution of the fungus Pseudogymnoascus destructans, the causative agent of the White-nose Syndrome epidemic in bats. This research is funded by the US Fish and Wildlife Service.
The Barton Lab has been recognized as one of the 'top ten most awesome research labs' by Popular Science magazine. Dr. Barton is also an avid caver, having explored caves on five continents, is a past director of the National Speleological Society (NSS), the Quintana Roo Speleological Survey, and an award winning cave cartographer. Her cave research has been featured in Sports Illustrated, Forbes, National Geographic Explorer, Outside, Science News, The Scientist, Popular Mechanics, Wired, Geo and The Smithsonian magazines, in the book Extreme Scientists: Exploring Natures Mysteries from Perilous Places, on NPR and BBC Radio, on Animal Planet, the History Channel, the CBS Early Show, BBC TV and in the IMAX movie Journey into Amazing Caves.
Dr. Barton is currently a Fellow of the National Speleological Society, a Kavli Fellow of the American Academy for the Advancement of Science, Chair of the Committee on the Status of Women in Microbiology for the American Society for Microbiology, and the recipient of an NSF CAREER Award.
---
Research
Recent publications
Barton, H.A. and Northup, D.E. 2007. Geomicrobiology in Cave Environments: Past, current and future perspectives. Journal of Cave and Karst Studies. 69(1): 163-178.
Banks, E.D., Taylor, N.M., Gulley, J., Lubbers, B.R., Giarrizo, J.G., Bullen, H.A., Hoehler, T.M. and Barton, H.A. 2010. Bacterial Calcium Carbonate Precipitation in Cave Environments: A Function of Calcium Homeostasis. Geomicrobiology Journal 27(5): 444-454.
Bhullar, K., Waglechner, N., Pawlowski, A., Koteva, K., Banks, E.D., Johnston, M.J., Barton, H.A. and Wright, G.D. 2012. Antibiotic resistance is prevalent in an isolated cave microbiome. PLoS ONE 7(4):e34953
Shelley, V., Kaiser, S., Shelly, E., Williams, T., Kramer, M., Haman, K., Keel, K. and Barton, H.A. 2012. Strategies for the decontamination of equipment for Geomyces destructans, the causative agent of White-Nose Syndrome. Journal of Cave and Karst Studies. 75(1):1-10
Barton, M.D., Petronio, M.A., Giarrizzo, J.G., Bowling, B.V. and Barton, H.A. 2013. The genome of Pseudomonas fluorescens strain R124 demonstrates phenotypic adaptation to the mineral environment. Journal of Bacteriology. 195(21): 4793-803.
Turner, G.G., Meteyer, C.U., Barton, H.A., Gumbs, J.F., Reeder, D.M., Overton, B., Bandouchova, H., Bartonička, T., Martínková, N., Pikula, J., Zukal, J. and Blehert, D.S. 2014. Non-Lethal Screening of Bat Wing Skin using UV Fluorescence to Detect Lesions Indicating White-Nose Syndrome. Journal of Wildlife Diseases 50(3):566–573
Barton, H.A., Giarrizzo, J.G., Suarez, P., Robertson, C.E., Broering, M., Banks, E.D., Vaishampayan, P.A., and Venkateswaran, K. 2014, Microbial Diversity in a Venezuelan Orthoquartzite Cave is Dominated by the Chloroflexi (Class Ktedonobacterales) and Thaumarchaeota Group I.1c. Frontiers in Microbiology 5(614):1-14
Summons, R.E., A.L. Sessions, A.C. Allwood, H. A. Barton, D.W. Beaty, B. Blakkolb, J. Canham, B. C. Clark, J. P. Dworkin, Y. Lin, R. Mathies, S. M. Milkovich, and A. Steele. 2014, Planning Considerations Related to the Organic Contamination of Martian Samples and Implications for the Mars 2020 Rover. Astrobiology 14(12):969-1027.
Reynolds, H.T., Ingersoll, T. and Barton, H.A. 2015, The Environmental Growth of Pseudogymnoascus destructans and its Impact on the White-nose Syndrome Epidemic in Little Brown Bats (Myotis lucifugus). Journal of Wildlife Diseases 51(2): 318-331
Barton, H.A. 2015. Starving artists: Bacterial oligotrophic heterotrophy in caves. In Life in Extreme Environments: Microbial Life of Cave Systems, Ed A. Engel. Walter de Gruyter, New York, NY. p. 350
Haciejewska, M., Pessi, I.S., Arguelles-Arias, A., Noirfalise, P, Luis, G., Ongena, M., Barton, H.A., Carnol, M. and Rigali, S. 2015. Steptomyces lunaelactis sp. nov., a Novel Ferroverdin A-Producing Streptomyces Species Isolated from a Moonmilk Speleothem. Antonie van Leeuwenhoek Journal of Microbiology 107(2):519-31
Fend, S.V., Liu, Y., Steinmann, D., Giere, O., Barton, H.A., Luiszer, F. and Erséus. 2016. Limnodrilus sulphurensis n. sp., from a sulfur cave in Colorado, USA, with notes on the morphologically similar L. profundicola (Clitellata, Naididae, Tubificinae). Zootaxa 4066(4):451-468.
Fenández-Delago, M., Giarrizzo, J., García-Amado, M., Contreras, M., Salazar, V., Barton, H.A. and Suarez, P. 2016. Evidence of Helicobacter spp. in freshwaters from Roraima Tepui, Guayana Shield, South America. Antonie van Leeuwenhoek 109(4):529-542.
Reynolds, H.T., Barton, H.A. and Slot, J.C. 2016 Phylogenomic analysis supports a recent change in nitrate assimilation in the White-nose Syndrome pathogen, Pseudogymnoascus destructans. Fungal Ecology 23: 20-29.
Rui, Z., Wang, H., Yang, H., Dong, Q., Jiang, H. and Barton, H.A., 2016. Ammonia-oxidizing archaea dominate ammonia-oxidizing communities within alkaline cave sediments. Geomicrobiology Journal 14:1-13
Maciejewska, M. Adam, D., Martinet, L., Naômé, A., Całusińska, M., Delfosse, P., Carnol, M., Barton, H.A., Hayette, M.-P., Smargiasso, M., De Pauw, E., Hanikenne, M., Baurain, D., and Rigali, S. 2016. A Genotypic and Phenotypic Analysis of the Antimicrobial Potential of Cultivable Streptomyces Isolated from Cave Moonmilk Deposits. Frontiers in Microbiology 7:1455.
Pawlowski, A.C., Wang, W., Koteva, K., Barton, H.A., McArthur, A.G., and Wright, G.D. 2016. A diverse intrinsic antibiotic resistome from a cave bacterium. Nature Communications. 7: 13803
Nyarko, A, Barton, H.A. and Dhinojwala, A. 2016. Scaling down for a broader understanding of underwater adhesives - a case for the Caulobacter crescentus holdfast. Soft Matter 12(45): 9132-9141
---
Reviews
Barton, H.A.; Spear, J.R.; Pace, N.R. (2001), "Microbial life in the underworld: Biogenicity in secondary mineral formations", Geomicrobiology Journal 18 (3): 359–368,doi:10.1080/01490450152467840, retrieved 2009-04-10
Barton, H.A. (2006), "Introduction to cave microbiology: a review for the non-specialist", Journal of Cave and Karst Studies 68 (2): 43–54, retrieved 2009-04-10
Barton, H.A.; Northup, D.E. (2007), "Geomicrobiology in cave environments: past, current and future perspectives", Journal of Cave and Karst Studies 69 (1): 163–178, retrieved 2009-04-10
Barton, H.A.; Jurado, V. (2007), "What's Up Down There? Microbial Diversity in Caves", Microbe-American Society for Microbiology 2 (3): 132, retrieved 2009-04-10
Barton, H.A., 2013, Biospeleogenesis (Invited book chapter). In: Treatise on Geomorphology, Shroder, J.F. ed. (Academic Press: San Diego). Volume 6, p. 39-55
Reynolds, H.T. and Barton, H.A. 2014. White-nose Syndrome: Human activity in the emergence of an extripating mycosis. (Invited book chapter). In: One Health Initiative, ASM Press.
Barton, H.A. 2015. Starving artists: Bacterial oligotrophic heterotrophy in caves. In Life in Extreme Environments: Microbial Life of Cave Systems, Ed A. Engel. Walter de Gruyter, New York, NY. p. 350