Dr. Jim Holda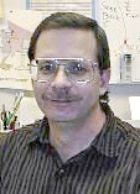 Title: Associate Professor
Dept/Program: Biology
Phone: 330-972-5116
Fax: 330-972-8445
Email: jholda@uakron.edu

---
Research Accomplishments
Transplant immunology.
Cell-mediated immunology.
Investigation of autoimmune diseases.
Characterization of suppressive cells.

Selected Publications

Holda, J.H. LPS activation of bone marrow natural suppressor cells. Cellular Immonol. 141, 518-527, 1992.

Holda, J.H., Maier, T., Claman, H.N. IL-3, IL-4 and IL-6 enhance IFN-g dependent bone marrow natural suppressor activity. Cellular Immunol. 125, 459-468, 1990.

Maier, T., Holda, J.H., Claman, H.N. Murine natural suppressor (NS) cells in the newborn, in bone marrow, and after cyclophosphamide: Genetic variations and dependence on IFN-g. J.