Dr. Stephen Weeks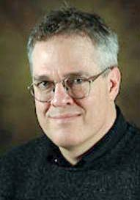 ---
Biography
I earned a B.A. in Aquatic Biology from the University of California, Santa Barbara in 1983.
I then earned an M.A. in Biology from the University of California, Riverside in 1986, conducting research on the ecological ramifications of different breeding systems in branchiopod crustaceans.
I then went to Rutgers University in New Jersey for my Ph.D., working with Dr. Robert Vrijenhoek, again researching the ecological effects of sexual relative to asexual reproduction, this time in live-bearing fish (Poecillidae). I earned my PhD in 1991.
From there, I did a short-term post-doc (1991) at Pennsylvania State University, in the Anthropology Department, studying the evolution of aging.
I did a second post-doc at the Savannah River Ecology lab (run through the University of Georgia, Athens) from 1992-1994, working with Dr. Gary Meffe on life history evolution in another live-bearing fish (Gambusia affinis).
I started at the University of Akron in 1994.
---
Awards
2010 | Research on sex chromosomes featured in F1000 Biology
2007 | Research Award, Buchtel College of Arts and Sciences, The University of Akron
2005-06 | Research on mating systems featured in Nature (2005, 438:893), Science (2006, 313:1381) and Current Biology (2006, 16:R36-R37).
2005 | "Top Researcher" in College of Arts & Sciences, University of Akron
2000 | Early Career Research Award, Buchtel College of Arts and Sciences, The University of Akron
Education
1986-91 | PhD - Ecology, Rutgers University
1983-86 | MA - Biology, University of California, Riverside
1979-83 | BA - Aquatic Biology, University of California, Santa Barbara
---
Research Accomplishments
I have long been interested in the evolution mating systems, working with both branchiopod crustaceans and livebearing fish. Currently, my research has focused on delineating the factors favoring the evolution of hermaphroditism from dioecy (separate males and females) in animals. Over the years of studying this question, my research has evolved into an interdisciplinary (or "integrative") set of projects that combine to approach the complex question of how mating systems have evolved in crustaceans. Several graduate students and I are studying a variety of ecological and genetic aspects of the unique mating system found in one genus of Crustacea (Eulimnadia), seeking to discern the costs and benefits of selfing vs. outcrossing in this interesting set of species. Since this early work on this one genus, we have expanded to study mating system evolution across the family Limnadiidae using phylogeographic, ecological, behavioral, and genetic approaches. We published a paper establishing that shrimp in the genus Eulimnadia have reproduced via androdioecy for 24-180 million years, which is orders of magnitude longer than predicted by models of this mating system and the only system in which androdioecy is known to be this long-lived. We also published a review outlining the various androdioecious animals described to date, and noted that our clam shrimp are the most specious taxon known that is entirely androdioecious. I also worked with Dr. Lisa Park (University of Connecticut, Storrs) and Dr. Tim Astrop (University of Bath) to explore our ability to assess mating system evolution using only fossilized carapaces of Limnadiidae. Dr. Astrop has developed a method to reliably ascertain mating systems from the fossil record, which has opened up a broad range of research possibilities that allow us to explore associations of mating system with habitat characteristics over broad time spans.
Our behavioral work centers on the mating behavior of clam shrimp. We are particularly interested in a type of behavior termed "mate guarding" in which males hold ("clasp") onto hermaphrodites for up to two hours before mating. This type of mating sets up an intersexual conflict in that the optimal timing of such mate guarding is often longer for males than it is for hermaphrodites. A former PhD student (Dr. Chiara Benvenuto) explored the effects of various social environments on the timing of mate guarding to test how such environments might influence such intersexual conflict.
I also host graduate students who work on wetland ecology, both in small streams as well as temporary wetlands. This work has centered on the effects of human impact, both negative and positive (i.e., restoration), on invertebrate communities in freshwater environments.
Publications
Baldwin-Brown, J.G., S.C. Weeks and A.D. Long. 2018. A new standard for crustacean genomes: the highly contiguous, annotated genome assembly of the clam shrimp Eulimnadia texana reveals HOX gene order and identifies the sex chromosome. Genome Biology and Evolution 10:143-156.
Roketenetz, L, S Donnelly, and SC Weeks. 2017. Phylogeographic characterization of genetic variation in the biological control agent milfoil weevil (Euhrychiopsis lecontei) throughout North America. American Midland Naturalist 178:260-274.
Calabrese, A, C McCullough, B Knott and SC Weeks. 2016. Environmental characteristics of ephemeral rock pools explain local abundances of the clam shrimp, Paralimnadia badia (Branchiopoda: Spinicaudata: Limnadiidae). Journal of the Royal Society of Western Australia 99:9-15.
Reed, SK, RJ Duff, and SC Weeks. 2015. A systematic study of the genus Eulimnadia. Journal of Crustacean Biology 35:379-391.
Weeks, SC, C. Benvenuto, SK Reed, RJ Duff, and ZH Duan. 2014. A field test of a model for the stability of androdioecy in the freshwater shrimp, Eulimnadia texana. Journal of Evolutionary Biology 41:251-261.
Brown, B.P., T.I. Astrop, and S.C. Weeks. 2014. Post-larval developmental dynamics of the Spinicaudatan (Crustacea: Branchiopoda) carapace. Journal of Crustacean Biology 34:611-617.
Weeks, SC, JS Brantner, TI Astrop, DW Ott and N Rabet. 2014. The evolution of hermaphroditism from dioecy in crustaceans: Selfing hermaphroditism described in a fourth Spinicaudatan genus. Evolutionary Biology 41:251-261.
Brantner, J. S., D. W. Ott, R. J. Duff, J.I. Orridge, J. R. Waldman and S.C. Weeks. 2013. Evidence of selfing hermaphroditism in the clam shrimp Cyzicus gynecia (Branchiopoda, Spinicaudata). J. Crust. Biol. 33:184-190.
Brantner, J. S., D. W. Ott, R. J. Duff, L-O Sanoamuang, GP Simhachalam, KK Subhash Babu, and SC Weeks. 2013. Androdioecy and Hermaphroditism in Five Species of Clam shrimp (Crustacea: Branchiopoda: Spinicaudata) From India and Thailand. Invertebrate Biology 132:27-37.
Weeks, S.C. 2012. The role of androdioecy and gynodioecy in mediating evolutionary transitions between dioecy and hermaphroditism in the Animalia. Evolution 66:3670-3686.
Astrop, TI, LE Park, B Brown and SC Weeks. 2012. Sexual discrimination at work: Spinicaudatan 'Clam Shrimp' (Crustacea: Branchiopoda) as a model organism for the study of sexual system evolution. Palaeontologia Electronica 15.2.20A.
Rogers, DC, N Rabet, and SC Weeks. 2012. A revision of the extant genera of the Limnadiidae (Branchiopoda, Spinicaudata). Journal of Crustacean Biology 32:827-842
Benvenuto, C, and SC Weeks. 2012. Intersexual conflict during mate guarding in an androdioecious crustacean. Behav. Ecol. 23:218–224.
Benvenuto C,and SC Weeks. 2011. Mate guarding behavior in clam shrimp: The influence of mating system on intersexual conflict. Behav. Ecol. Sociobiol. 65:1899-1907.
Weeks SC, TF Sanderson , BF Wallace, and B Bagatto. 2011. Behavioral cost of reproduction in a freshwater crustacean (Eulimnadia texana). Ethology 117:880-886.
Weeks SC, C Benvenuto , TF Sanderson, and RJ Duff. 2010. Sex Chromosome Evolution in the Clam Shrimp, Eulimnadia texana. J. Evol. Biol. 23:1100-1106.
Rogers DC, SC Weeks, and WR Hoeh. 2010. A new species of Eulimnadia (Crustacea; Branchiopoda; Diplostraca; Spinicaudata) from North America. Zootaxa 2413:61-68.
Weeks SC, EG Chapman , DC Rogers, DM Senyo, and WR Hoeh. 2009. Evolutionary transitions among dioecy, androdioecy and hermaphroditism in limnadiid clam shrimp (Branchiopoda: Spinicaudata). J. Evol. Biol. 22:1781-1799.
---