College of Business Administration
Transfer Students Q&A
— Meet Connor Lenartowicz —
Major: Financial Planning
Hometown: Canton, Ohio
Transferred from: The Ohio State University
Involvement at UA (i.e. student organizations, leadership): I actually choose to utilize my out-of-class time working multiple jobs instead of joining student organizations. However, there are some great clubs here at Akron that friends of mine have joined such as the Fisher Sales Society, Investment Club, and business fraternities like PSE and DSP.
Q. Why did you transfer to UA?
I was studying engineering at the Ohio State University before I came to Akron. Although I loved the school, I realized that the program I was in was not for me. I took a semester off from school entirely to reevaluate my position and when that time was over, I decided to return back to school in the Fall at the University of Akron, pursuing a degree in financial planning closer to home. My dad is also an alum.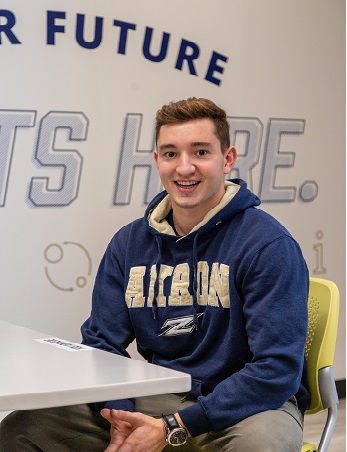 Q. What was transferring like for you?
Transferring was easier than I expected. Friends weren't hard to come by and adjusting to the university's layout and expectations was a rather seamless transition. When I first transferred, I lived off-campus with some friends from high school. Every day I would either drive to classes or if it was nice, I would ride my longboard around from class to class. If I had gaps in-between classes, I would just stay on campus and find a spot to sit down and do homework – No matter which building I was in, I could always find a good study spot.
Q. What are your favorite things about UA?
The faculty and resources that are not only available, but also dedicated to the students. Last year, I had fallen behind in my accounting class, so I met with the tutors in Bierce Library and they helped me 1 on 1 for a few weeks until I was caught back up. I've also met with CBA advisors about a dozen times since I've transferred here, and they've told me everything I needed to know and then some. I even sat down with career services and had my resume reviewed, engaged in mock interviews, and completed other sorts of professional development prep work. There's so many resources here at the university and they're all free, so I highly recommend you take advantage of them!
Q. Any advice for students starting their college transfer search?
If you have any questions, don't be hesitant to reach out to the transfer students department. They guided me through the entire transfer process and helped me evaluate my credits earned at previous institutions. In fact, they were able to tell me exactly which courses would transfer over, before I even officially transferred!