General and Divorce Mediation
The Center for Family Studies offers three mediation trainings.
1820:601 Divorce Mediation (also offered as 3760:485 Seminar in Child and Family Development) – 3 credits – 40-hour training
3760:485/ 697 Seminar: General Mediation – 1 credit – 12-hour training
3760:485/ 697 Seminar: Domestic Abuse and Mediation – 2 credits – 14-hour training
Download the 2022 flier.
What is Mediation?

Mediation is a form of Alternative Dispute Resolution (ADR). Unlike arbitration, where a neutral third person listens to both sides and makes a decision, mediation involves a neutral third person assisting the people in trying to reach an agreement to resolve the dispute. Mediation is cooperative and respectful, and it empowers the individuals to come to win-win solution that is satisfying to both parties.

Mediation can be used to help settle disputes such as:
neighborhood disputes
family disputes
contract disputes
consumer disputes
What do Mediators do?
The mediator takes a neutral stance and helps facilitate a discussion on solutions without taking sides. The mediator has no authority to make a decision for the parties involved. The mediator explores each person's interests and concerns, helps them understand each other's needs, and assists in developing options for possible agreements. The mediator takes control of the discussion to ensure there is no name-calling, blaming, or other negative discussions that would interfere with trying to reach an agreement.
What are the benefits of Mediation?
People who participate in mediation are able to decide for themselves how to resolve their disputes without having a third party decide for them. This empowers them to handle future disputes on their own and teaches them important skills for resolving conflict. Mediation works toward a win-win situation to would benefit all parties involved. Hostilities have the potential of being reduced and people will be less likely to break an agreement that they helped create.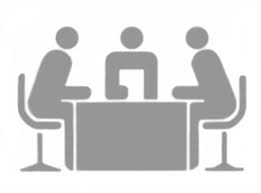 How can I become a Mediator?
According to the Ohio Supreme Court, a practicing mediator you need to complete the following requirements:
a bachelor's degree or equivalent education,
two years of professional experience with families, and
completion of a basic 12-hour mediation course (or equivalent mediation experience) followed by a 40-hour, specialized family or divorce mediation training. The Supreme Court of Ohio must certify the 40-hour course.
Local courts may require observation of and mentoring with experienced mediators, continuing education for mediators and that those mediators maintain malpractice insurance coverage.
For more information about mediation requirements in the state of Ohio, visist the Supreme Court's Dispute Resolution FAQ page: https://www.supremecourt.ohio.gov/JCS/disputeResolution/FAQ/