Enoch Damson, M.S.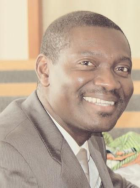 Title: Professor
Program: Computer Information Systems
Office: Polsky 185-N (Lab - Polsky M181)
Phone: 330-972-7162
Email: damson@uakron.edu

---
Biography
Professor Damson joined UA as a faculty member of the Department of Business and Information Technology - Computer Information Systems (CIS) in 1999. He is a Professor of Computer Information Systems, the current CIS Program Director and has academic interests in the areas of software engineering, database management, and web development. He has worked as a Systems/Network Administrator, Web Developer, and an IT Consultant. Professor Damson also served as the Chair of the Business and Information Technology Department (2013 - 2020), and was a Program Developer (AAB/BS CIS - Web Development, BS CIS - Programming).
---
Research
Software Engineering, Database Management, Web Development, Computing Education
---
Education
M.S., Geographic Information Science, The University of Akron
Graduate Certificate, Geographic Information Science, The University of Akron
M.S., Software Engineering, Andrews University, MI
B.B.A., Management Information Systems, Andrews University, MI
---
Courses
Introduction to Database Management, Database Management/Business Programming (using Oracle PL/SQL), Client/Server Programming, Java Programming, Introduction to Logic/Programming (using Python), Internet Tools (Intro to Web Development using HTML/XHTML/HTML5, CSS, JavaScript), Web Server Administration, Introduction to Computers and Application Software
Courses Previously Taught:
Information Design, Introduction to Logic/Programming (using Python), C++ Programming, Systems Analysis and Design, Interactive Web Programming (using JavaScript, AJAX, XML), Multimedia & Interactive Web Elements (Using Dreamweaver and Flash), E-Business Application Development, Introduction to UNIX/Linux (Operating Systems), Advanced UNIX/Linux (UNIX/Linux Systems Administration), Networking Concepts, Expert Systems and Artificial Intelligence, Software Engineering
Courses Developed:
Database Management II, Java Programming II, Server-Side Scripting, Client/Server Programming II, E-Business Application Development, Interactive Web Programming (using JavaScript, AJAX, XML), Multimedia & Interactive Web Elements (using Dreamweaver and Flash), Web Server Administration, Introduction to Computers and Application Software
---