ARTS ADMINISTRATION STUDENT FOCUSES
---
An Insider's Look at our Arts Administration Students
---
Kelly Parks

Graduating year: 2018

Master's Degree: Arts Administration

As someone who has been involved in the dance sector for several years, what made you pursue a master's degree in Arts Administration?

I have been a dance educator since 1985. (Yikes, that's a long time ago!) I have always strived to be well rounded in all areas of dance education, performance, business, etc. I am a member of several dance education and performance organizations and an active member in several dance business organizations, as well as a member of local business groups in Medina. This masters program seemed to be a natural progression in my pursuit to take on new opportunities and pursuits in the dance industry.

Please tell us about a piece of research that you have done from which you have learned the most?

I would have to say the Fund Development plan that we did in Kirsten Toth's class (Fundraising and Grant Writing ) was very insightful for me. I was able to glean new perspectives on old ideas and see connections in the "for-profit" world that I work in every day with the "non-profit" world that we study. I enjoyed that class and felt I took away several new ideas and concepts.

How was your experience judging for the On Point National Dance Competition dance competition?

I was a regional adjudicator for On Point National Dance Competition in Boston, St. Louis, and Chicago, and was just invited to adjudicate for their Summer Nationals in Nashville. This was another "bucket list" experience for me. It was VERY insightful, as I plan on using my experience from these three events as part of my thesis.

What advice do you have for future Arts Administrators?

I would encourage my program peers and other future AA's to be genuine, hard working and never give up the "art" you love for the business of art. You will find it easy to get lost in the day to day operations of funding, programming, and the daily business. I encourage you to keep making your art, music, dance, theatre work, whatever – never stop!
Libby Abbott, Office Manager

Graduating year: 2018

Hometown: Midlothian, Virginia

Bachelor's Degree: Oboe Performance at the Jacobs School of Music at Indiana University

Master's Degree: Arts Administration

Being in the Arts Administration Master's program for the past 2 years, what did you learn most about yourself regarding your passion in the nonprofit art sector?

Moving to Akron to pursue my master's degree was my first experience with arts administration, and it's exciting to see now how much I've learned in the past two years. As an orchestral musician, choosing to study arts administration has broadened my ideas of the arts and how they should be managed and sustained. Arts administration has given me a deeper passion and sense of the great importance of arts within our communities.

You have had several leadership positions in the office and at your internships. Please elaborate on one of your internships that you enjoyed most:

One of my favorite internships was with the National Repertory Orchestra in Breckenridge, Colorado as the Development intern. Outside of being surrounded by beautiful mountains and taking breathtaking hikes, I really enjoyed working for a summer music festival. Also, I've currently been working with Stan Hywet Hall & Gardens and have really enjoyed learning more about different non-profit organizations and how they are similar/different to music organizations.

Now that you are off to New York City to begin working in your field, what is it that you are looking forward to most?

I can't wait to begin my professional career and I am eager to really immerse myself in a city filled with arts and culture.
Mary Finnerty, Development Operations Associate

Graduating year: 2018

Hometown: Athens, PA

Bachelor's Degree: B.A. in Music

Master's Degree: Arts Administration

How was your recent experience working with the Cleveland International Film Fest?


My experience at the film festival directly relates to this year's theme of the 42nd Annual CIFF, which is "Embrace Curiosity." After meeting Executive Director, Marcie Goodman, during one of my arts administration courses, I became instantly curious about the film fest. Her audience engagement and growth was incredibly inspiring. When I saw the chance to apply for a position on their website, I immediately jumped on the opportunity. This year I am the Chat Room Coordinator. This position was created because after each film they host a Q&A session. This session will likely include the filmmakers, directors, producers, and actors interacting with the audience. If the session runs too long and they need to get another film started in the theatre, they will bring the Q&A to the chat rooms. This gave me an exciting opportunity to meet talented people from all over the world.

What did you learn during your time in the Arts Administration Master's program that you believe would serve as a piece of advice for future students?

The number one thing I learned during my time studying Arts Administration at UA is to get out and actually meet the arts administrators you look up to. I took advantage of meeting as many people as I could and became involved. Volunteering and interning for organizations is a great way to get your foot in the door (and see some great art!). I have been fortunate enough to have a lot of great experiences these past two years with wonderful organizations in Northeast Ohio including the Cleveland International Film Festival, Porthouse Theatre, Playhouse Square, and Music from The Western Reserve.

Please tell us about your new exciting career at The Cleveland Orchestra!

I have recently accepted the position of Development Operations Associate at The Cleveland Orchestra. I am excited about this opportunity to work with such a world-renowned organization. The duties of this job are being responsible for supporting the data management functions of the team. This includes preparation of prospect reports, gift records, processing and reporting, balancing daily accounts, donor account information, profile preparation, gift entry, daily acknowledgments, and invoice processing. I am excited to learn Tessitura, their CRM software and be part of the development team!
Hillary Butler, Gallery Assistant GA

A second year Arts Administration student

Bachelor's Degree: Art History, with a minor in Business Administration from Kent State University

Master's Degree: Arts Administration

Hometown: Canton, Ohio

What is your favorite aspect of the Arts Administration program thus far?

My favorite aspect of the Arts Administration program thus far has been my learning experience in the Emily Davis Gallery. I really enjoy installing and preparing for the exhibitions that we promote and I love working with the undergraduate students.

How was your process of becoming a Graduate Assistant?

My process of becoming a graduate assistant began when I learned about this unique program and that it was local to me. Being from Canton, Ohio it was convenient to commute to campus and I knew applying for the assistantship would not only make it affordable but provide me with invaluable experience in my future career field.

How is your recent interning experience been at The Cleveland Museum of Art?

My internship is at the Cleveland Museum of Art in the collections management department and it is very interesting and excites me for my own future career. I enjoy it mostly because it plays towards my own personal strengths; art history knowledge, attention to detail, and organizational skills. I find the way that art is moved and comes in and out of the museum very interesting and hope to find a career in this field in the future.

If you could wave a magical wand and pick your dream career, what would it be?

This is a very difficult question, but if I were to just have my dream career just like that, I would probably do something similar to what I am currently doing in my internship. I really like to be that close to the art and manage it as opposed to a curator. But I feel that as my career progresses and I try new things within the arts administration field I may find other things that play to my strengths as well, so I'll just have to wait and see.

Please name a historical figure in art history who are you most like and state why.

And I thought the last question was hard, hm. An art historical figure who I most identify with is Georgia O'Keefe. She started out as a photographer and abstract painter based in the highly industrialized, New York City. Most know her better today by her abstracted paintings of flowers or even cow skulls. She moved out to New Mexico away from the city and lived a rather secluded lifestyle there, inviting friends and her close artistic peers to visit. I identify with her because I feel that her transition from industrial, avant-garde photography and painting, to the naturalism and austerity of New Mexico is so relatable, that many people are overwhelmed by the dirty city life and yearn for the soothing peace of nature.
Moneeb Iqbal, Annual Giving Officer

A second year Arts Administration student

Graduating year: 2018

Hometown: Woodbridge, VA

Bachelor's Degree: B.M. in Viola Performance

Master's Degree: Arts Administration

Share with us your most memorable moment here at UA.

I had a project with Ms. Claudia Coleman in Fundraising and Resource Management where we had to fundraise money for a non-profit of our choosing. That project was my first practical experience in the Development and Fundraising field. I learned so much about myself because I was forced to be creative, methodical, persistent, and self-starting in my approach. I attribute a lot of where I am to Ms. Coleman and that project. I'd highly recommend this to anyone interested in pursuing a career in Fundraising.

What is your role in the Cleveland Orchestra?


I was just hired by The Cleveland Orchestra in early October as an Annual Giving Officer. My job is mostly about donor acquisition and bringing in/back new or lapsing donors. My interest in fundraising really developed at the University of Akron through my internships and projects with Tuesday Musical, Aspen Music Festival, and Cleveland Orchestra.

If you could tell future Arts Administration students one helpful piece of information about internships, what would your best tip be?

One of my favorite inspirational quotes is from the last scene in Pursuit of Happiness where Will Smith tells his son, "People can't do somethin' themselves, they wanna tell you that you can't do it. If you want somethin', go get it. Period." If you want to succeed in this field you have to be creative, persistent, likable, reliable, and tough. There is a lot of work and that will never end. But really, there is no limit to what you can achieve. If you want something bad enough, you'll go out there and get it. If you give things that matter 110% of what you have - then people will start to notice. Also, just smile! A little positive energy can go a long, long way. I suppose I try to live my whole life like that. I'd like to think it's working out.


What music have you recently listened to?

I've been listening to a lot of instrumental music by Explosions in the Sky and This Will Destroy You. I know - those are pretty dramatic names for instrumental bands. I've been on a real kick with them because it's fairly dramatic music. The music itself is pretty inspirational and energetic but at the same time, it really gets me focused and pumped for the tasks ahead. It makes great weight-lifting music too.



Rachel M. Murar, Theatre Coordinator GA

A second year Arts Administration student

Bachelors Degrees (from Cleveland State University):

Bachelor of Arts (Theatre - Directing)

Bachelor of Education (Special Education Mild/Moderate)

Master's Degree (from The University of Akron):

Arts Administration

Hometown: Twinsburg, OH

What is your most recent theatre project?

I am currently working on a performance for Solon Center for the Arts. I work with 2nd and 3rd graders to write and direct a performance based on a popular children's text. This fall, we are doing Stone Soup. In March of 2018, I will be directing A Midsummer Night's Dream at Aurora Community Theater. I am very excited for that project because I have a love for everything to do with Shakespeare. The theater has never done a Shakespearian play before, and I am looking forward to bringing its magic and wonder to the community.

How has your overall experience as a Graduate Assistant at UA been?

I have served many roles as a graduate assistant. First, as a Teaching Assistant (TA) and now as the Theatre Coordinator. I loved being a TA because I like to work with undergraduates. It was fun to see people who did not really have an interest in theater turn around by the end. I miss working directly with them, but I like the challenges that being the Theatre Coordinator brings.


Where do you see yourself after graduation?

I would like to be an Education Coordinator. I love producing fun and creative education programs. I did one program for the Cleveland Aquarium this summer, and it was a rewarding process. I think I would like to continue to stretch my abilities and see the different areas that I can create programs for in the future.

Explain your role as a Theatre Coordinator:

As Theatre Coordinator, I assist in coordinating events for the UA Theatre Program. I create marketing content in order to promote attendance for events. I am enjoying this year because I like bouncing ideas around with the office staff and I believe we are creating a strong plan for the future of the program.

3 things you can't live without:

Friends and Family
Led Zeppelin Music
Indians Baseball
Julius Lyles, Visual Artist, Curator, and Arts Administrator
As a graduate student, share your overall experience at The University of Akron.
My UA experience is a complete joy! Faculty, staff and the student body have been extremely courteous and accommodating towards completing my educational efforts.
Julius, why did you choose to study Arts Administration at UA?
After doing an intense internet search, I found UA's program. I had previously studied as an undergraduate at Cleveland State University in non-profit management, but found the need for an education focused on arts administration, and at the professional level found in graduate school. I chose Arts Administration at UA because I believe the program will provide me with the professional training and background to launch my own non-profit arts organization.
Has the Arts Administration program influenced your career path and professional skills?
I truly have a better insight into the non-profit arts arena. I know for a fact, UA has better equipped me with expert knowledge in the arts administration field.
As an artist and arts administrator, describe your professional work.
Over the past six years, including my time as a graduate student at UA, I have focused all of my curatorial and solo exhibitions around a general theme of social visual media with detail towards racial identity, social and institutionalized inequality, individual and organized racism, and political dysfunction.
To learn more about Julius' work and projects, visit the following website.
From Intern to Development Associate
Hannah Shoopman
Arts Administration student, Hannah Shoopman, has been promoted to the position of Development Associate for the Summit Choral Society, just after four months as an intern. To further her career in development, she will also continue work with the Eastern Music Festival in North Carolina as Assistant to the Executive Director and Development Director.

Curating International Artist Exhibits
Shannon Goede
International artists Kristine Kenmochi and Katia Kush's performance art exhibit was curated by Arts Administration student Shannon Goede at the Myers School of Arts Emily Davis Gallery. The impact of performance art captures the audience through video and mixed media which draws them in to experience a dynamic art form.
A Leader in Dance Education & Arts Administration
Lauren Sprowls, Graduate Assistant
As a second year Arts Administration student, Lauren Sprowls hold the graduate assistantship of Arts Office Manager. Through valuable connections made in Arts Administration Program, she also works as an arts administrator at Ballet in the City.
Prior to her graduate studies, Lauren earned her B.A. in Dance with a Business Cognate from the UA Dance Program. Among her many charitable works, to benefit the Akron Children's Hospital, she has performed in Dancing With The Kids.
What makes Lauren a success in the Arts Administration Program is her passion to build upon her dance background professional skill in arts management, education, and development.
Teaching everything from hip hop to ballet classes over the past five years, her work extends to the Dianna Durkin Dance Studio, St. Sebastian Academy of Culture and Arts, and Firestone High School. Additionally, she has taught dance for IDEA House, an organization committed to the development of individuals with autism.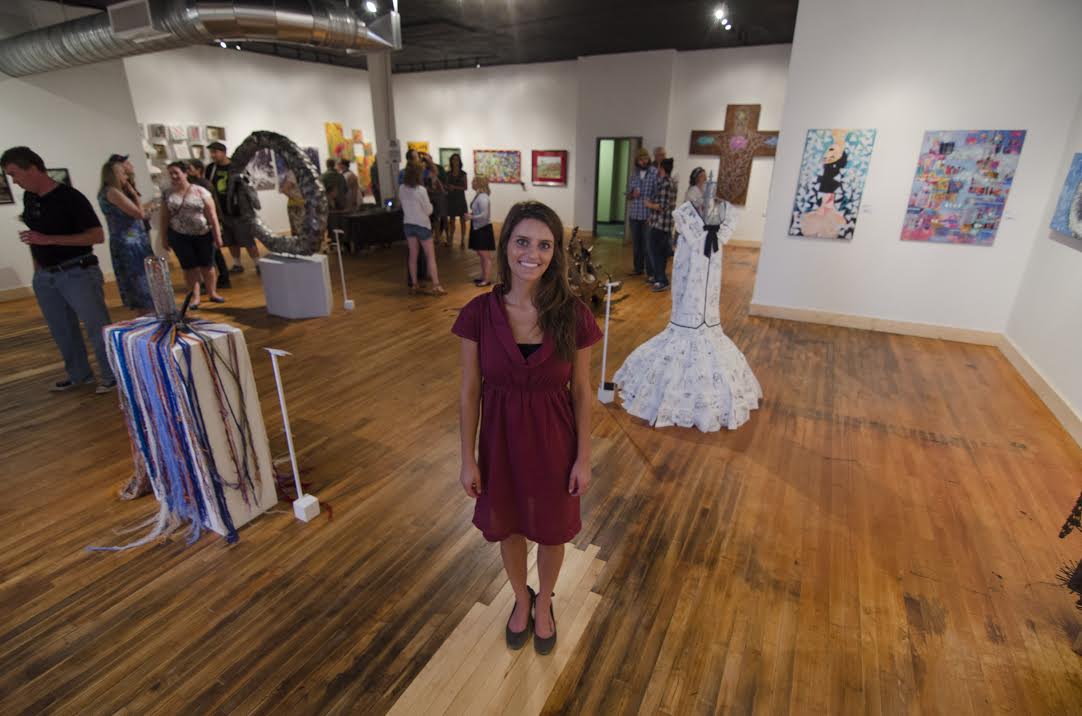 Kat Wentz, Akron Art Prize Assistant
Kat Wentz shares on "UA to Z Radio" her Arts Administration education prepared her to work as the 2015 Akron Art Prize Assistant.