2017 Season District Tournament Results
The FIRST Lego League District Tournament for the 2017 season was held at the UA Student Union on January 13, 2018.
Thirty-four teams from Northeast Ohio participated in the competition, and the top 10 teams advanced to the State Competition that will take place in February. The Tech Tornadoes were crowned as overall champion. Complete results of the District Tournament follow. Those with an asterisk (*) advance to State competition in February.
Team Name/School or District
Tech Tornadoes* (St. Paul's in North Canton) -- First Champions Award & 3rd Robot Performance
Brain Bots* (Neighborhood team, Euclid & Beachwood Schools) – Second Champions award & 1st Robot Performance
Crazy Rhinos* (Leighton Elementary School, Aurora) -- Third Champions Award
In addition awards were presented in the following categories:
Core Values
Inspiration Award - Mechanical FLLyers (Warren)
Teamwork Award - Alphabots (Aurora)
Gracious Professionalism Award - Royal Boyz (Lake Ridge Academy)
Robotics
Programming & 2nd Robot Performance - The Argonauts (Elyria)
Strategy & Innovation - Neon Thinkers* (Aurora)
Mechanical Design - Kraglebots* (Hudson)
Project
Research Award - Tritium* (Solon)
Innovative Solutions Award - Lego Dragons* (Twinsburg)
Presentation Award - Hydro Hurricanes* (Willoughby)
In addition to those listed above, the following also advanced to State Competition in February:
Robo Crafters* (Aurora)
Robotic Reboots* (Chagrin Falls)
Dynamic Developers* (Aurora)
Mussel Busters* (Willoughby)
Robot Performance Award - Brain Bots (1st place); The Argonauts (2nd place)
Judge's Award for Charisma - Motor Monsters (Willoughby)
Judge's Award for Long-Distance Relationships - The Robotic Scorpions* (Solon)
Coaches' Award - Titonics (Warren)
Volunteer Award - Patti Substelny (Judge Advisor)
---
Check out this cool video of the 2016 season District Tournament!
Produced by Dr. Al Daviso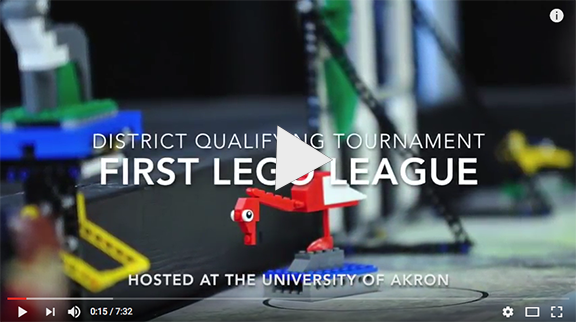 UPCOMING VOLUNTEER OPPORTUNITIES
December 2017
January 2018
Febuary 2018
March 2018
April 2018
May 2018
June 2018
July 2018
ONGOING VOLUNTEER OPPORTUNITIES
---
to our sponsors