News from the LJFF I PROMISE Program
Stories and images courtesy of the LJFF
Posted 1-3-18
A New Year's Message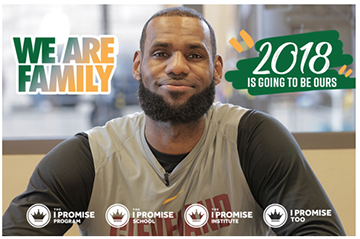 On January 1, LeBron awoke with something on his mind. During a quick break in practice and team sessions, he made a call to Foundation HQ and requested that a film crew meet him at the Cavs' practice facility. With a fresh-off-the-court sweat still on his brow, LeBron revealed his intentions, "I need to get a message to my kids."
After a quick change of clothes, LeBron sat down with his crew. In one take, he delivered a spirited and concise message, "2018 is going to be ours. We are going to rock it from top to bottom!" In true LeBron spirit, he ended his message with a charge, "Let's get after it." His message was released to his kids on social media, where, for good measure, he added, "Let's go!!! #WeAreFamily."
Whether you're an I Promise student, parent, or partner, there's a lot to get after this year: The University of Akron (UA)'s LeBron James Family Foundation College of Education's I Promise Mentor Program is gearing up to add another class; the I Promise Institute's construction begins while its Bureau is sewing partnerships across the country; Akron Public Schools (APS) and Principal On Special Assignment, Brandi Davis, are preparing for the I Promise School (IPS)'s hiring process; APS high school I Promise Advisors are preparing for another class of students; LeBron's Hard Work Club is back, and with help from our UA research team, is better than ever; East Ohio Chase Bankers are mentoring their second class of I Promise Too parents; and LeBron, the Foundation, APS, and all of their partners are working tirelessly for the IPS grand opening this summer. And that's not even all of it! While ever improving its existing programs, the Foundation is constantly working to find new ways to enrich the lives of its I Promise students and families.
A continuation of our I Promise journey, 2018 has all the makings of another record year.
We are family.
Posted 11-16-17
Sparking Hope
Three years ago, LeBron and The University of Akron (UA) announced a groundbreaking, never-been-done-before partnership. It promised scholarships for Akron Public Schools current and future students of LeBron's I Promise program, exclusive on-campus real estate for the establishment of an institute, the full research might of the College of Education - now named the LeBron James Family Foundation College of Education - and most importantly, hope. Today, that partnership and promise continues to inspire, empower, and lift up the UA, APS, and Akron communities.
November 6 marked the launch of the third installment of partnership videos highlighting UA, LeBron, and his I Promise students. The video stars six I Promise students, two of whom are freshmen and set to enter college in the fall of 2020. A far cry from the sixth graders they were at the time of the announcement, these freshmen have big plans: Shadavia wants to be a pediatrician and Jayden wants to be a cyber security analyst.
From engineering to education, there's a spot for our kids at UA.
While the videos are a major part of UA's fall student recruitment campaign, for LeBron and the Foundation, it's a message to his kids. "It's all about sparking hope and fulfilling dreams for my I PROMISE kids," says LeBron, as he opens the spot. Fittingly, he's standing in both the figurative and literal epicenter of the partnership: The LeBron James Family Foundation College of Education. It's here that a dedicated faculty creates programs like UA's I Promise Mentor Class that are proving to be the spark to those dreams.
Click here to view the commercial.
Posted 10-25-17
Parents First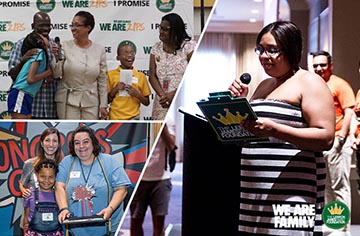 At the start of every Hometown Hall meeting, the Foundation recognizes the I Promise program's most important stakeholders: parents. We ask them to stand and receive a round of applause from the crowd - a collection of fellow parents, students, teachers, and partners. Though small, the gesture is significant as both a symbol of gratitude and a recognition of effort. For nearly seven years, parents have been the driving force of the I Promise Program.
Behind each student in the program is a parent, or set of parents, who has taken a leap of faith. Seven years ago, we promised parents we would see their kids through high school graduation. With time, our program and our aspirations grew. Today, we promise parents that we will help their children change the world. Consequently, each step forward toward a greater end goal widened their leap of faith.
Through each growth and evolution, our parents not only remain steadfast at our side, they push us forward. From serving on the newly formed LeBron Advisory Board: Parent, to leading discussions with incoming third grade parents, to earning their own high school diplomas, our parents answer the call. They are role models to their children and to the Foundation, and thanks to them, the 2017 - 2018 school year is shaping up to be the program's best year yet.
This year's program curriculum improves upon many of our great parent-focused initiatives. After rewarding parents with $44,500 in groceries, the Just Cling It program is back for its sixth year. In addition, our I Promise Too program is back for its third year, and with help from our Northeast Ohio Chase neighbors, includes a special Chase Your Dreams two-year mentor program.
From the seasoned veterans to the rookies, all of our parents make us proud to say, "We are family!"
Posted 8-23-17
UA & LeBron make a promise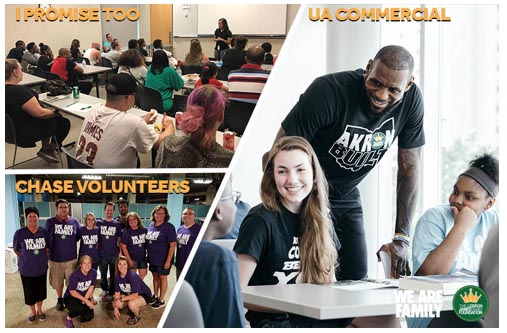 Their eyes and spirits fresh with the amazement of a day spent at Cedar Point, LeBron and his kids sprang to attention as the video cameras came to life. Proudly on display in the center of The University of Akron's (UA) LeBron James Family Foundation College of Education lobby, LeBron and his kids were joined by a cohort of UA student ambassadors for this year's national television spot. Each I Promise student was paired with a UA student whose interests matched their area of study. As scenes unfolded in laboratories and cyber security rooms, UA students and the UA community make a promise to provide our kids with the best education possible.

Be on the lookout for LeBron, our kids, and The University of Akron this fall!
I Promise Too
A line of volunteers feverishly ferried chairs into the library classroom. With over 30 I Promise parents and their families in attendance, our I Promise Too info session quickly became "standing room only."

Flanked by their children, our I Promise parents sat intently as they listened to their peers and I Promise Too graduates discussing their time in the program. "Boy, it'll be hard, but when they say 'We are family,' they mean it. The family will carry you through," said Cassandra Morrow, as she gave a passionate recounting of her time in the class. Some faces were familiar, parents who are just one test shy of earning their GED, and others were brand new. In its third year, our I Promise Too parent GED program has reached peak popularity.

In partnership with Project Learn of Summit County, I Promise Too provides free GED courses to active I Promise parents. In addition to the incredible support they receive from Project Learn, our I Promise Too parents will now receive special mentoring from Northeast Ohio Chase employees. The "Chase Your Dreams" mentor program provides both pre and post GED mentorship, focusing on career placement and advancement.
Posted 5-24-17
Rise and Work for What You Have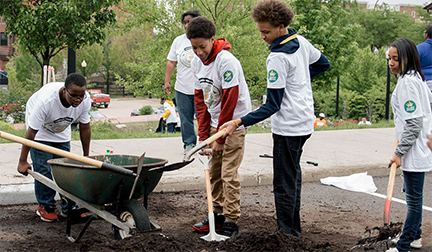 While most sixth, seventh, and eighth graders spent their early mid-spring Saturday morning in bed, LeBron's kids were serving their community. With friends, siblings, and parents in tow, our I PROMISE Secondary students came out in full force. Flexing their service power, the group tackled grounds maintenance for Akron's historic Towpath and Richard Howe House.
Stopping only for a shake or a breakfast sandwich from the Swensons food truck, our kids and their families bagged pounds of garbage and laid wheel barrels full of mulch. Their hard work seemingly rejuvenated an already cozy cove in Downtown Akron.
For their work, our sixth, seventh, and eighth graders earned PROMISE Cash, which they are able to turn in to the Foundation for prizes and rewards.
We send a special family thank you to everyone who came out to serve our community.
Posted 4-13-17
The I PROMISE School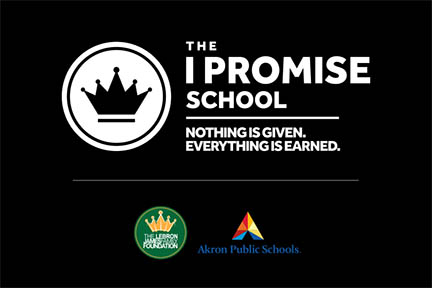 After six years, thousands of hours, interventions, and incentives, ten-years-worth of college scholarships committed, and countless encouragements and supportive touchpoints later, the LeBron James Family Foundation's I PROMISE Program has led to something bigger than anyone could have imagined.
Surrounded by nearly 100 of the Foundation's community partners and proud family members, yesterday LJFF and Akron Public Schools (APS) announced a partnership to design a new Akron public school, called the I PROMISE School (IPS). While committees of local leaders, educators, parents and experts are currently forming that will determine many of the logistics of the new school, the proposed vision for the I PROMISE School is an expansion of APS curriculum with a STEM, hands-on, problem-based learning focus infused with LJFF's "We Are Family" philosophy to create an innovative and supportive learning environment for its students and their families.
You can watch the launch video here.
Expanding Our Reach
Posted 3.22.17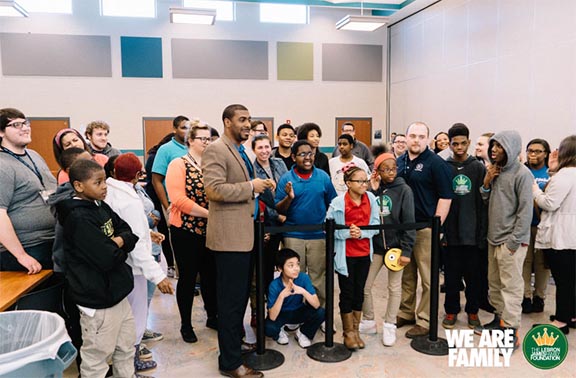 The University of Akron (UA) LeBron James Family Foundation College of Education's (LJFFCOE) I PROMISE Mentor Program began as an experiment. Could we, through our newly-minted partnership, deliver impactful mentorship to our I PROMISE middle schoolers through college students? After two short years of implementation and improvement, the answer is a resounding "Yes."
Through the tireless work of the LJFFCOE and Dr. Brad Maguth, the I PROMISE Mentor program successfully uses UA students to mentor our I PROMISE students at Litchfield CLC. This semester, Dr. Brad handed the instructor's torch to mentorship veteran, Jonathan Greer from iCare Mentoring. As professor Greer and his students worked with their Litchfield mentees, Dr. Brad and the LJFFCOE staff propelled the program to its largest step forward. The I PROMISE Mentor course met University standards and is now a general elective course open to the entire UA student population. The expanded mentor pool brings us closer to our goal of one-to-one mentorship for all of our students.
We extend a special thank you to Dr. Brad, Professor Greer, the mentors, and all UA and Akron Public Schools staff involved in our I PROMISE Mentor program. You make us all proud to say, "We are family."
Dr. Brad takes to the airwaves
Posted 2-16-17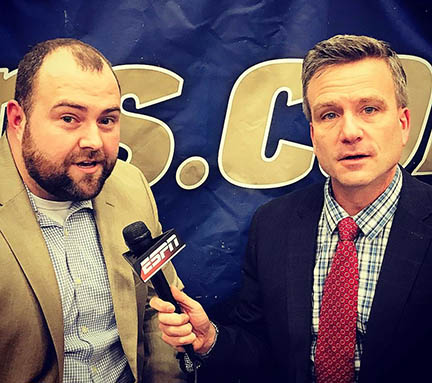 Dr. Brad Maguth was interviewed by ESPN recently about the University's mentorship initiative with the LeBron James Family Foundation. During the interview, Dr. Brad promoted the newly approved course, 5500:223 Urban Youth Mentoring, which connects Mr. LeBron's I PROMISE Network students with well-trained University of Akron mentors. Effective Fall 2017, the course will also meet a General Education requirement.
Posted: 2.1.17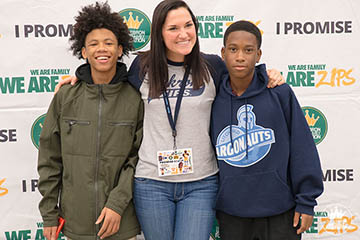 The I PROMISE Mentor program is serving our kids for the third straight semester. A partnership with The University of Akron LeBron James Family Foundation College of Education (LJFFCOE) and the Akron Public Schools Office of School Improvement, the I PROMISE Mentor program trains 19 UA students in youth mentorship, serving over 40 of our Litchfield CLC Akron I PROMISE Network students.
With support from LJFFCOE faculty member Dr. Brad Maguth, this semester's class is run by iCare Mentoring's Jonathan Greer. Though they spent the early minutes of their first mentor meeting in quiet adolescent separation, "Mr. J," as he's called by his students, enthusiastically broke the shyness barrier with a fun and wildly popular ice-breaker. After mentor and mentee introductions, the group had their first I PROMISE journaling session.
The mentors and mentees meet Tuesdays and Thursdays until the end of the collegiate semester.
We send a special thank you to Mr. J and Dr. Brad for all of their hard work and dedication to our kids.