Dr. Malik Elbuluk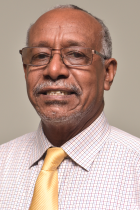 Title: Professor
Dept/Program: Electrical and Computer Engineering
Office: ASEC W478 (Lab ASEC W476 and ASEC S360)
Phone: 330-972-6531
Email: elbuluk@uakron.edu
Curriculum Vitae: Download in PDF format

---
Biography
Dr. Malik Elbuluk joined the UA faculty in 1989. Prior to joining UA, he held positions at the NASA Glenn Research Center, Massachusetts Institute of Technology, and the Electricity and Water Corporation of Sudan. Dr. Elbuluk was also a member of the Electric Power Research Center at NC State University's ECE Department and was Instructor for the Seminar "Power Quality" to Companies in Northeast Ohio and vicinity. He is a member of the Institute of Electrical and Electronics Engineers (IEEE), the Industrial Electronics & Control Society (IEC), and Eta Kapa Nu Electrical Engineering Society. Dr. Elbuluk is the 2007 recipient of the Louis A. Hill Jr. Award in recognition of exceptional dedication and service to the UA College of Engineering. He was also awarded the 2012 National Technical Association Nsoroma Life Achievement Award.
---
Research
Power Electronics: Analysis, Design, Modeling, Simulation and Control of power converters with Application to Power Supplies, Adjustable Speed Drives and electrification of transportation.
Control Systems: Application of classic, modern and intelligent controls such as fuzzy logic, neural networks and genetic algorithms to control of power electronic and motor drives.
Clean Energy Systems and application in Distributed Energy Resources and electrification of transportation.
---
Education
D.Sc., Electrical Engineering & Computer Science, Massachusetts Institute of Technology, 1986
M.S., Electrical Engineering & Computer Science, Massachusetts Institute of Technology, 1980
E.E., Electrical Engineering & Computer Science, Massachusetts Institute of Technology, 1981
B.Sc., Electrical Engineering, University of Khartoum, Sudan 1976
---
Courses
Electric Circuits, Power Systems, Power Electronics, Modeling and Control
---