DISCOVER HOW The Akron Experience connects the knowledge and exceptional resources of The University of Akron with community and business partners to put each UA student on a pathway of success.

See the "Get Connected" TV commercial.
---
Connected knowledge is gained through collaborative research to advance our understanding and develop new technologies.
UA's 50th startup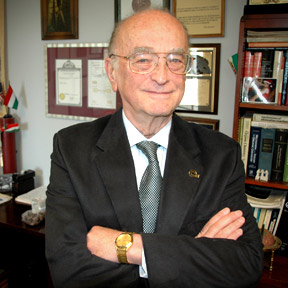 AT AGE 85, and with 107 U.S. patents to his name, distinguished professor Joseph Kennedy launches UA's 50th startup.
Nature knows best
BIOMIMICRY RESEARCHERS at UA study how geckos' amazing ability to climb can be applied to improve daily life.
Strengthening manufacturing
OUR NATION'S LEADERS called on UA's expertise in industrial fields to contribute to an intensive effort to revitalize U.S. manufacturing.
Connected knowledge is shared with businesses and industry to help find new ways to solve difficult challenges.
Research to market, fast!
THE NEW Timken Engineered Surfaces Laboratories embrace an open-innovation model, speeding the commercialization process.
Driving regionalism
UA LEADS THE WAY by convening entities across the region, ultimately creating a tool chest for economic success through its Akron Model.
Lessons in leadership
THROUGH A generous gift from The J.M. Smucker Company, UA's new leadership institute prepares students for lifelong success.
The Akron Experience is about connected knowledge that gives University of Akron students a head start in their careers through internships and cooperative education.
Connecting classroom to jobs
THE AKRON EXPERIENCE is a personalized path for each student, promoting academic success and career opportunities.
More opportunities to excel
UA RECENTLY received a $1 million grant, to be matched by the University, to significantly expand co-op and internship programs.
Advantage, students
ENGINEERING MAJOR Pierre Hall's two co-ops led to a job with General Motors, an opportunity he calls his dream job.