Varsity Rocket League Team top seed for Eastern Conference playoff
10/22/2019
Ever since winning the Collegiate Rocket League Spring 2019 National Championship at the NCAA Final Four Fan Fest in April 2019, fans across the country have asked, "Can Akron make it a legacy?"
Video: Zips chances reviewed
On Oct. 20, the Zips proved they are trying hard by sealing their undefeated record in the Eastern Conference for the regular season of Fall 2019 with a win against Rowan University.
Out of the 285 colleges and universities east of the Mississippi that entered, only 16 qualified to compete in the Eastern Conference this fall. The Akron Rocket League team, consisting of Isaac "Reticence" Stecker, Buzz "Buzz" Krager and Tristan ".Tristn" Roberts, won all 15 regular season matches, dropping only four of 49 individual games.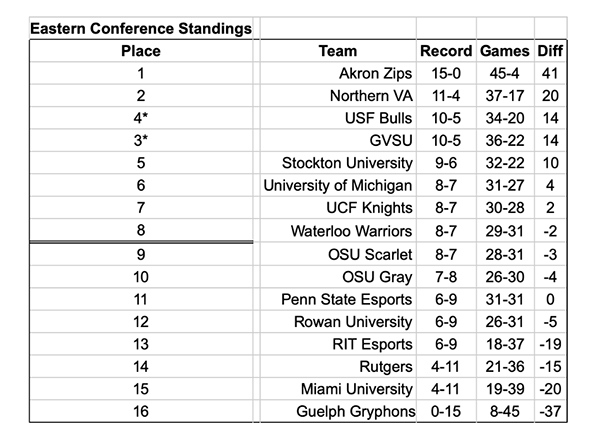 "There are few enough teams as it is that can make Akron work for it and the fact of the matter is, is that even when you make Akron work for it, it still looks so easy for Akron," said CRL commentator Michael "Achieves" Williams on an Oct. 17 broadcast after Akron's 3-0 victory vs. Miami University. "That's why it feels like no one is going to be able to beat them in the East Conference."
As the top seed for Eastern Conference playoffs, Akron Rocket League's playoff debut is tonight at 8 ET and can be streamed live on Twitch.tv. The schools that take first and second places in the Eastern Conference playoffs will travel to Collegiate Rocket League Fall National Championship at the Esports Stadium in Arlington, Texas, on Saturday, Nov. 9, where they will compete along with the first- and second-place teams from the Western Conference for the national title.
---
Media contact: Alex Knisely, 330-972-6477 or aknisely@uakron.edu.