Akron Rocket League brings home national championship
04/10/2019
The University of Akron's Akron Esports varsity Rocket League gamers are national champions.
The team brought the championship title home to Akron after competing over the weekend in the NCAA Final Four Fan Fest at the Minneapolis Convention Center in Minnesota. Rocket League is a vehicular action soccer game. Three players control rocket-powered cars to hit a ball into an opponent's goal to score points, much like traditional soccer.
"I'm incredibly proud of the growth we've seen from Akron Rocket League's Gold roster," said Michael Fay Jr., director and head coach of Akron Esports. "They've worked incredibly hard for this national championship and have come so far as a unit since the students each began playing on their first competitive Rocket League team nearly seven months ago. They've established Akron as the first collegiate Rocket League team to be consistently competitive on the national stage and anticipate maintaining that consistency in the upcoming years. We will strive to keep providing the best esports training environment of any college in the nation to facilitate that."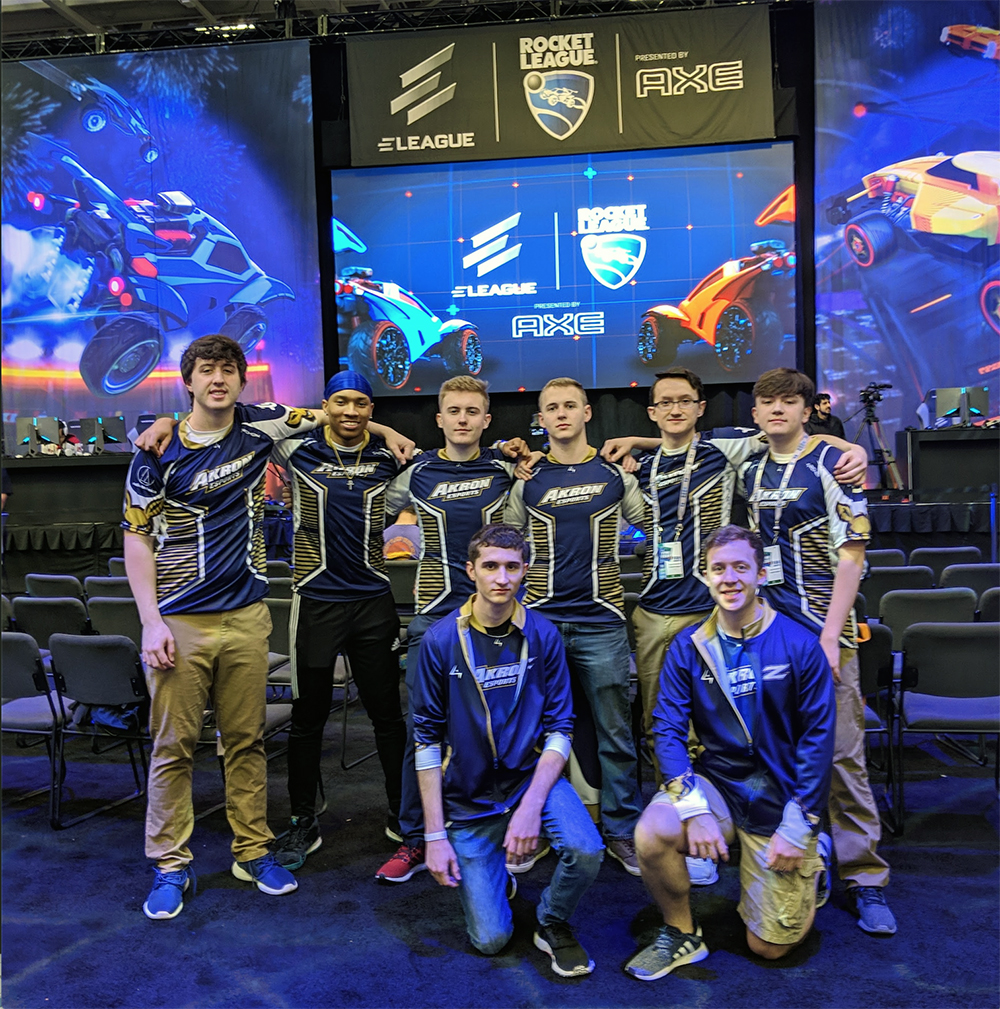 Akron Rocket League's Gold (starters) and Blue (subs) teams are Isaac "Reticence" Stecker (left), Phil "Deezzy" Jackson, Xavier "Chef" Zup, Dylan "Ticon" Pugh, William "Salt" Weiser, and Buzz "Buzz" Krader. The team is joined by student manager Aidan "Knightmare" Bellucci (left front) and student coach Nick "NicNac63" MacKay.
Akron defeated the University of Central Florida 4-2 in the Spring Grand Finals in six games (in a best-of-seven match) after its victory in the Final Four over the Southern Conference Champions, the University of Redlands. The competition between the Zips and Knights heated up after a few back-and-forth matches. Akron upped the pressure in Game Five with UCF on the backfoot and secured two dominant games with scores of 1-0 and 2-0.
Freshman William "Salt" Weiser, Akron Early College student Buzz "Buzz" Krager and junior Isaac "Reticence" Stecker kicked off the Final Four gameplay against the University of Redlands. The Bulldogs were notorious for having eliminated the Fall 2019 National Champions — the University of Arizona — from contention this spring season and had momentum coming into the final four. In a dominant display, the Akron Zips secured their semifinals win in a 4-0 shutout without being scored on a single time during the best-of-seven match.
RELATED: Visit Esports at Uakron online to learn more about our teams and related activities.
Akron Rocket League was the first team in the history of Collegiate Rocket League to qualify for nationals twice in a row after winning the Collegiate Rocket League (CRL) Northern Conference Championships on March 20 and secured $7,400 in scholarship prize money. The Zips are the only national championship team from last season to qualify for nationals again. Sixty-four collegiate teams across the nation qualified for this inaugural spring season of Collegiate Rocket League.
You can follow the story of the Zips' rise through the Collegiate Rocket League Final Four by watching TBS on Friday, April 12, at 11 p.m., where their performance will be shown as part of an hour-long highlights driven television show on ELEAGUE.
---
Media contact: Alex Knisely, 330-972-6477 or aknisely@uakron.edu.
Share