The soul(s) of an Honors scholar
01/21/2021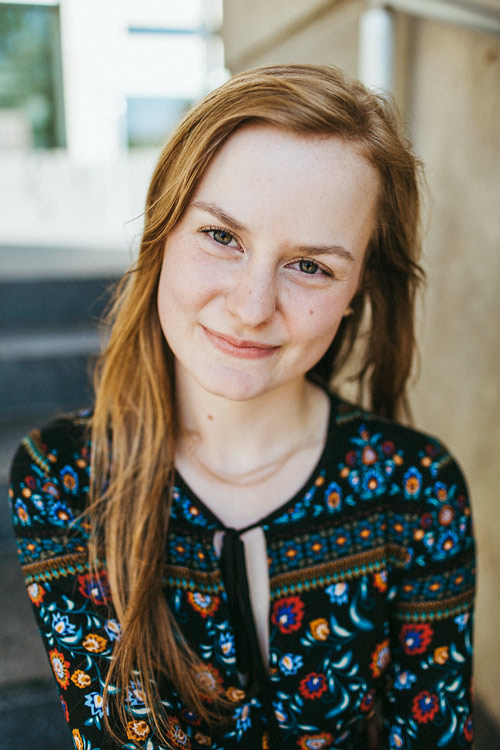 Eleanor Plaster
It has been said that "to know two languages is to possess a second soul."
It appears, then, that The University of Akron's Eleanor Plaster — proficient in French, and in the technical tongues of chemistry, math and music — can lay claim to at least two, and possibly three or more, souls.
Yet she is just one of the many multifaceted beings that, like richly plumed and weightless birds, seem to float from one branch of knowledge to another — from French to physics to flutes — in the Drs. Gary B. and Pamela S. Williams Honors College (WHC).
"One of the values of the Williams Honors College … is to expose students to classes and subjects outside of their major," said Plaster, a third-year Honors student double majoring in chemical engineering and French, while also taking oboe lessons with Professor Jack Harel through the University's School of Music.
The WHC's Honors Distribution program encourages such academic medleys and migrations, requiring students to complete courses in several disciplines. Likewise, the college's Honors Colloquia courses bring together honors students from various majors to discuss timely topics in the sciences and humanities.
"By taking different Honors Colloquia, I have had even more opportunities to explore things in which I am interested," said Plaster, a graduate of Hoover High School in North Canton, Ohio. "For example, I took an Honors Colloquium about neuroscience and how it connects to art. I have always been interested in taking a class about neuroscience, and this class gave me the opportunity to do that."
Indeed, Plaster, a winner of UA's prestigious Lisle M. Buckingham Scholarship, has fully exploited these and other opportunities at the University. She has interned at a polymer synthesis lab at 21Medtech in Akron, worked as an undergraduate assistant in the chemical and biomolecular engineering lab of the University's Dr. Nic Leipzig, and placed second in the 2019 Cleveland Maison Française annual French competition for colleges in Northeast Ohio, in which the University's French majors have excelled for nearly two decades. She is also the secretary of the University's chapter of Omicron Delta Kappa, a national leadership honors society.
After completing her Honors Research Project and graduating in the spring of 2022, Plaster hopes to settle in the boughs of academe or industry, having learned the language of each at the Williams Honors College.
"As of now, I am very interested in research, thus I can see graduate school as a possibility for my future," said Plaster, whose parents and elder siblings also graduated from the University. "The Honors Research Project will encourage me to work in a lab on campus, which will both help me figure out what I am interested in doing after I graduate, as well as give me experience that will be valuable whether I work in industry or go to graduate school."