Adams family scholarship in financial planning
02/25/2021

University of Akron alumni John and Sarah Adams are sharing their resources and their time with the next generation of financial planning professionals through their establishment of The Mr. John R. and Dr. Sarah A. Adams Family Scholarship in Financial Planning. This award, beginning Fall 2021, will go annually to a student in the financial planning program.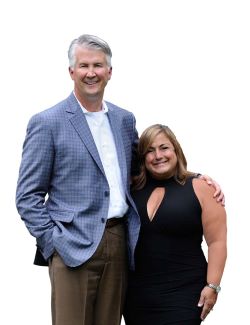 John '88 and Sarah '89 Adams
Financial planning students average nearly 30 hours of outside work per week in addition to being students, according to Dr. Barry Mulholland, director of the financial aid program. The Adams scholarship will lessen that burden considerably, giving them more time for studying. Recipients will maintain a 3.25 or higher GPA, be in good academic standing and demonstrate financial need.
Beyond the financial boost, the recipient will gain an additional, perhaps incalculable, edge — learning directly from John Adams, founder and principal of wealth management firm Adams, Gut & Associates. Adams will get to know and meet regularly with the student, sharing his own real-world insights and wisdom gleaned over his career. "Sarah and I decided to create this scholarship as a way of giving back to the University and a profession that has been incredibly impactful and rewarding in our lives," Adams said. "We are excited to pay it forward."
Dr. Sarah Adams, a pediatrician at Akron Children's Hospital Pediatrics in Hudson, wants the scholarship to have broader impact. "The medical field is advancing in gender and racial equity, and we're eager to contribute to similar progress in financial services. We hope this scholarship can help overcome barriers to entry in the profession as we support up-and-coming financial planning students."