Akron Law professor to address Press Club on 100 years of press freedom
10/08/2021
University of Akron School of Law Professor Mike Gentithes, will discuss "100 Years of Press Freedom: Where Free Press Litigation Leads, Society Follows" in a virtual Akron Press Club program at noon Wednesday, October 20, 2021.
He will talk about how defamation, prior restraint and censorship cases brought changes in law and to the broader society. He also may offer thoughts on how future free press litigation could perform a similar role.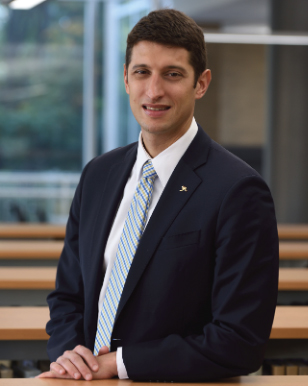 Mike Gentithes
The event is in conjunction with the celebration of the law school's Centennial.
Gentithes' teaching and research focuses on criminal procedure, constitutional law, legal theory and legal research and writing.
He joined the Akron Law faculty in 2019 as an assistant professor. Earlier this year he was promoted to associate professor and named a Fellow for the Center for Constitutional Law.
Previously, he was a visiting assistant professor at Chicago-Kent College of Law and an adjunct professor at Loyola University Chicago School of Law. He practiced as an assistant appellate defender in the Office of the State Appellate Defender, where he represented indigent clients in criminal appeals throughout Illinois. Gentithes was also a clerk on the Illinois Appellate Court, an assistant corporation counsel for the Chicago Law Department and a litigation associate for Kraus & Zucklewski LLP.
Gentithes earned an LLM degree in legal theory from New York University School of Law, his J.D. degree from DePaul University College of Law and his B.A from Colgate University. He was born and raised in Warren, Ohio.
The event is free and open to the public. Click here to register.
NOTE: The Akron Press Club has not been able to hold traditional lunch programming during the pandemic. Funds from these lunches go toward scholarships for journalism and public relations students. Between the Press Club and the John S. Knight Memorial Scholarship Fund, scholarships of $5,000 were awarded to 10 students in 2021.Please consider a donation. These scholarships make a difference to the students who receive them. You can donate by following the link on the registration page for this event or you can donate to the Akron Press Club Scholarship Fund here.
Share