Akron Law School ranked #32 in the nation for moot court competitions
05/03/2022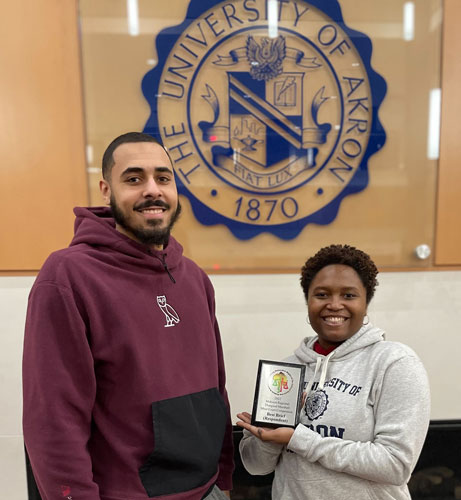 Robert McGivney and Ellison Starnes
Kristo Pantelides, Megan Parker and Kylie Thomas
Based on great showings by The University of Akron School of Law's moot court teams at the Black Law Student Association (BLSA) Thurgood Marshall moot court competition and the ABA National Appellate Advocacy Competition (NAAC) competition, Akron Law is ranked #32 in the latest edition of the University of Houston Law Center's Hunton Andrews Kurth Moot Court National Championship rankings. The Championship scoring methodology incorporate the best brief and best speaker awards as well as the team awards.
In the Thurgood Marshall competition, the Akron team of second-year (2L) students Robert McGivney and Ellison Starnes received the best respondent's brief award. In the NAAC, the Akron team of 3L Kristo Pantelides and 2Ls Megan Parker and Kylie Thomas reached the semifinals and also took fourth place in best brief awards.
No school ranked higher than Akron based on just two competitions.
"These were excellent results for our BLSA chapter and the Moot Court Honor Society," Associate Dean and team coach Mike Gentithes said. "They did a fantastic job upholding Akron Law's tradition of excellence in advocacy. I couldn't be prouder of all of our Moot Court competitors this year."
Share