Akron Marathon blue line runs through UA's Department of Marketing
09/23/2016

When the 14th running of the FirstEnergy Akron Marathon, Half Marathon and Team Relay takes place Saturday, Sept. 24, the Department of Marketing in The University of Akron's College of Business Administration will be well represented — by alumni, current students and a member of the faculty.

For starters, Andrew Antonucci '13 serves as the marathon's marketing and communications manager, a post he has held for the past three years. Antonucci earned degrees in both integrated marketing communications and marketing management, along with a minor in entrepreneurship. Following graduation, he interned with the Akron Marathon Charitable Corporation and was hired on full time following that race season.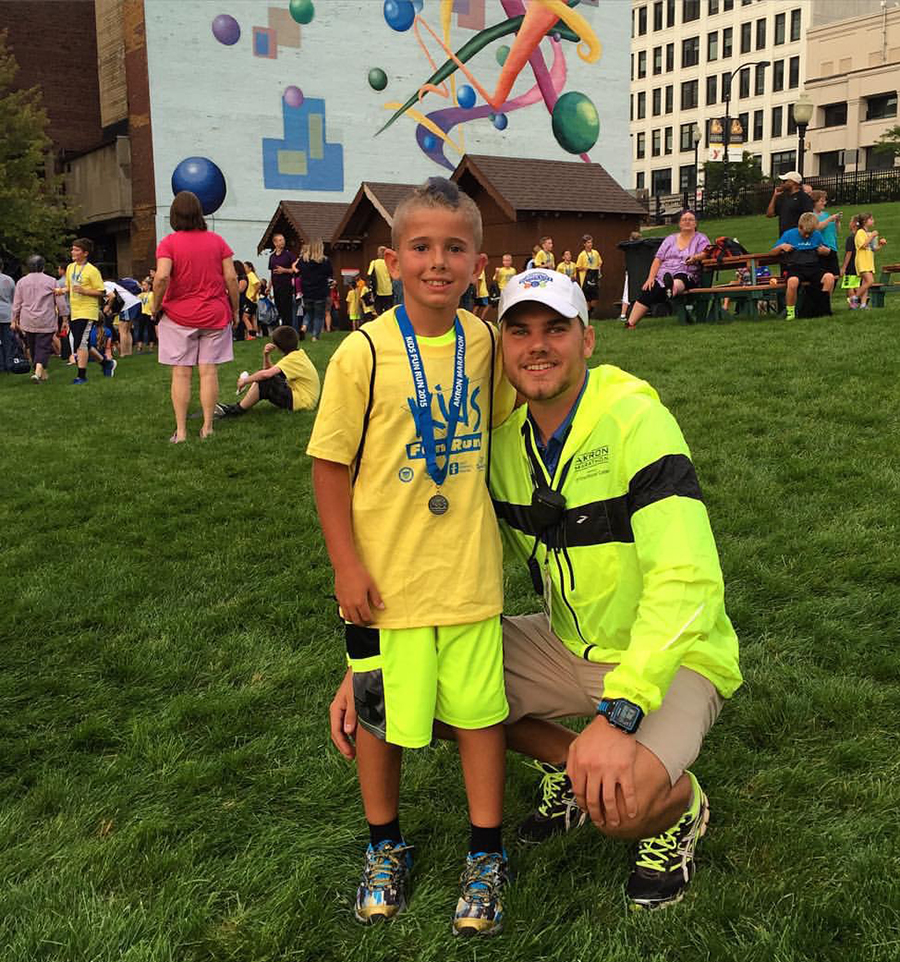 Blake Doty '12, returns annually to volunteer with the Akron Marathon.
Blake Doty '12, who earned a degree in sales management, has returned to Akron from his sales job in Dallas to volunteer, for the third year in a row, as chair of the finish line. Blake is helping Race Director Brian Polen, his stepfather. Doty's younger brother, Brandon Doty, a senior in the marketing program, is a former intern with the Akron Marathon.
Lauren Hoyer, a senior majoring in marketing management with a minor in sports management, is a marketing intern with the Akron Marathon, a post she has held for the past year. Hoyer notes that it has been great to combine her love of sports with her passion for marketing.
And then there is Dr. Sydney Chinchanachokchai, the newest member of the Department of Marketing faculty. The assistant professor of marketing is running the blue line in the half-marathon event.
According to Antonucci, approximately 15,000 runners are expected to take part in this year's event, a phenomenal increase from the first Akron Marathon in 2003, when there were 3,000 participants.
"I enjoy returning as a volunteer for the Akron Marathon, as the atmosphere is so fun, and I am so proud of what it does for Akron's strong running community and the city," notes Doty. "And, of course, I love that it brings me back to The University of Akron campus."