Alumni spotlight: Ryan Jones '15 is turning his achievements into help for others
01/10/2022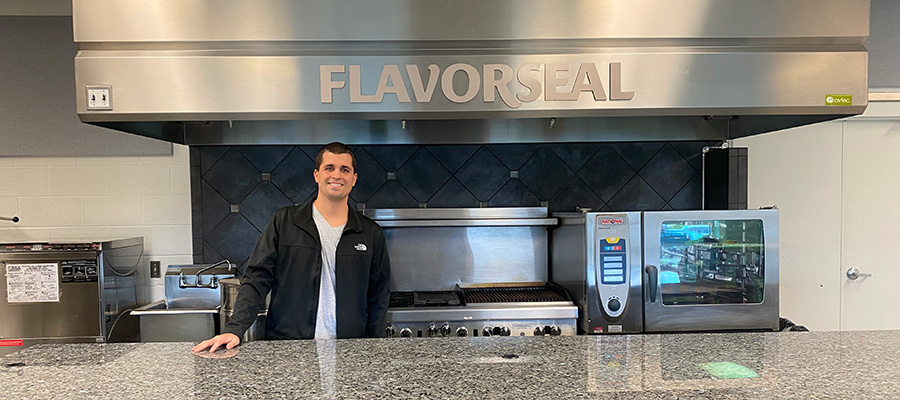 Ryan Jones '15 was prepared for industry, thanks to his experience at The University of Akron.
Going into his senior year at Bryan High School, Ryan Jones began to take a vested interest in self-care, particularly wanting to live a healthier lifestyle and became interested in nutrition and the food industry.
"I was overweight most of my childhood," recalls Jones. "This was the start of a dramatic lifestyle change and an interest in the nutritional aspect of the food industry. I wanted to help and still do want to help people that are dealing with the same problems I had to face."
The University of Akron's (UA) School of Exercise and Nutrition Sciences was able to help Jones with exactly that. Jones, who hails from Bryan, Ohio, graduated from UA in 2015 with a bachelor's degree in food and environmental nutrition.
Today, he is a quality systems and compliance specialist at Flavorseal in Avon, Ohio. He oversees the food safety, quality and regulatory compliance of products produced at Flavorseal. Jones also spends time working on quality and process improvements, implementing corrective and preventative actions from customer complaints or production issues, and performing personal and food safety training.
"Within my coursework I became disciplined, gained industry specific knowledge and further developed my critical thinking ability," he says. "I felt well prepared to enter the workforce by the time I graduated."
Credit for that goes to the program's faculty, whom Jones describes as being dedicated to developing students into industry professionals.
"There wasn't a time that I can recall where I felt like I couldn't consult with an instructor or advisor about anything – and there were certainly times that I did," says Jones. "They did an excellent job, and I believe the program does an excellent job at preparing students for the industry."
Outside of the classroom, part of what also made Jones' UA experience great was the campus being located near places that offer outdoor and recreational activities.
"Growing up in Northwest Ohio, I was accustomed to corn fields," says Jones. "So being near places like the Cuyahoga Valley National Park and living close to the Ohio & Eric Canal Towpath Trail was exciting and a big deal to me. Another recreational activity I enjoyed was Downtown Akron's Rock the Lock concert series. The events are fun and entertaining, the food is always good and the bands rock!"
For future Zips, Jones advises, "Regardless of whether it's a day of classes and studying, work, or creating memories with newfound friends, make the most out of every day at UA and enjoy it because you only have so much time there."
UA's Bachelor of Science in Food and Environmental Nutrition
UA's bachelor's degree in food and environmental nutrition is the first and only bachelor's degree program of its kind in Ohio. The degree program is housed in the School of Exercise and Nutrition Sciences, which has been recognized locally, regionally and nationally through its quality programs and comprehensive student experiences. The School's Nutrition Center is a source for nutrition expertise, nutrition and dietetic training, research and community service in Northeast Ohio. To learn more, visit uakron.edu/nutritiondietetics.
---
Media contact: Cristine Boyd, 330-972-6476 or cboyd@uakron.edu
Share