An Historic Choice for an Historic Year
05/14/2022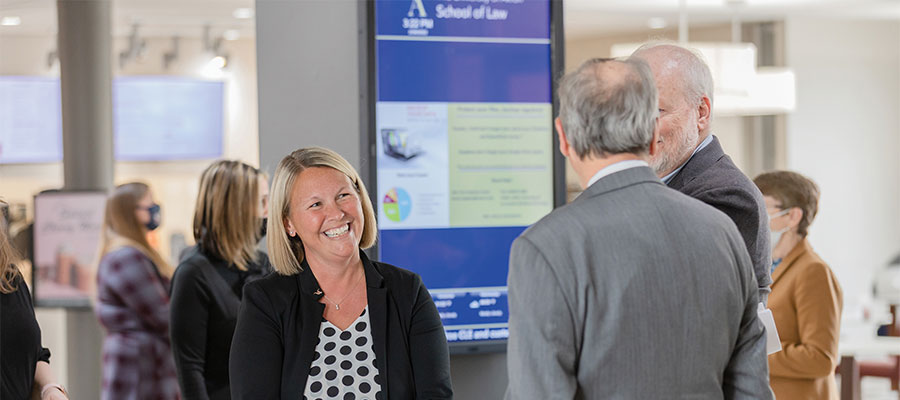 Akron Law Dean Emily Janoski-Haehlen
by Alex Knisely


When Emily Janoski-Haehlen added her name to the candidate list to lead The University of Akron's (UA) century-old School of Law, she didn't fully appreciate the historic significance of that decision. Following a national search, Akron Law named Janoski-Haehlen as the School's first female dean in December; she began her duties two months later.
"It is an honor to be the first female dean of the School of Law, which makes this position even more special to me," said Janoski-Haehlen. "When I look back on my deanship—hopefully many years from now—I will be proud to say that I shattered the glass ceiling for the women that came after me and hopefully inspired some to follow in my footsteps."
Janoski-Haehlen is no stranger to Akron Law's students and alumni. She previously served as associate dean of academic affairs and the law technology programs, as well as director of the Law Library. Joining the faculty in 2017, she taught Technology in Law, Social Media Law, Legal Drafting and Legal Research.
As dean, Janoski-Haehlen's primary responsibility will be to provide executive oversight of the day-to-day operations and all routine functions of Akron Law, including increasing overall enrollment and Bar passage rates. She hopes to further strengthen the school's reputation in intellectual property law, advocacy, practical training and producing practice ready graduates.
Judging by the written notes she's received and the lunch invitations she has accepted, Janoski-Haehlen has been enthusiastically embraced by students, faculty, staff, alumni and University community.
"The support I have received from the UA and School of Law communities has been overwhelmingly positive," said Janoski-Haehlen. "I am excited to work with President Gary L. Miller and his team to shape the future of Akron Law. Provost John Wiencek and my dean colleagues at UA have been incredibly welcoming and we are already working on collaborative partnerships for the School of Law across campus."
Prior to joining Akron Law, Janoski-Haehlen served as associate dean of the Law Library at Valparaiso University Law School and as a faculty member and librarian at Northern Kentucky University, Chase College of Law.
She earned a Bachelor of Science in History from the University of Kentucky, a Master of Science in Library Science from the University of Kentucky and a Juris Doctorate from Northern Kentucky University.
"I am looking forward to building relationships in greater Akron that will strengthen our role in the community," said Janoski-Haehlen. "I plan to be on the road promoting the great things that Akron Law students, faculty and alumni are doing while recruiting the next generation of Akron Law graduates.
I think it is my job to listen to our students and build relationships with our alumni and create initiatives that will help benefit both groups," she added.
Getting to Know Dean Emily Janoski-Haehlen
What influenced you to study law? Were there any other careers you were interested in as a child?
"I wanted to be a doctor when I was a child. I told my parents I wanted to be a 'rotating doctor' so I could help everyone. We laugh about that now. I decided to study law after taking a class at the University of Kentucky on famous American criminal trials. I studied the Lindbergh baby kidnapping and was fascinated how that case evolved."

As you think back on your own life, is there a pivotal mentoring moment that stands out?
"When I was in first-year legal research in law school, I took a job in the law library as a student worker and research assistant. I loved doing legal research and my professor, the associate dean of the law library, recognized that and hired me there. The rest is history. I think it was that job that sparked my interest in teaching law."

What advice would you share with other women who might be looking to reach a high-ranking position in their careers or take on a role traditionally held by men?
"I would tell them to aim high and don't let a moment of feeling defeated set you back. I would also tell them to not be afraid to speak up and offer their ideas or to promote themselves. Having a strong sense of self is incredibly important and I learned that from a young age. I had quite a few strong, female mentors that I looked up to but the most influential female in my life has always been my mom. She is a strong woman who went back to school to earn her advanced degree, while raising three children, so that she could teach elementary education at Western Kentucky University She also taught me the value of family, community and giving back. She still inspires me today."

What's something people would be surprised to know about you?
"Two things that might surprise people about me are that I was a competitive figure skater throughout my childhood and into college, and maybe what won't surprise many is that I am an avid Disney fan. I love all things Disney!" How can alumni and the UA community support the School of Law? "I would encourage alumni to come visit Akron Law to see all the great programs we have and to meet our students. We have exceptional students and exceptional alumni and I enjoy getting the two groups together. Alumni can also show their support by building a relationship with the School or a particular program like a clinic, donating to the school, attending events, hiring our students and graduates, and just promoting the reputation of Akron Law in general."
Share