An out of this world internship
08/18/2023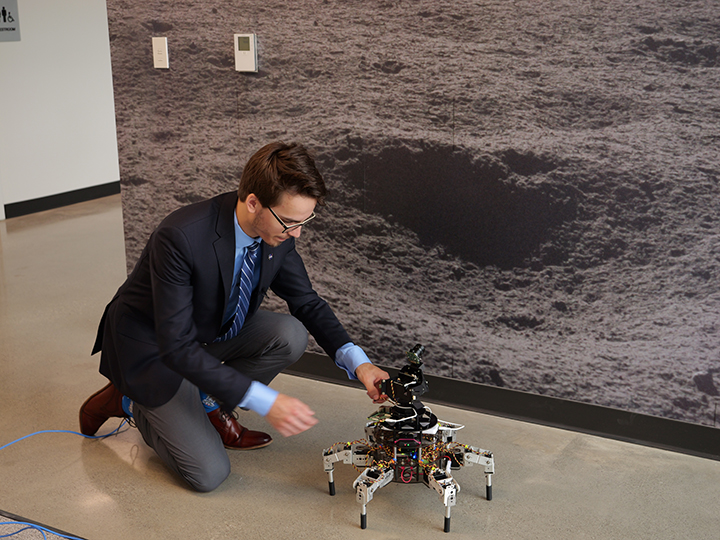 Kyle Vernyi grew up in an average household in an average Northeast Ohio town. But now he is seeking a career in aerospace engineering, a not-so-average field.
Growing up in Green, about 12 miles from The University of Akron (UA) campus, Vernyi remembers his dad, an electrical engineer, bringing home classic Styrofoam remote control planes to play with and his dental hygienist mom purchasing the occasional science kit … but he didn't realize he would later be conducting research that had the potential to impact the world.
After completing aptitude tests for careers that matched his interest, he began to explore engineering schools and decided Akron was the best fit.
Internship is out of this world
Later, he got involved with the student design team, the Akronauts, and completed an internship with LTA Research, which develops airships. He thought immediate employment with LTA was in his future, until he reached out to Dr. Daniel Raible looking for help on his senior design project. Raible, a part-time engineering faculty member at UA and a full-time aerospace engineer at the NASA Glenn Research Center in Cleveland, invited Vernyi to come see what his team was working on and offered him an internship. Vernyi immediately began to work with the Space Communications and Navigation Internship Project supporting the High-Rate Delay Tolerant Networking (HDTN) team. The project's goal is to create a network of satellites that will help to increase the speed of delivery of information from the surface of the Moon back to Earth.
"NASA's largest mission right now is Artemis, which is our return to the Moon," said Raible. "When we went up with Apollo, it extended outreach to everyone, not just to Americans, and that was broadcast live, but it was grainy footage. When we return to the Moon, it is paramount that we share the experience like we did with Apollo, but with much better fidelity. We need to stream 4K video from the Moon and beyond so people can live vicariously through our astronauts."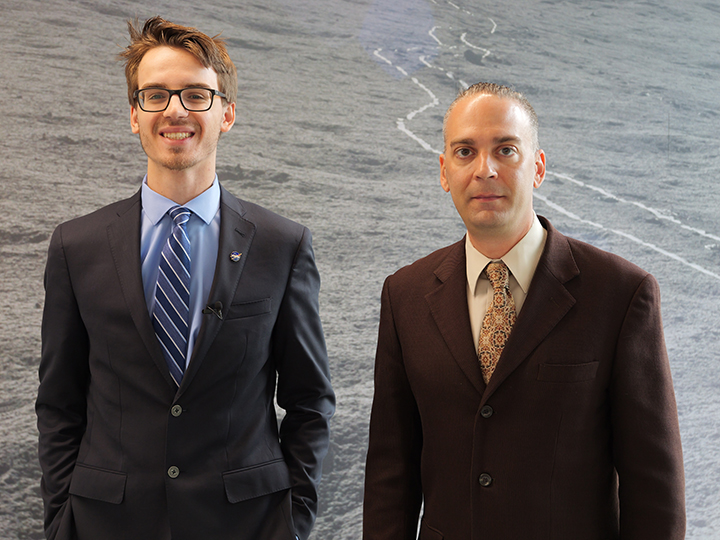 "The work Kyle is doing [to develop the network] will be launched in December to the International Space Station to try it out on their systems. He is in the critical path of the project and contributing heavily. We couldn't do it without him," Raible added.
When asked about working at NASA, Vernyi remarked, "It's an amazing feeling for sure. Going in and putting your badge at the gate every day and driving past the signs. There is a good mission – trying to educate and bring science to future generations."
"Kyle has been fantastic as an intern and I attribute a lot of that to him taking advantage of the co-op program at Akron," said Raible. "Akron is a wonderful destination for those who have an interest in aerospace. Kyle got a lot from his internships, transcending the classroom and the textbook and learning how to work with teams."
And while his work is making a real impact on the future of space communication, Vernyi is still undecided about his future.
"The internship put space networking on my potential career path. But my approach is to be open, work hard, learn as much as I can, make connections and see where it takes me. That has been my approach at The University of Akron, and it has worked out well."
Vernyi graduated from UA in May and is currently pursuing a Ph.D. in aerospace controls at Embry-Riddle Aeronautical University.
---
Media Contact: Cristine Boyd; cboyd@uakron.edu; 330-972-6476
Share