Area high school students work side by side with top UA engineering researchers
08/11/2016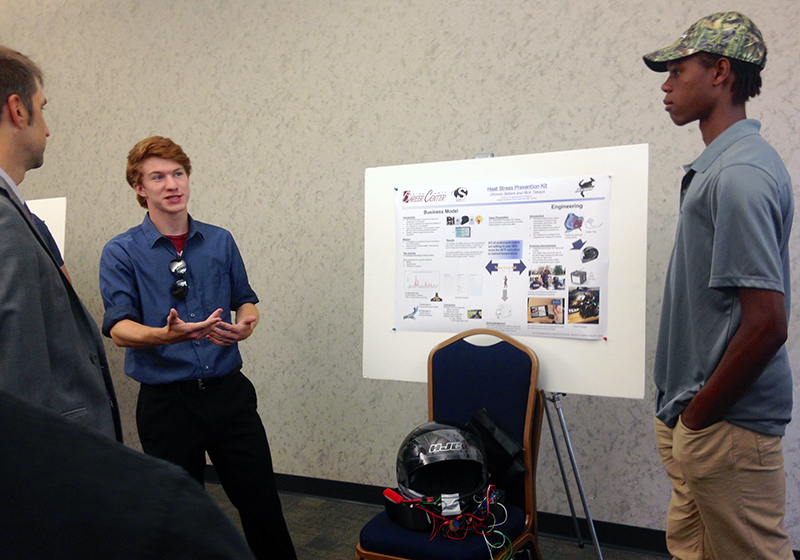 Richard Takacs (left) and his partner Orlando Sellers (from Solon High School) share their project with UA faculty and staff. They helped develop a cooling system for a motorcycle helmet.
For Medina High School student Richard Takacs, getting paid to work on a collegiate-level research project this summer certainly beat out his original plan to earn extra money working at a retail store.
Takacs was one of 12 engineering-minded high school students selected to participate in the fourth annual High School Summer Research Academy in The University of Akron's College of Engineering, which ran June 13 through Aug. 5.
Real world experience
Students often take summer jobs that have no connection to their educational aspirations. The research academy gives them an opportunity to earn money with work that is potentially more relevant to what they would want to do as a career.
"It's an opportunity for high school students to be involved in a paid summer research experience," explains Dr. Don Visco, interim dean of the College of Engineering. He'd like for UA to be seen by these students as the place to go to get the best engineering education, including the ability to work on cutting-edge projects with experienced engineering faculty.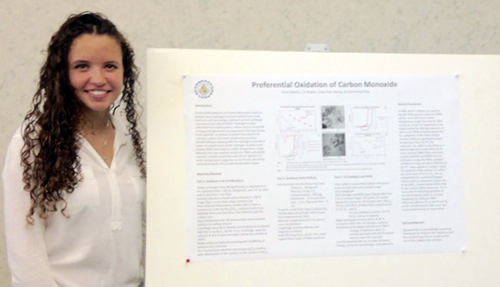 Irene Hamlin from Archbishop Hoban High School presented her team's research on oxidation reactions.
---
Fifty-four students applied from 21 Northeast Ohio schools. The program ran for eight weeks, with each pair of students spending at least 200 hours in their mentor's lab working on a specific project assigned to them, normally alongside undergraduate or graduate students in their mentor's lab. Students earned $2,000, payable as a stipend, for participating in this program and contributing to UA research.
The six research projects they worked on included bio-inspired countermeasures for removal of sediment such as sand and rocks from around bridge piers; a heat stress prevention kit for the reduction of diseases caused by environmental exposure; and developing a cooling system for a motorcycle helmet.
Students also participated in a weekly workshop for their academic and professional development. Speakers included Visco as well as Williams Honors College Dean Lakeesha Ransom; Kevin Smith, director of the Institute for Leadership Advancement; and Deanna Dunn, director of engineering co-op and placement.
Applying knowledge
May Xiao from Mayfield Heights remarked that, "In high school, it's easy to get caught up in just what your grades are and forget about the bigger applications of what you can do with this knowledge." When describing her experience, she said, "It was really amazing to see college faculty doing work you didn't think would be possible to do with what you learned in the classroom. To observe things in daily life you don't normally notice the science behind – that was really fascinating."
The professors, researchers, students, their parents and their high school teachers attended a special breakfast on Aug. 5 as a part of UA's Visit Day. That morning, the high school students presented their work to UA faculty and staff. College of Engineering faculty who mentored students this summer included Dr. Jae-Won Choi, Dr. Yalin Dong, Dr. Nicholas Garafolo, Dr. Lu-Kwang Ju, Dr. Gopal Nadkarni, Dr. Zhenmeng Peng and Dr. Junliang Tao.
"This program has capacity to expand," says Visco, who notes that it began with corrosion-related projects, then expanded into other engineering majors in subsequent summers. "There is certainly a demand for this experience at UA from high school students in our region, and we hope to expand the academy into more science, technology, engineering and medical (STEM) fields in the future."
---
Media contact: Lisa Craig, 330-972-7429 or lmc91@uakron.edu.