Area students to start STEM clubs at their schools, thanks to UA program
06/14/2016

A shared interest in science, technology, engineering and math brought 10 local high school students to campus last week to attend the STEM Club Leadership Training Summer Camp, hosted by The University of Akron College of Engineering.

The program, led by Dr. Julie Zhao, prepares the students to start STEM clubs and activities in their home schools. Participants represented North, Firestone and Garfield high schools in Akron and Laurel School in Shaker Heights. Six engineering students served as mentors during the camp.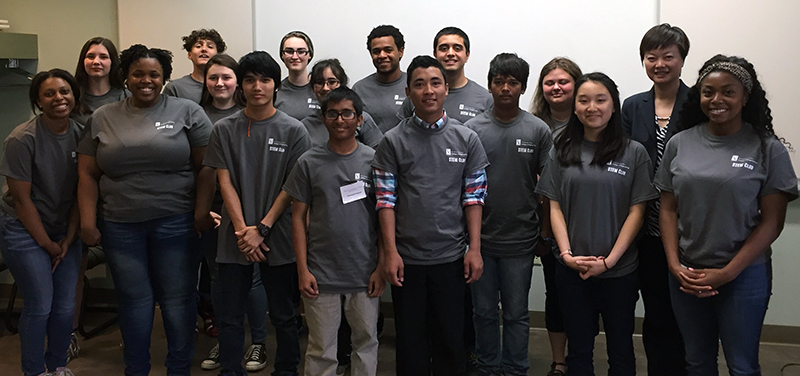 Students and mentors who participated in the STEM Club Leadership Training Summer Camp during the week of June 6-10 are pictured here with Dr. Julie Zhao, far right, second row.
Students participated in all activities as teams. Their leadership training included Setting Up SMART Goals, Effective Communication, Marketing Strategy, True Colors, team-leading and program assessment. Through STEM activities training, the participants learned how to run short-term and long-term STEM activities. At the end of the camp, each school presented their STEM Club Strategic Plan, designed club flyers and printed club logos. At the awards presentation, campers invited parents and mentors to attend and see the STEM activities they designed and organized.
Both the students and mentors praised the experience, and the mentors have volunteered to help develop the STEM Clubs.
"This leadership training also helped us," says Doucet Creamer, a civil engineering major. "I will use what I learned for the development of National Society of Black Engineers (NASE)."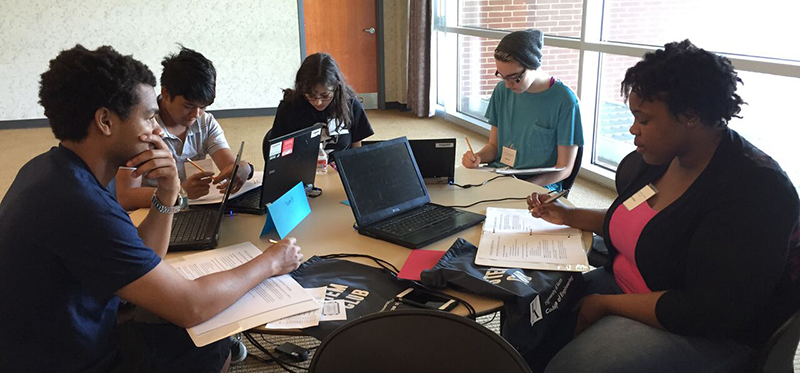 Students work as a team on a leadership exercise during STEM Club Leadership Training Summer Camp.
"We are glad to know students and parents enjoyed this camp experience. With individuals from UA and the Akron community providing their expertise and time, the camp was very successful," says Zhao, assistant to the dean for diversity in the College of Engineering. "Each school was awarded $500 for their club activities and development. We plan to offer continuous support through the academic year. The Ohio STEM Learning Network – Akron Hub and All-Akron Student Engineering Program will also provide assistance to the STEM Clubs."
The STEM Club Leadership Training Summer Camp was sponsored by the Proctor & Gamble Co. Higher Education Grant Program, College of Engineering, the Institute for Leadership Advancement in the College of Business Administration, Student Life, the Department of Computer Science and University Libraries 3D Printing.