'Bearing Witness' is a new exhibit on campus featuring works by regional photographers
09/10/2020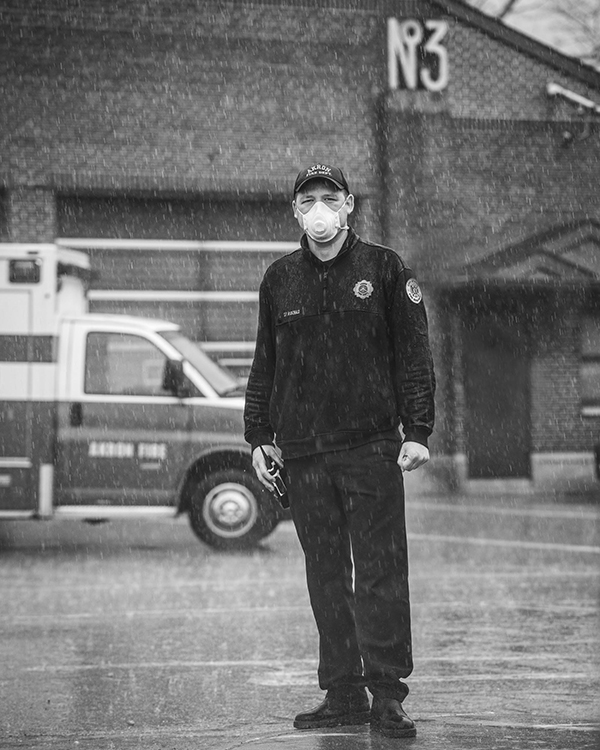 Autumn Bland, "Shawn: Fire/Medic, Akron Fire Dept.," 2020, archival pigment print, 20 x 16 inches.
In solidarity with recent world and domestic issues, The University of Akron's Emily Davis Gallery's new exhibition, "Bearing Witness: A Response to Current Events by Regional Photographers," investigates the topics of social justice, pride, police brutality and a world pandemic impacting lives of essential workers and those at home. "Bearing Witness" presents photographic artwork from four regional artists, including Aja Joi Grant, Christopher Mason, Omid Tavakoli and Myers School of Art alumna Autumn Bland. The exhibition will also debut works from the Myers School of Art collection by legendary activist and photographer Danny Lyon. "Bearing Witness" will be on view through Oct. 9.
Bland, who earned a BFA in 2010, created the series "Portraits of a Pandemic" as a personal project to keep herself engaged during the lockdown. "Portraits of a Pandemic" focuses on the "duality of life this pandemic is creating among those with essential jobs and those staying at home." "Portraits of Pride," a tangential project, is "designed to connect, empower, and uplift LGBTQ+ people of all genders, sexual orientations, races, religions, abilities and ethnicities."
Grant highlights the human connection to the unknown and unseen, and the beauty of our own being. Grant states that her work focuses on those people with "multiple layers to their identity, and how they choose to honor that in times of stress and overstimulation. I wanted to highlight their peace as a means of resistance and rebellion." Water is a major presence in her work, with her ruling deity, Het Heru, being the inspiration for the use of water.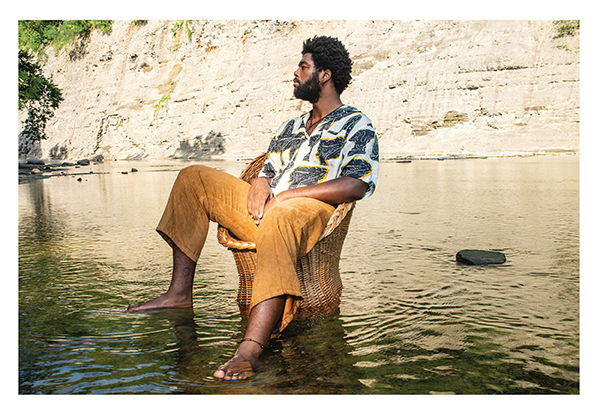 Aja Joi Grant, "Grounded," 2020, archival pigment print, 18 x 22 inches.
Mason sees his work as the product of always being prepared to capture what is unexpected. He dives into the duality of day and night, to that of male and female, or seeking to observe the power of persuasion that can be held over another when they possess something another desires. Mason says that,"When showing work to family and friends they always removed images that the 'subject matter' was blurred; as I kept looking at these images, I found them to be captivating and different and sometimes still beautiful images. The virtue of blurred people can resemble other people. Blurriness licenses mutations and metaphor."
Tavakoli "investigates the protest and civic unrest focused towards the police since the murder of George Floyd," exploring how "the Black Lives Matter movement has brought a magnifying glass to the funding received by police throughout America and has led to a call to defund the police by redistributing those funds into the community through education, social work, and outreach."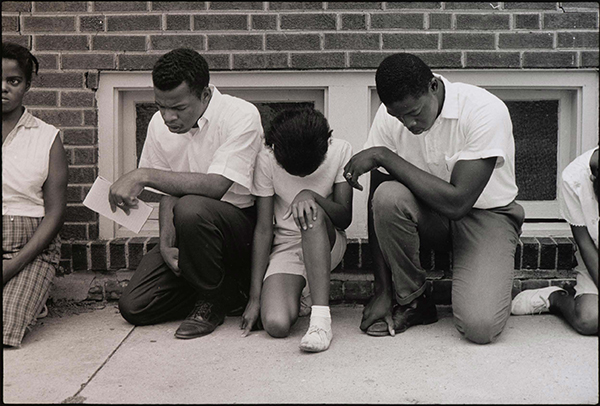 Danny Lyon, "John Lewis in Cairo, Illinois," 1963, Gelatin silver print, printed later, 11 x 14 inches. Collection of the Myers School of Art, Gift of Frank and Amy Linde, 2019.
Lyon began photographing the beginnings of the Civil Rights Movement where he worked for the Student Nonviolent Coordinating Committee. Lyon captured the leaders of the movement including Rep. John Lewis, Ruby Doris Smith, Ella Baker, James Forman and James Baldwin on film. Lyon photographed in the style of New Journalism, immersing himself within the circumstances that he captured. Lyon's work shows us the beginnings of a movement and ongoing struggle that still has much work to do.
Please note that attendees are required to maintain social distancing procedures in compliance with CDC recommendations and State of Ohio.
The Emily Davis Gallery is located in Folk Hall, 150 East Exchange St. Akron. Gallery hours are Monday through Friday from 10 a.m. to 5 p..m. The gallery will have partial access on Tuesday and Thursday from 2 p.m. to close.
For more information about exhibitions or events, contact 330-972-5950 or emilydavisgallery@gmail.com; or visit the Myers School of Art Emily David Gallery online, or on Facebook.
All images are 'Courtesy of the artist,' unless otherwise noted.
---
Media contact: Lisa Craig, 330-972-7429 or lmc91@uakron.edu.
Share